Control your Philips Hue Lights with Huetro 2.0 now for Windows and Windows Phone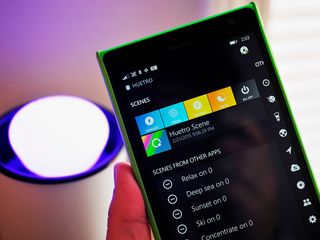 Philips Hue Lights (MeetHue.com (opens in new tab) are certainly not cheap, but they are very awesome. The system allows you replace your current lights with a LED bulb that will supposedly last 10 to 20 years. Even more exciting, the Hues color bulbs can change to nearly any color in the spectrum through a wireless connection. As a result, you can make your living room glow different colors as accent lighting or make your office look like a military installation with red lights.
I have around twelve Philips Hue Lights set up in my place, including the newer LED strip lights and Hue Tap, which acts like a wall switch. There is only one problem, and that is Philips does not make an app for its Hue Lights for Windows Phone.
Today, Huetro for Windows Phone has hit 2.0 with an all new redesign. Additionally, it is now a universal app with the Windows 8.1 counterpart now available as a public beta!
Huetro for Hue 2.0
Brand new, built from the ground up as a Universal app for WP8.1 and Windows 8.1!
New, more polished UI that helps you do things quicker. Better support for HD devices like the Lumia 1520.
Performance improvements.
Geofencing!
Create scenes based on current lighting settings!
Hue Tap support.
Improved scheduling (ability to edit alarms!) - Alarms on the Bridge made with Huetro 1.x will be deleted upon first launch!
Localized! English, Dutch, German, Portuguese, Danish and French are now supported and more to come with your help!
Scenes are now stored on the Hue bridge. This improves performance, and allows Huetro to load scenes created by other apps (without the image due to Hue-platform limitations, editing not possible - only re-naming).
As you can see, version 2.0 adds many features. Indeed, the app is now on feature-parity with the official app on iOS as far as I can tell. The biggest addition is geofencing, which turns your lights on or off depending if your phone is present on the network. In other words, your lights can turn off when you leave or turn on when you come home. Remote access lets you control your Hue Lights from your phone when you are away from home.
Hue Tap support is also a rather big deal, as you want to be able to program the four buttons found on the accessory.
I have been using Huetro 2.0 as a beta for a few weeks now and found the app easy to use and intuitive. I like how you can configure which screen launches on startup, or how you can auto-close the app after launching a scene from a pinned Tile.
Disco is also a fun Easter egg that flashes your Hue lights like a dance rave.
Huetro for Hue 2.0 on Windows 8.1
Besides the Windows Phone version getting re-written entirely, the developer of Huetro, Niels Laute, has informed us that the Windows 8.1 version is now in open beta (anyone can download and use it).
Niels initially started the project only last weekend to port it over to Windows 8.1. Interestingly, he tells us "this went way faster than I anticipated (yay Universal Apps!)" and now the app is ready to download just days later.
Since this is a universal app, it will feel and behave just like the Windows Phone version, giving users for the first-time direct control over their Hue Lights from a Surface, PC or tablet.
Best of all? Huetro for Hue is entirely free on both Windows Phone and Windows. So if you have thought about investing in Philips Hue lights or already have, now is your chance to take command of them with your Windows and Windows Phone devices.
You can order Philips Hue lights online from http://Amazon.com (opens in new tab) or other outlets, or make a trip to your local Best Buy who also carry the entire Philips Hue light catalog of accessories.
Download Huetro for Hue on Windows Phone 8.1 (Free)
Download Huetro for Hue on Windows 8.1 Beta (opens in new tab) (Free)
Daniel Rubino is the Executive Editor of Windows Central, head reviewer, podcast co-host, and analyst. He has been covering Microsoft here since 2007, back when this site was called WMExperts (and later Windows Phone Central). His interests include Windows, Microsoft Surface, laptops, next-gen computing, and arguing with people on the internet.
Wow talk about timing. Getting ready to go all LED in the house and was looking at these. Great job and thank you!!

Yeah, once you go all LED and Philips, it's hard to go back. My living room has so many different colors now, it's great for TV, movies, reading, etc. Really nice use of technology. It's just expensive ;)

I have 10 65watt ceiling cans just in the kitchen and family room. All turned on, I'm using 650watts for light. These use 70watts total for the same amount of light. And I use dimmers which prevented me from other technology. BIG money savers! And they change color. I've also seen the Bluetooth enabled lights. Those are amazing for putting a speaker in a lamp and streaming from your WP.

Really expensive, but it is very tempting. Turning the lights on/off when you're not in the house could be a good deterrent for thieves. I might need to replace the FakeTV in one of my rooms.

Just by a digital timer for ten bucks... Choose random setting... Done.

Yeah, but it's fun to develop with it.

Great app Daniel. Thank you for this article and heads up. Onya

Omg! I'm so jealous!!
I've been wanting these since they were first available! But they are expensive and last time I checked weren't even available in Chile or acknowledged by the official Phillips Chile webpage. I half joke, half seriously suggest a worldwide giveaway lol

Don't be. You can find those bulbs at 'maconline.cl'.

How the Fuck did I not think of that before, sometimes I amaze me. Thank you.

Well LED for sure is the way to go. I'm now considering these since there is now an app for them. Might be on the pricy side to do every bulb in the house.

I have done my whole house in LED's but just have 4 of these for certain areas, realistically you have to think where you will want to change the colour or dim the lights. I have two in the living room and two in the bedroom and that suits my house very well.

That's a really good point. I would really only want to do my porch with the geofencing, my office, and maybe the living room.

Went all LED thanks to Costco now I realm want Phillips for the iftt. My co-worker has it setup if an severe weather alert happens the lights blink a certain color.

The key is being able to control the Kelvin light scale. Some are still too cold.

Love it, thanks for the tip! I've been using Oni, but this seems much more feature rich and complete. Includes support for additional hardware that it looks like I'll need to spend money on now.

Noticed this update today and it's great. It would be awesome if you guys could post a tutorial on how to set up remote access because I can't figure it out.

I struggled with it too. It appears that the bridge only listens on port 80. So the first thing you have to do is make an ip address reservation based on the bridge's mac address in your dhcp settings so that the bridge always gets the same ip address. Next, in the WP app, configure remote access. I have the following: Port 81, external ip address: 212.204.188.xxx. Next in your router's web interface go to virtual server/port forwarding and forward port 81 to port 80 for the ip address of your bridge. You have to configure these settings on. you phone while connected to your home wifi, you can't configure it when on LTE/H+ etc. I have it working now. I switched off all the lights when I was at work and my girlfriend was at home having breakfast. Within seconds after switching off the lights, she sent me a whatsapp message asking whether I switched off all the lights or not. Yes I did, sweatheart :)

Hey, this is Niels - Huetro developer! I was able to use an other port as well (101 in my case). Philips has announced plans to open up their 'remote access' API to 3rd parties. This makes it much easier to enable this (no fiddling around with your router!). When they do, I'll make sure to implement it into Huetro ASAP! For now, the above description is correct!

I have something similar. Some off-brand one that I turn red. Not really fond of using it for music though..maybe for Disco or Electronica it would be ok.

Lol, my ever growing bucket list just got longer. Waiting until they become cheaper, have to replace 14 bulbs lol.

Hey, Daniel also uses an iPhone :). The "Scenes from other apps" only showed on my Windows Phone after I had connected my iPhone 5s with the official Philips Hue app. It never showed scenes before that and the scenes Ski, Deep sea, Sunset etc are built in scenes in the iPhone app as far as I know. They were there eversince I started the iPhone app for the first time. I only bought the Philips Hue lights because of the nice WP app Niels made. Normally I boycot everything made by Philips (Yeah that's a football/soccer thing - Imagine you are a huge Chicago Red Bulls fan and the only product you want is made by the Utah Jazz, the team you hate mostly). The Windows 8.1 app also works very well for a beta release.

Really pleased with the update to this app. I've had three 3rd party Hue apps on my Lumia all with different features, but this just became the grand-daddy and I'll be using it be default now. App is great on Surface too. Previously I was using Oni: Light Control which did the basics really well but hasn't had much attention apart from adding support for the new bulb types. Pleased to read that it IS as fast as they say to make a universal app too... The future's bright. Pun intended.

Can you now change the Saturation of the lights with Huetro? I have another Hue app (forget which one) that does this and I really like that feature.

Yes, saturation is there as well.

I found this app on the Phillips Hue website when I was trying to find an alternative for Oni. I had some trouble with this and and was emailing Niels who mentioned of a big update coming up. Glad it is here. Niels if you're reading this - you're a superstar! Now if you could add the feature where the lights change to music beats... That would be the last thing we would need. It's not on the official Hue app but i used to have one on the iPhone years ago - think it's called Ambify.

Haha thanks :)! Yes, I hope to improve the disco feature. But still have to figure out the sound analysis part! Next to that, the lights are not able to get a lot of commands per second (actually, seems the bridge is the bottleneck).

HUE HUE HUE HUE HUE
I didn't resist

"...or make your office look like a military installation with red lights." Lol, sounds tempting (and interesting) I'm gonna give a look at these lights.

Wish someone would give the same treatment to Belkin Wemo lights/switches

I'm wondering if these Philips lights give off the same yellowish light we're used to like an incandescent light bulb? I know that Switch Lighting LEDs accomplish that feat amazingly well, so well it's impossible to tell which is which.

I considred Phillips LED lighting before but never took the plunge because of no offical app. This looks just as good as long as Phillops doesn't do someting stupid like order a takedown, but I suspect there would be little chance of that.

Nah, they encourage 3rd parties to build apps actually. They have an official API with documentation and stuff.

What would be real cool is a variation of this app on xbox one that can somehow in realtime capture the screen images (or edges of screen) and use this to create colors to send to hue lights so then you have a diy tv ambient light system like Philips ambilight TVs. It could work very crudely using kinect pointed towards the tv to see the screen or somehow analyse the hdmi input/output. Do you think this would be an app you are interested in making Neils9001? I would pay upto 50 dollars for that functionality.

Select Harvey Norman stores have Hue and LifX bulbs.

Has anyone tried Oni Light Control? It does pretty much the same thing. http://www.windowsphone.com/s?appid=c8199c0b-3976-4a3b-9275-2d3a803f68ab

That one costs some money though.

NICE app,. I've got one for a LIFX Bulb but not as well featured as that. Just wish I knew what the best bulb is going forward.

He has twelve philips hue lights. A well paying job indeed.

Just bought this today.....works like a charm. :D

When I first saw the screenshot I thought it was the Windows 10 version of the action centre. I was excited for a second there.

filesoft best file manager for window phone http://bestappsforwindowsphone.com/filesoft-the-best-file-manager-for-windows-phone/
Windows Central Newsletter
Get the best of Windows Central in in your inbox, every day!
Thank you for signing up to Windows Central. You will receive a verification email shortly.
There was a problem. Please refresh the page and try again.