Phone calls possible with Windows 8?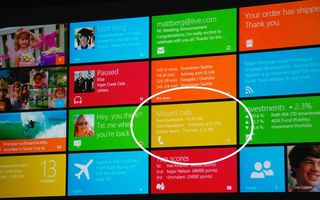 Long Zheng, over at IStartedSomething.com, has put together a nice case to show that Windows 8 slate devices will have the ability to make phone calls. The first piece of evidence is front and center in the picture above, which comes from a slide show on Windows 8 live tiles at the last day of BUILD 2011 in Anaheim. One of the sample tiles is clearly labeled "Missed Calls," complete with a phone icon and time-stamped Contact names.
If that weren't enough, a freeze frame of a Contact in the People Hub of a Windows 8 demo video (below) shows the option to call the person's mobile phone. This denotes that any calling functionality is more than just VOIP-based.
Last, but certainly not least, we have some hardware evidence. Those fortunate enough to attend BUILD received a slate loaded with Windows 8, along with some other goodies. WithinWindows.com's Rafael Rivera broke down the specs of the device and found it contained an Option wireless chip, which not only controls the WiFi, GPS and 3G, but alos supports cellular telephony using quad-band 2G and peta-band 3G.
We know that Skype will be a big part of Microsoft's operating systems going forward, but the ability to make mobile phone calls as well is a pretty handy feature. More interestingly, Zheng points out that this functionality could signal that the Windows 8 kernal may in fact be used as the foundation for future Windows Phone versions.
Source: IStartedSomething
OK... Don't get too excited. This is probably in reference to Lync which serves as a desktop enterprise phone solution. We use it in our offices and it is nice to see that it is being considered in the future of Windows 8 Metro environment. I don't see why this couldn't be used for regular phone calls but Lync is a VOIP solution that in the past has had complaints about a lack of notification of missed calls. This may be part of the solution to address this.

Maybe windows 8 is connected with your windows phone. and it shows you all of your updates from your phone on your pc or tablet! you cant tell me that wouldnt be awesome!

That would be awesome but how would it connect to a PC? I can see only USB cable or Bluetooth if the computer has it.

I think Drewidian and justinsims241 are both right. Lync is the most likely answer, but I've often wondered about Windows Phone and Windows 8 interoperability, a la webOS TouchPad and Pre3 on the Touchstone. I'm crossing my fingers for that...

I have a feeling it's more like a tethering between a Windows 8 tablet and a Windows Phone. Much like you could link a TouchPad between a Pre through the WebOS synergy.

yeah, like pcsuite that can allow windowsphone7 user to sync , backup all their stuffs to PC.

Everyone seemed to miss the Messaging tile aswell which was present from the outset of the demos.

Reverse engineering folks already found evidence that Windows 8 will be able to send SMS/texts - so I don't think phone calls are that much of a stretch. Many Windows 8 tablets will have SIM cards, so why not give them ability to make phone calls?

Skype / Lync / SIM enabled tablets.

If windows 8 tablet was out i bet you it will blow away the junk ipad 2. Ipad is just all hype. I like windows 8 shows you what a real tablet should be not like ipad 2 which is missing many things like FLASH

I wish and i need that... why microsoft so late when doing this little functions? android by far away creating this to most of their tablets... please, make one and i'm happy.
Windows Central Newsletter
Thank you for signing up to Windows Central. You will receive a verification email shortly.
There was a problem. Please refresh the page and try again.