Turn your Surface Pro into the perfect Photoshop machine with these tweaks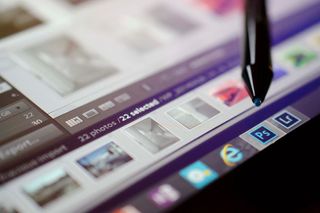 Microsoft's Surface Pro line of tablet devices can be seen as the perfect companion for the traveling Photographer. No longer is there a need to carry around a bulky laptop powerhouse, Wacom tablet, and never-ending power cords. With the Surface Pro and Surface Pro 2's Core i5 processors, large amounts of RAM, long battery life, and Wacom powered display – there is a new Photographer's best friend on the market.
However, as wonderful as the Surface Pro is out of the box, we can make a few tweaks and changes to make it the absolute best for those looking to make it their Photoshop companion device. Follow our guide below as we upgrade your graphics drivers, install extra Wacom software, and turn your tablet into a device Annie Leibovitz would be proud to use.
Updating your graphics driver
Whether you are using Microsoft's Surface Pro or Surface Pro 2, your graphic experience is being powered by Intel's integrated chipset. The problem is that Microsoft only wants you to run the latest tested and verified version of the graphic driver on your device. While this is great for stability in most cases, it can hold you back from getting the latest and greatest performance.
Some Surface Pro users have actually complained that the current Intel driver being distributed by Microsoft crashes when Photoshop CC is launched (we are not sure if this issue is present on past issues of the software suite). Not all experience this problem, but if you are one of them, or you just want to best performance from your machine, you can bypass the verification process of installing the latest driver and install it manually. Here is how to do so:
Head over to Intel's support website by clicking here.
You have a few ways to get to your appropriate driver. We suggest using Intel's Driver Update Utility, which will automatically scan your system. Note: you may be required to install a small piece of software to run the wizard.
Once the wizard is done running, Intel will display a list of their hardware currently installed within your machine. One of those options should be a "Graphics Driver" and it should say that it is out of date.
Click on the plus next to the "Graphics Driver" option and you should be presented with Intel's HD Graphics version 10.18.10.3496. Click and save the driver to your PC.
While the driver downloads, we are going to have to grab one more piece of software. Download and install 7-Zip for free by clicking here (if you do not already have it). Allow 7-Zip to install its contextual menus onto your system.
Once 7-zip is installed and the graphics driver has been downloaded, head over to your "Downloads" folder and right click on the Intel Driver Setup file. This will produce a context menu and you will select the option to extract the files from within the 7-Zip menu option.
Now you will have a folder, with all of the files that were once tucked away within the Setup file itself.
Head to device manager by going to the Start Screen and typing "device manager" and hit Enter.
Once inside the device manager, click the tiny arrow next to "Display Adapters" to show "Intel® HD Graphics Family". Right click on the Intel hardware and select "Update…"
A wizard will appear (a setup wizard that is, not Gandalf). Select the option to "Browse my Computer for driver software", then select "Let me pick from a list of device drivers…", finally select "Have Disk…"
Now navigate to where we extracted the Intel Graphics Driver and select the driver file. Driver files end in ".inf" and this specific one will be located under the "Graphics" folder.
Now complete the driver update wizard and restart your computer to experience a more stable and graphic accelerated Photoshop experience.
Make your digitizer pressure sensitive
There are different drivers that allow your digitizer to communicate pressure with various applications on your PC. When the Surface is shipped, it includes a basic driver that communicates with many of the applications in the Windows Store including Fresh Paint, but Photoshop support is missing for all creative suites and creative cloud.
To add pressure sensitivity within Photoshop, you will need to download an update from Wacom's own website. The driver you will be downloading will add something known as "Wacom feel IT technology" to your Surface Pro. Click here to head over to Wacom's site and download the latest version (7.2.0-4) of the "Tablet PC – Enhanced Tablet Driver".
Once downloaded, simply install the driver via the setup wizard and reboot your machine. You should now have pressure sensitivity within Adobe Photoshop.
A few tweaks on your machine
These tips are not Surface Pro exclusive, but will ensure that your Photoshop CC experience is the best around. All settings we about to discuss can be accessed by heading to "Preferences > Performance" in Photoshop or by pressing "CTRL-K" on your keyboard while in Photoshop.
First, depending on how much memory your Surface has we recommend different Memory usage settings. In general, make sure that your system has at least 2GB of spare memory in the background to use. For example, on the Surface Pro with 4GB of RAM, we recommend using 2GB max, while on the Surface Pro with 8GB of RAM, we recommend using 6GB max for Photoshop.
In addition, now that we have manually force updated your driver, you can feel free to take advantage of the "Advanced Drawing Mode" under the advanced graphic settings. We also recommend raising History States, Cache Levels, and Cache Tile Size if you have enough room on your drive to store the data. When working with Photoshop, it can be helpful to have 5-10 GB of free space on your drive for the application to use as "scratch space".
Conclusion
We have manually force updated your graphics driver to the latest version, which should allow Photoshop CC (and possibly older versions) to run without any hitches or glitches. In addition, the newly updated Wacom driver will allow you to work within Photoshop with extremely accurate touch sensitivity. Lastly, the Photoshop CC tweaks we recommended should squeeze every last bit of performance out of your machine without busting it.
Are you a photographer or someone who uses Adobe Photoshop? What do you think of Microsoft's Surface Pro with its integrated Wacom technology?
Get the Windows Central Newsletter
All the latest news, reviews, and guides for Windows and Xbox diehards.