Turn your Surface Pro into the perfect Photoshop machine with these tweaks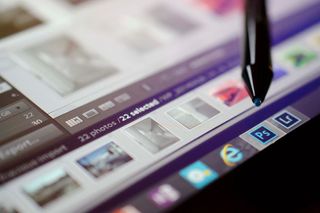 Microsoft's Surface Pro line of tablet devices can be seen as the perfect companion for the traveling Photographer. No longer is there a need to carry around a bulky laptop powerhouse, Wacom tablet, and never-ending power cords. With the Surface Pro and Surface Pro 2's Core i5 processors, large amounts of RAM, long battery life, and Wacom powered display – there is a new Photographer's best friend on the market.
However, as wonderful as the Surface Pro is out of the box, we can make a few tweaks and changes to make it the absolute best for those looking to make it their Photoshop companion device. Follow our guide below as we upgrade your graphics drivers, install extra Wacom software, and turn your tablet into a device Annie Leibovitz would be proud to use.
Updating your graphics driver
Whether you are using Microsoft's Surface Pro or Surface Pro 2, your graphic experience is being powered by Intel's integrated chipset. The problem is that Microsoft only wants you to run the latest tested and verified version of the graphic driver on your device. While this is great for stability in most cases, it can hold you back from getting the latest and greatest performance.
Some Surface Pro users have actually complained that the current Intel driver being distributed by Microsoft crashes when Photoshop CC is launched (we are not sure if this issue is present on past issues of the software suite). Not all experience this problem, but if you are one of them, or you just want to best performance from your machine, you can bypass the verification process of installing the latest driver and install it manually. Here is how to do so:
Head over to Intel's support website by clicking here.
You have a few ways to get to your appropriate driver. We suggest using Intel's Driver Update Utility, which will automatically scan your system. Note: you may be required to install a small piece of software to run the wizard.
Once the wizard is done running, Intel will display a list of their hardware currently installed within your machine. One of those options should be a "Graphics Driver" and it should say that it is out of date.
Click on the plus next to the "Graphics Driver" option and you should be presented with Intel's HD Graphics version 10.18.10.3496. Click and save the driver to your PC.
While the driver downloads, we are going to have to grab one more piece of software. Download and install 7-Zip for free by clicking here (if you do not already have it). Allow 7-Zip to install its contextual menus onto your system.
Once 7-zip is installed and the graphics driver has been downloaded, head over to your "Downloads" folder and right click on the Intel Driver Setup file. This will produce a context menu and you will select the option to extract the files from within the 7-Zip menu option.
Now you will have a folder, with all of the files that were once tucked away within the Setup file itself.
Head to device manager by going to the Start Screen and typing "device manager" and hit Enter.
Once inside the device manager, click the tiny arrow next to "Display Adapters" to show "Intel® HD Graphics Family". Right click on the Intel hardware and select "Update…"
A wizard will appear (a setup wizard that is, not Gandalf). Select the option to "Browse my Computer for driver software", then select "Let me pick from a list of device drivers…", finally select "Have Disk…"
Now navigate to where we extracted the Intel Graphics Driver and select the driver file. Driver files end in ".inf" and this specific one will be located under the "Graphics" folder.
Now complete the driver update wizard and restart your computer to experience a more stable and graphic accelerated Photoshop experience.
Make your digitizer pressure sensitive
There are different drivers that allow your digitizer to communicate pressure with various applications on your PC. When the Surface is shipped, it includes a basic driver that communicates with many of the applications in the Windows Store including Fresh Paint, but Photoshop support is missing for all creative suites and creative cloud.
To add pressure sensitivity within Photoshop, you will need to download an update from Wacom's own website. The driver you will be downloading will add something known as "Wacom feel IT technology" to your Surface Pro. Click here to head over to Wacom's site and download the latest version (7.2.0-4) of the "Tablet PC – Enhanced Tablet Driver".
Once downloaded, simply install the driver via the setup wizard and reboot your machine. You should now have pressure sensitivity within Adobe Photoshop.
A few tweaks on your machine
These tips are not Surface Pro exclusive, but will ensure that your Photoshop CC experience is the best around. All settings we about to discuss can be accessed by heading to "Preferences > Performance" in Photoshop or by pressing "CTRL-K" on your keyboard while in Photoshop.
First, depending on how much memory your Surface has we recommend different Memory usage settings. In general, make sure that your system has at least 2GB of spare memory in the background to use. For example, on the Surface Pro with 4GB of RAM, we recommend using 2GB max, while on the Surface Pro with 8GB of RAM, we recommend using 6GB max for Photoshop.
In addition, now that we have manually force updated your driver, you can feel free to take advantage of the "Advanced Drawing Mode" under the advanced graphic settings. We also recommend raising History States, Cache Levels, and Cache Tile Size if you have enough room on your drive to store the data. When working with Photoshop, it can be helpful to have 5-10 GB of free space on your drive for the application to use as "scratch space".
Conclusion
We have manually force updated your graphics driver to the latest version, which should allow Photoshop CC (and possibly older versions) to run without any hitches or glitches. In addition, the newly updated Wacom driver will allow you to work within Photoshop with extremely accurate touch sensitivity. Lastly, the Photoshop CC tweaks we recommended should squeeze every last bit of performance out of your machine without busting it.
Are you a photographer or someone who uses Adobe Photoshop? What do you think of Microsoft's Surface Pro with its integrated Wacom technology?
I've been using Photoshop on my Surface Pro for years. Love it.

Have you found an easy way to zoom in using the pen? I always find myself needing to access the settings menu or keeping a mouse off to the side.

I just tap the zoom tool on the side. I guess it's possible to remap the pen button for zoom but i'd rather not. Also, I often have the keyboard up, so i'll just hold the z key and drag the pen.

I forgot mine came with a pen, I wonder where I put it... Would have come in handy when I was fiddling with a photo last week (albeit with Microsoft picture it, rather than PhotoShop)

If you lost it, you can always buy a new one. I think it's about $20. It does come in handy. It's ncie to be able to paint directly on a photo.

Control+space and move left/right with the pen. It is so wonderful.

It's easier to just hold down the z key (then move the mosue or pen). Of course, i'm using CC and can't remember if you can do the same in cs6. But it does the exact same thing.

years? what? it's out for 2.

Hot Virtual Keyboard is a must for PS users on a Windows 8 tablet. Yes, the name is horrible and it is a pain to setup, but so awesome to have all those modifiers back.

Please tell me that it allows me to have a big virtual button for "undo"

Yep, you can program any hotkeys you want as long as they don't use the Windows key. CTRL ALT Z is definitely possible though. I have the Undo button right next to where my left thumb rests :D

Now this is the article I've been waiting for. Hopefully I can put it to use with CS4, since I can't afford to upgrade.

Yes, thanks for the article, but this is the sort of thing that pushes people to Apple. You should not have to do this, the Surface should be a premium experience and just work.

It does just work, but these are small tweaks to make it better. Same things happen on Apple.

The only people "this sort of thing" pushes to Apple are those who only want to buy Apple products in the first place. The Surface Pro does just work. Outside the Wacom driver to get pressure sensitivity in Photoshop, the device handles virtually anything you throw at it, wonderfully and out of the box. Additionally, since Apple doesn't offer anything remotely similar to the Surface Pro, these "people" of which you speak were never interested in the unique combination of features and performance that the Surface was designed to provide in the first place.

Nice one Michael ! Recommending this article to my friend who use Surface Pro. He loves Photoshoping :D

If you're only going to use Photoshop and nothing else that requires the Wintab API, it's now possible to use the Microsoft Ink API in Photoshop CC: http://helpx.adobe.com/photoshop/kb/tablet-functions-dont-photoshop-142.html The Wacom drivers would probably be overkill in that situation (again, if someone is only going to use Photoshop. There's a ton of other programs that depend on Wintab.)

Cool alternative solution - thanks, jhoff! I have never tried the "RealTimeStylus" method though, so I am not sure how it affects performance. Do you use it?

I'm not a heavy Photoshop user so I couldn't really comment too in depth on it, but in my very casual use it seemed to perform as well as with the Wacom drivers and Wintab. I prefer the Microsoft drivers and using the Ink API setup because I find that the pen is more accurate that way, and with the Wacom drivers you don't even have any way of adjusting- you're stuck with a 4 point calibration.

Is that driver update necessary on the Surface Pro 2

Nope, if you don't feel like you need it, then you probably do not. :)

What is the reasoning for doing the graphic driver update manually rather than run the setup exe?

If you attempt to run the latest driver update from Intel, it will not install as it is not "validated" for Microsoft Surface yet.

may be a stupid question, but there is no way this could "break" Adobe CS6 is there? I know Adobe CC is mentioned throughout, but I would love this for CS6 as the baked in Adobe support for the pen is awful ( LOVE it in powerpoint, Onenote and Sketchbook Pro though)

No, installing the Wacom driver will not break any applications; it will improve your experience in CS6.

Yup, I can confirm that the Wacom driver cause no problems in CS6 or any other program. I have the full CS6 suite, ZBrush, MODO, Sketchbook, ArtRage and a few others on mine, and they all work great.

Anybody know how to calibrate the pen better? Mine keeps getting thrown off.

If you install the Wacom software, it comes with an application called "Wacom Pen"; from there you can calibrate the pen and perform more advanced operations. (shown below) If you don't have the Wacom software simply search "Pen and Touch" from the Start Screen to get Window's default configuration tool.

YAY you can preview pics now :-)

Can any of these tweaks and updated drivers work on the Dell Venue 8Pro? The stylus on the V8P really sucks as it either works and is too sensitive or doesn't work at all. It has a mind of its own. Maybe you need an article like this to tweak the V8P.

Treo, sorry - the stylus is not Wacom on the Dell Venue 8 Pro. Your best bet is to try and play around with the default settings as best as you can. From the Start Screen search "Pen and Touch" to access settings for your stylus.

Have Dell sent you a new stylus yet? A lot of DVP8 users have been getting the new version sent to them free of charge (and without asking for it) as the new one is much better. If you haven't got one I'd recommend getting in touch with Dell support and asking them about it.

Hey guys, ı want a buy a Surface Pro 2 64 gb version. I use some design program on my laptop (ADOBE Illustrator, Photoshop, Dreamviewer and AfterEffect). What about this programs, will i take a problem with surface pro 2. will it run these programs CLEARLY. Help me, thanks a lot :)

It will run all of those programs with no problems! Though 64GB might be pushing it. After Windows and default apps are installed, then with maybe Office and the Creative Suite you'll probably be using up about 30-35GB, more if you have a lot of email cached on it (my Outlook data files are crazy sized!) or if you let iTunes/Xbox Music store your music in your default user folder. After Effects may struggle a bit on larger projects (mostly with rendering) as Surface Pro doesn't have dedicated graphics but it depends on the kind of work you do. If you can stretch to the 128GB version it would probably be worth it, otherwise just pick up a 32 or 64GB MicroSD to store the bulk of your files on. :)

Get the 128GB version. The 64GB version really should never have been made, it's too little for a powerful Windows computer. It's alright for the ATOM computers with 32-bit Windows and probably not too many large programs installed but not for an i5 computer.

This also works if you're using CS6, though CC is the only way you'll get better scaling for HiDPI. Glad it's finally been sorted though, it only took Microsoft, Wacom, and Adobe about six months after the launch of Windows 8 (and 18 months after the dev preview when we all started complaining about pressure sensitivity) for them to get drivers made that bring back Windows 7 functionality, lol! Ah well, it's better now, though the past month I've found myself moving more and more work in to Manga Studio, illustration and artwork mostly, as Photoshop is still king of actual image editing, but it's interesting to switch between the two and see where the Photoshop team need to improve on a tablet experience. Zooming is a particular pain! Great to see articles like this though, please keep it up! :) Anyone who is interested in using their Windows 8 machines (not just the Surface Pro) should check out the surfaceproartists.com site, there's some great tutorials, reviews, and other articles there for us creative types. :)

Wacom Bamboo Stylus is an excellent replacement for the stylus that ships with the Surface Pro if you can stomach losing the eraser. http://www.wacom.com/en/us/everyday/bamboo-stylus-feel

PhotoShop CC on the surface pro is a dream come true. I love, love, love it.

Does anyone know if updating the Wacom drivers enables pressure sensitivity in Paint Shop Pro? I did a brief search but didn't turn up any clear answers.

Really appreciate this article and some of the comments. I usually find updates and news (which is great), but its nice to see tips and tutorials from time to time as well. I'm not really a PhotoShop user, but I like running the latest drivers (typically) for performance reasons. Again, thanks a lot and keep it up.

I've had trouble figuring out how to use the stylus in a "hold the mouse button down on a button to get the other options" functionality - how do you get that? Also, does anyone know if it's possible to make the UI more touch friendly? It'd be nice to see the smarts Microsoft put into Office 2013's touch/mouse modes, but I'd settle for touch-scrolling at least working in the CS6 suite.

Wow, this would be great for my productivity in my surface pro. IF I HAD ANY. Dammit, why don't it available in my country.

After installing the Wintab drivers before Christmas, my pen tracking has been completely off. By as much as a centimeter in some parts of the screen. I have calibrated and reset and recalibrated using every conceivable method and uninstalled the Wintab drivers. But the only solution that has really worked well is to forget pen pressure outside of Modern apps and use this handy tool developed by a wpcentral community member: http://www.surfaceforums.net/forum/microsoft-surface-pro-2/8219-surface-... You can also do a many point calibration by running command lines but sometimes I have been able to reset it afterwards when using this method. With graphics drivers there are many solitions I have tried. The solution presented here sounds like maybe the best one, except that you have to remember to turn automatic updates off or it will be undone the next day. But I think this was also the driver that made my Photoshop CC crash. The problem is that the Surface clips shadow detail in the native drivers to make the display look snazzier for games and browsing and regular everyday use. But you should be able to see the dark tones here: http://www.lagom.nl/lcd-test/black.php As for the SP2 as a pro photo editing device I think it is pretty bad. Hopelessly inadequate pen tracking and screen calibration. And no touch screen support in the neccessary apps. I don't even use mine for anything. My ancient iPad 2 is a lot better for everything not involving work, so I use that and my desktop Mac only now. Deep dislike for the entire Surface tablet. Not only was I an idiot to buy it but also for not returning it within the thirty days when I could. BTW there was a registry hack somewhere that makes the tiny tool icons in Photoshop bigger. But I cannot find it now.

Tilting the pen has a huge effect on where the pen registers. If you calibrate it with the pen straight up, then use it tilted, the registration will be off. Calibrate it holding the pen as you would when using it. The registration can drift slightly at the corners, and occasionally needs to be recallibreated, but it's far from as troublesome as you describe. Either that, or your unit is defective and you should have it replaced. As for your other criticism of the Surface Pro, it could speak to your skill more than to the performance of the device. I, and many others, find it to excel at photoshop and graphics work in general. YouTube is full of examples of people doing amazing work in Photoshop, Sketchbook, ZBrush and other programs.

Yes, I know about hand positions, tilting and corner drifting. This is not what I speak of. As for my skills, I am sure they are nowhere near yours in any way.

If you're having issues beyond those mentioned, then your unit is definitely defective and you should contact support for warranty repair (if it's still in warranty). I can assure you, the pen works wonderfully. As for my comment on skill, I didn't mean to sound condescending, although that's probably exactly how it sounded. I was just saying that there's people doing amazing work on the Surface Pro (work that's admittedly far beyond my skill level too), so the device itself is entirely capable. Seriously, consider having your unit repaired. I've found the Surface Pro to be among the best computing devices I've ever owned. It's not without compromises given the huge spectrum of uses it can handle, but none of these compromises are showstoppers, and, at least in my opinion, more than made up for by it's usefulness in such a broad range of tasks.

Great. Thanks. Crashing Driver when using photoshop was an issue on my surface.

Is there a reason why in the Advanced settings the Mode change is grayed out? I have a Surface Pro 2 and PS CS5.5.

Any leads on a capacitive FINE POINT stylus?

In general, capacitive doesn't do fine precision well. It was one of those things that Steve Jobs forgot to tell people when he announced that all touchscreens prior to the iPhone were somehow inferior. On a more helpful note, check out the adonit Jot family of styluses. http://www.adonit.net/ They have a transparent disc around the capacitive point that makes it feel more like a pen. I have used one on capacitive screen devices and it workes pretty well, though it doesn't feel as natural as an old fashioned resistive stylus. They also have a new stylus out now that has a true fine point, but, like many, only mention iOS devices on their page, making it tough to know if their "new technology" that "senses the unique capacitive signature of each iOS device" will work on other capacitive devices. Since it also talks about using Bluetooth LE and a special SDK, I expect that it won't work.

I actually spent the $ on the Wacom Cintiq Companion tablet. It may be overpriced, but I find the buttons and rocker switch on the side to be invaluable and the extra 3" of screen space is very helpful, too.

The graphics driver update will also fix Final Fantasy XIV. You have to install it manually and not use the auto update.

Anyway to force photoshop into highDPI mode so that buttons aren't microscopic?

What? You even didn't mention the most important tweak of Photoshop and Illustrator on Surface Pro: the user defined manifest. The UI elements are way too tiny, totally not usable without it. Here is the trick: http://surfaceproartist.com/blog/2013/12/11/hack-makes-photoshop-and-illustrator-readable-on-surface-pro

I can't even download the update driver utility.. I have a surface 2 and it says "this app can't run on my pc" after I try to run it.... wtf is that about??
Windows Central Newsletter
Thank you for signing up to Windows Central. You will receive a verification email shortly.
There was a problem. Please refresh the page and try again.