PicFeed launches on Windows Phone, lets you create custom feeds for Instagram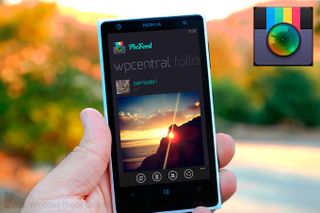 It's been two weeks since Nokia World 2013 took place in Abu Dhabi. The event was highly successful for the Windows Phone platform. Nokia announced three new devices (two for Windows Phone 8 and one for Windows RT 8.1), new accessories for those devices, and a handful of new software. Of course Instagram for Windows Phone was finally announced on stage, but we also got other cool apps like Nokia StoryTeller, InNote, Vine, and more. PicFeed was also announced back then and is now available for download in the Windows Phone Store. Let's check it out.
So what is PicFeed? It's an app from a development studio called Appiphany. App epiphany, get it? They have two of popular apps on iOS – InstaFeed and PicTag. PicFeed is basically InstaFeed for Windows Phone, why drop Insta and add Pic to the app name? Probably because Instagram has been cracking down on apps with the name "Insta" in them, especially when they tap into Instagram data. So what exactly does InstaFeed, and now PicFeed, do? They provide a way for users to create custom Instagram feeds without affecting their following account. It's actually a clever idea and works around some limitations with the official Instagram accounts on Android and iOS. Here's a nice bulletin point of features you get with PicFeed:
Create Feeds based on Users or Hashtags
Filter by Photo/Video
Comment on and like Instagram photos from within the app
Share custom feeds via email, text, Twitter, or Facebook
Sounds pretty awesome? You're basically getting similar functionality to how lists on Twitter work. After downloading PicFeed you'll just need to sign in with your Instagram account of choice. From there you'll see some feeds already for you inside the app. Obviously you'll see one for who you already follow, but you'll also see some of your recent likes in addition to some lists suggested by the app itself.
But the magic really comes when you create your own custom feeds using PicFeed. We initially had some errors getting this to work, but after backing out of the app a few times it was working without a hitch on our Lumia 1020. Just tap the "+" button in the app bar to get started on creating that custom feed. You'll first be naming it and then you can add either users or hashtags to that feed.
Why would you do this versus just following them? Well you might not want people to know you're following a certain account or maybe you want to monitor a specific set of hashtags. There are a wide number of scenarios of how this app can come in handy and we're glad to see it on Windows Phone.
The app is pretty good for version 1.0, but a few things can be improved (spell check please). There's also lockscreen support, so you can set a particular feed to show images on it. Pretty nifty.
As far as we can tell, the app is free for Windows Phone 8 users and isn't limited to just Lumia handsets. You'll want to head to the Windows Phone Store to get it or use the QR code below.
Thanks for the tip JD!
Via: @wpscoops
Windows Central Newsletter
Get the best of Windows Central in in your inbox, every day!
May be slightly off topic. Today's spotlight app section has some very good games. EDIT: Just downloaded this app and its good.

This off topic slightly but what is the deal with instance and that new redesign. Since 6tag major updates and instagram official I haven't heard anything. I'm giving this picfeed app a try.

It's funny. I was thinking the same thing. What has happened to Instance?

How does one search feeds that already exist? I tried to add a wp8 feed but it days that category already exists so how do I find it?

Great. When is temple run 2 coming. I noticed it in the image in the article yesterday by wpcentral showing 525.

Whew, that tile ;-\
Glad to have this app, but anytime I use an app that's ported from iOS, it makes me even happier to be on WP8. In general, WP8 apps are so much cleaner.

And many times limited in features :-/

The name is actually iAppiphany.. Stupid lower case I❗❗

Oh so it would make it easier for me to do my weird hobby of searching for #Lumia #windowsphone #1020 hash tags.

Go to sleep, you twits!!!

Hi guys , if u have insider pro new update available now .

Hi guys ,1shot beat app update is also available now

6tag does this, you can pin #tags to start and you get a live tile

Well, then it doesn't do what this does. Pinning every tag to your start screen isn't the same as having it in one place. :)

I'm curious to know if anyone knows anything about the official Instagram app and integration with the Me tile and People hub? I will probably still just use 6tag since it is wonderful, but if Instagram is going to officially be on the platform, I think it would be wonderful if it were integrated in the same way as Facebook, Twitter and LinkedIn. On Windows 8, too.

That sounds good! That is a way for Microsoft to make everyone #switch !!! I love 6tag as well, but it will be pulled from the store and when people get new phones it will be lost. Instagram is a lot more reliable as well, as 6tag doesn't always work for me :(

I don't know how to create custom feeds. Everytime I try it says that the name is already being used. Even if I type a name like shapaldhapz....uninstalled.

same here.. any idea from anyone how to create custom feeds?

Why I can't download to version 7.8

WPCentral, please proofread better. You should be embarrassed to have an obvious grammatical error in a headline.

Cannot change the progile i want no matter how many times i log out, or uninstall the app. once i click sign in with instagram it takes me back to the same profile. stupes. cant revoke access on instagram site either.waste

Wtf? It says' fkxkxjn' feed is already made? Yeah right! I've tried everything! Ridiculous. Update. Or fix. Does anyone know how to make a custom feed with ANY name?

Sweet! And its free too. Definitely a very polished app for instagram
Windows Central Newsletter
Thank you for signing up to Windows Central. You will receive a verification email shortly.
There was a problem. Please refresh the page and try again.