Glad Instagram is coming to Windows Phone? There's more where that came from as more apps join the list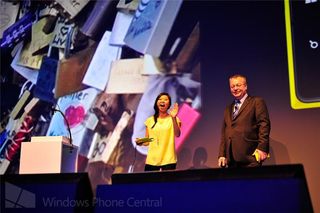 Today has been a rather hectic day with Nokia World 2013 and all. We knew it was going to be a right blast, but Nokia has unveiled much more than originally expected. If you're happy with news that the likes of Instagram and Vine are coming to the platform, boy are you in for a surprise. Turns out, there are loads more apps and games on the way too. It's a good day for the Windows Phone Store.
We've touched on a few of the apps and games listed by the official Windows Phone Blog, but it's always good to recap.
Apps
Are you one who owns about 30,000 apps on your Windows Phone, leaving little room for multimedia? This list is for you. Here are a number of apps that are either already available or are on the way to Windows Phone (descriptions are from the official Windows Phone Blog):
CamScanner - Scan, sync, edit, share and manage your documents. Coming soon.
ESPN F1 - The official ESPN F1 app for Windows Phone brings you the best Formula One coverage across the globe, delivered in English, French and Spanish. The app provide news, features, live race commentary, and detailed information about teams, drivers, and circuits. Coming soon.
Instagram - The wait's almost over. The mega popular photo and video sharing app will be coming to Windows Phone "in the coming weeks," said Instagram CEO and co-founder Kevin Systrom. "We're looking forward to watching the Windows Phone community use Instagram to capture and share beautiful moments." Coming soon.
InNote - The easiest finger writing app for taking notes, writing memos and making annotations. Keep all your work, school and personal to-do notes organized with this simple-to-use note taking app. InNote is vailable now.
Nokia Camera - By merging two of its most powerful and popular stand-alone photo apps—Pro Camera and Smart Camera— Nokia has makes it easier than ever to shoot and adjust photos, or create amazing motion shots and videos. Available now.
Nokia Storyteller - Relive your memories in a dynamic and interactive way. Storyteller integrates your pictures with HERE location information, then plots the chronological picture journey on a map. Video, animated Cinemagraphs, and burst shots make your experiences come to life. Coming soon.
Papyrus - A natural handwriting note-taking app that you use just like paper, Papyrus lets you take notes with a stylus or your finger. Select, move, resize, cut, copy and paste your handwriting, and even edit the color and thickness of your writing. Coming soon.
phriz.be - Share high-res photos with friends and family between a variety of devices. Phriz.be will soon also offer this feature for documents. Available now.
PicFeed - Create and share multiple custom Instagram photo feeds with Windows Phone 8. Instagram account holders can Like and Comment on Instagram photos directly from PicFeed. Easily discover new content through feeds pre-loaded with some of the best photos on Instagram. Coming soon.
Plex - Manage and share your videos, music, and photos across Windows Phone 8, iOS, and Android devices, and any smart TV. Coming soon.
Smart Resize - Forget cropping and resizing your photos yourself. Smart Resize can analyse and images and decide what's important and what's not, automatically cropping the visual clutter.
SophieLensHD - SophieLensHD, has been redesigned for larger displays like the 6" display on the Lumia 1520. Pick from a variety of beautiful new filter packs and weave in HERE location information, Wikipedia commentary—or even your own notes—using the new template-driven user interface.
Xbox Video

- Easy access to a massive library of the latest blockbuster movies and TV shows. The Xbox Video app for Windows Phone lets you buy or rent your favorite movies and shows, and watch them across any supported device. Only Windows Phone customers will be enjoying Xbox Video on their phones this holiday season. Coming Soon

Vine - Capture and share your short video loops with friends. Coming soon.
Vyclone Pro - The new and improved Vyclone Pro video collaboration app is designed to take advantage of the 1080p screen on the Lumia 1520, sporting an updated user interface that lets you record and upload videos from anywhere, plus select from three exclusive video filters. Coming soon.
Games
Whether you're into the hardcore RPGs or simply enjoy the odd game of Andry Birds here and there, these upcoming titles will soon be absorbing your free time (descriptions are from the official Windows Phone Blog):
Asphalt 8: Airborne - Drive 47 high-performance vehicles from Ferrari, Lamborghini, Corvette and more on 9 challenging tracks. Optimized to run on the full HD displays of the new Lumia 1520. Coming soon
Danger Dash - Are you a real adventurer? Prove it in this endless runner that challenges you to dodge tigers and collect coins as Chuck Ace, adventure lass Miranda Rose, or the brawny Blowing Wind. Coming soon
FIFA 14 - Feel the excitement of every pass, strike, and tackle in FIFA 14 from EA Sports. Features more than 30 leagues, over 600 licensed teams, and more than 16,000 players—from the English Premiership and La Liga to the German Bundesliga and beyond. Coming soon
My Talking Tom - Adopt your very own baby Tom. Feed him, play with him and nurture him from a cute kitten to a fully-grown Tom cat. Coming soon
Rabbids Big Bang - Ubisoft's famous Rabbids have blasted off into space. Pilot a Rabbid using your jetpack's boost and the gravity of surrounding planets to collect coins and avoiding obstacles in each stage. Coming soon
Rail Rush - This epic game, from the makers of iStunt2 and Gravity Guy, is exclusive to Nokia Windows Phones for three months. Step into your cart and start collecting precious gold nuggets and gems while accelerate down insanely fast rails and avoiding the obstacles and other surprises along the way, Available now
Rayman Fiesta Run - Adventure and surprises await as you race through a tasty environment made of food and cooking supplies. Coming soon
Temple Run 2 - The sequel to the smash hit endless runner that took the world by storm. Navigate perilous cliffs, zip lines, mines and forests as you try to escape with the cursed idol. How far can you make it? Coming soon
What's your favourite app that's made the list? We'll of course report when upcoming apps and games are available on the store.
Source: Windows Phone Blog; thanks, Sabita, for the tip!
Rich Edmonds is Senior Editor of PC hardware at Windows Central, covering everything related to PC components and NAS. He's been involved in technology for more than a decade and knows a thing or two about the magic inside a PC chassis. You can follow him over on Twitter at @RichEdmonds.
Xbox f***in video hells the f*** yeah!!!

On WP? Yeah ill swear :) I use Xbox video alot and I buy most of the movies ill love to have this stuff on my phone.

Well most of apps coming but when's gonna subway surfers come :/

lol its always somebody out there

yeah.. because subwaysurfers is a game that is one of its kind.. just like every other of that 100000 games out there

It's not unique, But it's the best and most interesting/popular out there.

ANother endless runner. I'm not holding my breath for this. When it comes, it comes.

I've been waiting on Flipboard for sometime, it's my fav app on my GS3 and was missed when I made the switch to WP. Looking forward to Instagram too, even though I love 6tag.

Same here on Flipboard. I don't have a gs3 but I have it on my crappy mac mini.

Yup same here the only app i miss since i made the switch to WP8 after leaving iOS, welcome Flipboard.

I'm surprised they didnt release it for iOS and Android first, like the Remote Desktop app or Skype video messages lol

I wouldn't give a damn who gets it first just so long as I get it.

Yeah! I can finally watch The Raid Redemption on the go! Will look great on my 1520, when I get it.

ESPN F1 app is what I'm most looking forward to. And isn't Plex already available in the store?

I've been using Plex on my 920 since it was released. Maybe this is a specific updated version for WP8.

Same here.. Dont see a newer specific version coming. Unless it's new support for 1080p streaming..

Yes, Plex has been there for a long time (early 2012?)

Looking forward to the F1 app also

I was wondering the same thing. I think the current version was made for WP7.

It's available but it's terrible. Last updated : 2012-04-20... come on. Doesn't work at home even if iOS and Android version works just fine. It's not even listed in the supported platforms on their site.
And yes, it's a WP7 app.

Yeah, I've had plex since it came out for WP7.5

Yet still no Snapchat app... Despite Swapchat being pulled from the store.

Rudy huyns making 6snap untill the official is released! He confirmed it on Twitter!

Cool! Now I wish I used Instagram... That's going to be a wicked collection. 6sec, 6tag, 6snap

This is the best news I heard! If Rudy makes a 6book (facebook client), I will buy that too!


Whoa 20 new apps, and only one that's useful, flipboards

Nokia Camera is available now, as an update to Nokia Pro Cam!


Smart Resize is available as well

Yeah but it keeps crashes on me. I'm on a Lumia928

Works great on Lumia 925.

Awesome!! Now we just need Citibank, a new kik and well that's it

I have a good feeling about it since now it's a Nokia exclusive.

+920 on Citibank app I just switched from bank of America...

Kik Messenger isn't exclusive to Nokia, I can download it right now on my ATIV S!!

It is not an exclusive. It is just in the Nokia Collection.

Sorry guys, no Citi app coming soon... Apparently we need louder voices than those darn I-People and G-Lovers.

You failed to mention Flipboard in your piece!

I'm excited for that one. Although when that comes out I'll probably have to say goodbye to Collector and Weave...

That may be coming to Windows not WP. In the announcement he was speaking about it coming to the 2520 and "Windows".

Its coming to windows phone. It was announced a while back.

It's only been announced for Windows RT.

It's coming first to RT, eventually to Windows Phone.

http://www.engadget.com/2013/10/22/flipboard-and-storyteller-coming-to-the-lumia-2520-tablet/

Xbox video?? How rocking is that? Now give me Sirius XM and my life is complete!!!