Turn your Windows Phone photography into extra money with PicHit.Me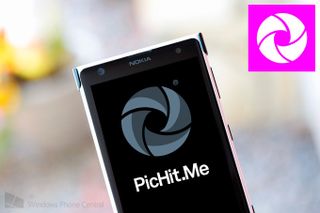 While Windows Phone is the clear third place operating system compared to Android and iOS, it's a very distant third. The latest numbers show the platform controlling about 4% of the global smartphone market share. So when a startup launches and targets Windows Phone first over other operating systems we take notice. PicHit.Me is a startup from Sweden that we're happy to see on the platform. They're also working on solving a problem that's pretty widespread. Let's check out PicHit.Me for Windows Phone 8.
Presentations are given daily on PowerPoint throughout the world (there's probably a dozen happening right now) that rely on more pictures over just walls of text. But most people don't exactly get their photos for presentations from legit sources. They'll turn to Google or Bing and just grab an image to suit their slide. Or if they're a little more aware of copyright, they might head to a stock photography website and search through hundreds of images to find the right one. Enter PicHit.Me.
PicHit.Me (www.pichit.me) is hoping to change how office nomads hunt for their images. By levering the power of mobile photography, PicHit.Me is poised to completely change the landscape when it comes to getting images for your next presentation. The platform currently being built by the team at PicHit.Me is pretty stellar and takes advantage of the smartphone in your pocket right now. Here's how it works.
PicHit.Me is platform where users or companies can request the exact image they want. From there, users can upload their best shot that completes the requirement for that particular picture request. It's a cool platform that will give photographers of all skill levels a little extra income and help Office users get photos without worrying about copyright infringement.
There's a Windows Phone 8 app that allows users to browse either contests or photo requests. From there you can read about each and submit your photo if you're interested. You'll see details like who is asking for the photo, a description to help you capture the right image, the reward (more on that below), days left to enter, how many photos have already been entered, and more. Swiping to the side of each entry can tell you details like the license the user wants, gallery of photos already entered, and reward details.
Pay me
So how's it work to get paid? You're probably wondering that right now right? Two ways, you'll see some photo contests/requests list a reward amount or "thanks". The reward is pretty straightforward, you'll get whatever the cash prize is listed as if you win. Winners are paid via PayPal, so that means you can use PicHit.Me and get paid in over 200 countries.
The thanks mechanism is a little trickier, but will definitely pay off over time. When you enter a photo in a contest/request that lists thanks you're entering your photo into the PicHit.Me image bank. From there, Office users will be able to use it for their presentations depending on the license listed. The money that Office users pay to be a PicHit.Me member will then go to all photographers in the PicHit.Me image bank. Users will be getting 60% of the revenue from all Office users (40% based on a performance index and 20% equally shared). The performance index ensures that photographers that consistently submit high quality photos will receive compensation. First payments for photos used in the PicHit.Me image bank should be coming out around January. They're rolling out PicHit.Me for Office soon. Once that happens, revenue for photographers on the platform will start coming in. PicHit.Me expects to make money from Office users through both a subscription model (think Spotify, Netflix, etc) and a free, ad-based one. This is where the money comes to users.
Need some contests to get started after you create an account? Check out this 100,000 Lumia Photos! contest sponsored by Nokia on PicHit.Me, winners will receive a Lumia 1020 and the first 1000 Lumia photos uploaded will get $1 each. Or check out this "Black & White" photo challenge, winner gets $100 (check out my entry while you're at it to see an example).
We'll be covering PicHit.Me as they gear up. Right now they've just launched and are very open to feedback and questions from users. The best way to contact them is through email (hello@pichit.me) or Twitter (@pichitme) with any questions or ideas. We'll have an interview with the developer soon. Plus the developers will be in the comments answering any questions you have, so sound off.
PicHit.Me for Windows Phone 8 is free to download from the Windows Phone Store. You can also use the QR code below or swipe to the right to get it.
Get the Windows Central Newsletter
All the latest news, reviews, and guides for Windows and Xbox diehards.