Turn your Windows Phone photography into extra money with PicHit.Me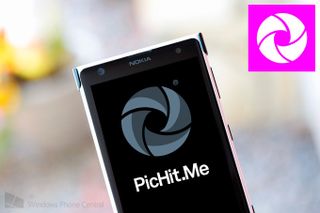 While Windows Phone is the clear third place operating system compared to Android and iOS, it's a very distant third. The latest numbers show the platform controlling about 4% of the global smartphone market share. So when a startup launches and targets Windows Phone first over other operating systems we take notice. PicHit.Me is a startup from Sweden that we're happy to see on the platform. They're also working on solving a problem that's pretty widespread. Let's check out PicHit.Me for Windows Phone 8.
Presentations are given daily on PowerPoint throughout the world (there's probably a dozen happening right now) that rely on more pictures over just walls of text. But most people don't exactly get their photos for presentations from legit sources. They'll turn to Google or Bing and just grab an image to suit their slide. Or if they're a little more aware of copyright, they might head to a stock photography website and search through hundreds of images to find the right one. Enter PicHit.Me.
PicHit.Me (www.pichit.me) is hoping to change how office nomads hunt for their images. By levering the power of mobile photography, PicHit.Me is poised to completely change the landscape when it comes to getting images for your next presentation. The platform currently being built by the team at PicHit.Me is pretty stellar and takes advantage of the smartphone in your pocket right now. Here's how it works.
PicHit.Me is platform where users or companies can request the exact image they want. From there, users can upload their best shot that completes the requirement for that particular picture request. It's a cool platform that will give photographers of all skill levels a little extra income and help Office users get photos without worrying about copyright infringement.
There's a Windows Phone 8 app that allows users to browse either contests or photo requests. From there you can read about each and submit your photo if you're interested. You'll see details like who is asking for the photo, a description to help you capture the right image, the reward (more on that below), days left to enter, how many photos have already been entered, and more. Swiping to the side of each entry can tell you details like the license the user wants, gallery of photos already entered, and reward details.
Pay me
So how's it work to get paid? You're probably wondering that right now right? Two ways, you'll see some photo contests/requests list a reward amount or "thanks". The reward is pretty straightforward, you'll get whatever the cash prize is listed as if you win. Winners are paid via PayPal, so that means you can use PicHit.Me and get paid in over 200 countries.
The thanks mechanism is a little trickier, but will definitely pay off over time. When you enter a photo in a contest/request that lists thanks you're entering your photo into the PicHit.Me image bank. From there, Office users will be able to use it for their presentations depending on the license listed. The money that Office users pay to be a PicHit.Me member will then go to all photographers in the PicHit.Me image bank. Users will be getting 60% of the revenue from all Office users (40% based on a performance index and 20% equally shared). The performance index ensures that photographers that consistently submit high quality photos will receive compensation. First payments for photos used in the PicHit.Me image bank should be coming out around January. They're rolling out PicHit.Me for Office soon. Once that happens, revenue for photographers on the platform will start coming in. PicHit.Me expects to make money from Office users through both a subscription model (think Spotify, Netflix, etc) and a free, ad-based one. This is where the money comes to users.
Need some contests to get started after you create an account? Check out this 100,000 Lumia Photos! contest sponsored by Nokia on PicHit.Me, winners will receive a Lumia 1020 and the first 1000 Lumia photos uploaded will get $1 each. Or check out this "Black & White" photo challenge, winner gets $100 (check out my entry while you're at it to see an example).
We'll be covering PicHit.Me as they gear up. Right now they've just launched and are very open to feedback and questions from users. The best way to contact them is through email (hello@pichit.me) or Twitter (@pichitme) with any questions or ideas. We'll have an interview with the developer soon. Plus the developers will be in the comments answering any questions you have, so sound off.
PicHit.Me for Windows Phone 8 is free to download from the Windows Phone Store. You can also use the QR code below or swipe to the right to get it.
Should be "Turn your Windows Phone...". ;)

Yeah, I'm stuck on my lumia 900 :(

Me too but someday we'll be free

Haha, I know the feeling, I have a Lumia 800 - love the phone just wish some of the newer apps were available on it.

Very interesting concept! Downloading immediately to check it out.

Nah, It seems to be a cool app for People who love Take pics with their phones :D

Loaded on my L925. Not quite ready for prime-time. Super buggy.

Agreed. Very sloooooow loading. Seems like their server is their home desktop.

Damn, the app is really buggy. When I try to sign up and press ok, nothing happens. When I click on a challenge, I see an empty screen. Just some boxes, but no text. Loading bar keeps loading. When I go to 'gallery' I can see multiple words mixed up, can't read any of them. When I press the share button, I get an exception and the app crashes. The license tab is empty. There's no way I can participate in a challenge, the 'take a photo' button is greyed out. Feature suggestion: I'd love if I could just upload any photos I think are cool, and people would be able to buy it for the price they like. I really don't want to go through thousands of these challenges, I just want to upload my best photos and make money with them. This would require a good search engine of course, and categories.

If you wanted to just upload stuff that you like then it would completely defeat the whole purpose of the site and would probably just turn into another instagram/other image uploading site littered to the rim with cr*p. If you want to upload your own photos in the hope someone will pay for it there's already tons of alternatives - you've just got to put the work in yourself and get noticed.

Food pics, and ppl posing in bathrooms with duckfaces. Tea colored picture for effect. Price:6.99 ea

Haha brilliant. And that is exactly more or less what I was talking about.

None of the missions load for me.

Doesn't even go beyond splash screen!

PayPal yuck. But the rest I like.

Good concept but a bit slow.

Guys, It is not the app that is buggy. We are experience performance problems in the back end. We have to say thanks for the great impact. We really appreciate this. Unfortunately it was to massive. We are now turning things up. Everybody is working hard on our side. Once again. We love you WP users! Please give us some time /Mathias Proud founder of PicHit.Me

After I went to the site and it was loading a bit slow, I figured it was us causing havoc and traffic xD been messing with your website and already entered a mission. So far it's awesome! Thanks Mathias!

How is that possible? Nobody uses Windows Phone :-)

Why are you even on this site?

Sarcasm can be a little hard to pick up on the interwebs.

Interesting concept. Testing it out to see how it goes.
Page is running very slow, for some reason I can't login from the smartphone (gives an invalid login warning when I'm logged in with the same e-mail and password on their page). Will try later on.

Its slow but eventually everything came up. I'm sure the sudden rush of people from WPcentral wasn't good on the servers. I like the concept and have already uploaded 3 pictures. Hope this is a success for PicHit.

And thank you! If success for PicHit.Me it is a success for all of us photographers

Thank you Capsloc and XSportSeeker! Bear with us. Working on speeding things up.

Will there be a German Version?

Yes, we are prepared for Germany. Do you think it will be a good place for PicHit.Me?

What about Spanish? If you need a translator, here I am. I'm from Chile :)

U can't afford my 41mp pictures

That is good. We are soon launching exclusive missions and people/companies will pay the price ;-)

How can I Sign Up? The "Ok"-Button does not work.

We just experienced some performance problems but we are turning things up now and it seems to be better. Pls try again. What phone do you have?

Lumia 1020.
Now I can click the Ok-Button, but then I got the Message: "Failed to signup due to Server error"

Every time I try to log in I get an error message "object reference not set to an instance of an object". Any clues? I am able to log in through my desktop but not by the app.

Now I get " invalid log in" I give up, I will try later. :(

Don't know what u guys did but its working now. Thanks.

Testing now on lumia 1020!!

Cannot log in. Brings up an error about object handling

Looking good so far. The slowness is kind of expected after attracting all the wpcentral users to your new platform.
I had an unexpected crash when trying to save a filter, L920.
Good luck with your new business, it certainly is a good and orginal idea!

Thank you! We will look into that

I can log in on the website just not through the app

How come a Swedish app don't support its language?

Everything is based on the english version at the moment. But we will release local languages later on. And another thing - Sweden is really crappy when it comes to WP usage - We must change that ;-)

Hi Everbody. We just love you WP users. We are working on the performance and log in issues at the moment. We could never expect this kind of usage.

I'm sorry, I'm confused; is it paid membership for EVERYONE using pichitme or just users who want to download pictures??

It's a paid membership for those that want to buy pics, either that or they get ads.

This app may also be used by brands as a marketing activity. It offers an easy way to make people from all over the world take pictures of their products.

You are totally right ugumu.

That's a very good point and definitely one that companies should exploit! Love a product? Then show it and be rewarded :) I'm guessing this will also be open to individuals who might be after some pictures too.

We really hope that this will be a part of the revenue stream to all photographers later. Love to hear your comments!

Aside from being a bit slow to load everything the first time I opened it I've had no problems with it whatsoever. Great app so far! And I really like the idea of having an Amazon Turk-like platform for photographs only. Only thing I'd say so far is that you should put the T&Cs into the app itself rather than load them from the server (and notify users if they change) as well as having a "submit feedback/bugs" link somewhere in the app. There should also be a "submit rating" link to the store which is a pretty standard and should encourage people to review it.

Thanks Racxie
Good comments. Submit rating, feedback will soon come up

This looks like a great app idea. I myself have stolen a few pictures from the net to my ppt presentations just because i couln`t be bothred to try to find out who owned the photo and often ended up with crappy photos or photos that wasn`t exactly what i wanted. Definitely giving it a try. Many thx to the developers! P.S. I´ve read some idiotic comments above...Come on guys, really?! The app just went live! It´s expected to have a few glitches along the way, especialy after having this much exposure here in WPcentral.

Thanks Marco Really appreciate that. Of course we have high ambitions but we are of course expecting some glitches. We will work hard together with all users to make this a top notch service

Its even better since it is starting on WP. We are a smaller community than IOS or android OSes so we can iron out some of the gliches without alot of negative publicity for a couple of small issues. Throw in a 1020, and you are on a path to success. Good luck!

I really like this idea. The app is pretty slow but I'm sure that will improve over time. My biggest complaint is that PayPal charges a $5 fee when you want to get paid. For many users it will take months to even earn $5 and then that just goes to PayPal. Please come up with a better payment option.

Thanks kb4000. We really are looking into this. It is one of the hardest part to solve at the moment. Paypal has a great coverage however we are looking at other and parallel solutions. If you have any good ideas or thoughts we are here to listen.

So if you're a broke mofo, this app ensures you'll remain one.

You could sell Bing rewards cards as well x)

That wouldn't be of any use to those of us living outside of the US, so it'd be incredibly limited. What might potentially be a good idea is everything you've earned could say, 'double' in value if you wanted to buy some pictures of off there yourself. e.g. If a picture request costs $2 and you've earned $1 so far, rather than withdrawing it you could 'double it' and get that request for less.

read the terms and agreement. you give up all rights to your photo....period. "By uploading a Photo on PicHit.me You grant the Provider a non-exclusive, perpetual, worldwide, irrevocable and royalty-free right to without restrictions use, adapt, and publish such phto on PicHit.me as required in order to perform the service, pr in marketing and prmotion of the Provider...By uploading Your Photo on PicHit.me You...waive any moral rights that may be vested in you as creator of such Photo, including the right for yuo to have your name stated when the photo is used on PicHit.me or in marketing or promotion..."

ejb222 This is even more complex than the payment system ;-) You are right about giving the rights to the buyer for an unlimited use. You will always have the copyright of the photo and you can always use it for private use. You can also sell to others if it is not classfied as "exclusive" And it is always possible for you to remove your photo from the image bank. However if someone is using it in a powerpoint they will always have the right to continue to use it. Our idea is to make it more simple and make people stop stealing photos on the net. Sorry for all text but it is complex but we will work hard to make it less complex

It is very good that you bring up this wording. This is the right that PicHit.Me gets to market and promote the photo and the image bank to e.g the Office users that can buy the photo. PicHit.Me is not the user nor the buyer of the photo. Maybe we could use the word "unfortuneatly" that we need to have this wording according to all legal expertise that is involved.

I'm no legal expert but I'd say the wording is more or less what it should be. The problem with legal wording is it can often be very hard to decipher and due to that people end up misinterpreting the context. You do get some T&Cs that sometimes simplify the language for the average user, but considering the kind of audience (and expansion) you appear to be aiming for it I doubt you could afford to do that.

Love the app guys, have uploaded a few Lumia 1020 shots

Thank you dmmuldoon. Love to hear that

I have a feeling this is going to be a big hit. :)

We are glad to hear that /Mathias

Well, I seemingly just made $5, because I submitted 5 photos while the Lumia photo challenge was in the first 1,000. I took some pretty stellar photos while in Hawaii (thanks Lumia 1020!), so I actually think I might have a chance of winning. I won't get my hopes up, but I wouldn't rule it out altogether. Of coruse, if I did win, what would I do with a second 1020?

You can score high in the mission "Someone taking a photo with a lumia of someone taking a photo with a lumia"
/Mathias

I wish that the rules for the PicHit.Me Bonus were similar to Nokia's in the way that 'you are allowed to upload several photos, but only one photo per user can get the reward'. Otherwise... well, read this entry :p

I personally agree. I have no issues with sharing my photos with the world, and submitting more increases the odds of winning, but I do hope that only one photo per person is eligible for reward.

You could sell it and buy an 808, and take a picture of that and get $$ too!

Still can't create an account due to "a server error" but its a great idea and looks like it will be a popular app, nice job. Hope yall can get the sign up error fixed soon, im very excited to start using the app

I just uploaded a dozen or so of my favorite pics from my 1020. App worked pretty good for me and I'm curious to see how it goes in the long term.

This would be great app also for amateur photographer trying to build portfolios and just plain getting inspiration to shoot more!

Awesome, already uploaded 4 pictures :) Looking forward to rewarding missions!

I cant activate my account, when I click the email link it just takes me to the main website and when I log in it just says invalid, any ideas?

Hi DeWize1 Can you email your username to support@pichit.me and we will help you immediatly /Mathias

Damnit, I knew I should have taken at least one picture last night ad I've now missed out on being in the top 1000 :( oh well...

Oh no Racxie, but don't worry ;-) I promise there will be new great opportunities showing up. Just stay tuned

Hmm, on the one hand, being a photographer, it is usually not a good idea to do spec work, which this basically is. On the other hand, they are just my phone pics that would otherwise sit around. Decisions, decisions.

Life is hard ;-) decisions all the time. There will also be a lot of different kind of missions and hopefully this will be much better than people stealing your pictures paying nothing.

Amazing concept. Excited to try it.

Love the idea. Any plans to introduce this on iPhones? And when?

Great that you like the idea! And yes. PicHit.Me is a cross-platform service and we will have a multi entry for all photographers. At the moment we are overwhelmed by all great WP users/photographers, but we have a plan for the launch of an iPhone App next year. Follow us and you'll be the first to know exactly when ;)


Been uploading a number of pictures yesterday. Number of Likes don't get reflected under the Me section. Definitely experienced sluggish performance as others have pointed out. No problem logging in though. I suspect you can cache lots of things at the client without having to fetch from server every time. I can see the potential of this app -- good job pushing it out and looking forward to a great & smooth running app!

Thank you ChongRX78 It is the first version of the app and we are listening to all of you right now. We are just gearing up on capacity to increase performance and also some other comments such as the Number of likes. Stay tuned /Mathias
Windows Central Newsletter
Get the best of Windows Central in in your inbox, every day!
Thank you for signing up to Windows Central. You will receive a verification email shortly.
There was a problem. Please refresh the page and try again.