Pin.it, the best Pinterest app for Windows Phone gets even better with 2.0 updates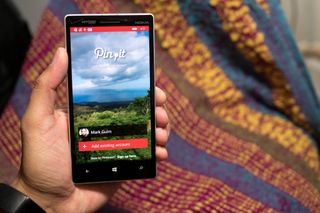 Pin.it is a third party Pinterest (pinterest.com) app for Windows Phone we've covered earlier last year. We loved it then and we love it even more now. Chris Zorn, the developer of Pin.it, has redesigned the app from scratch for Windows Phone 8.1 devices with the intent of making it universal Windows app. He also has added a bunch of new features.
The main screen on Pin.it displays pins from people you follow. By default, the pins are displayed in two columns. You can change it to single column view if you prefer to see bigger thumbnails. Tapping a thumbnail displays more details about the image including the number of likes, comments, and other pins that may be related.
If you're a frequent Pinterest user, you'll like that Pin.it provides notifications. The app checks every 30 minutes for new notifications and the Live Tile displays how many you have. Pin.it also supports multiple accounts in case you manage pins for other people or organizations. Speaking of Live Tiles, you can choose to include the board owner's profile image or the board name.
Creating new pins with Pin.it is very easy even when you're not inside the application. For example, you can pin things from the web browser using the built-in Windows Phone sharing feature. It opens Pin.it with a list of images from the page. Tap the one you want to pin, and the next screen lets you enter a description and select a board. You can also pin images from your phone's photo album.
Overall, we think this is the best Pinterest app on Windows Phone right now. Pin.it is frequently updated and the developer is responsive to the app's users. It's a free download, but it costs $1.99 to remove the ads. If you're on Pinterest, this app needs to be in your Windows Phone. Give Pin.it a try and let us know what you think.
Download Pin.it for Windows Phone (Free/In-app purchase)
Windows Central Newsletter
Get the best of Windows Central in in your inbox, every day!
It works, but I think Pinterest is one of the most important apps that needs to come to WP natively (and not just a web wrappper).

At least this one is not a web wrapper. The dev is great too. Very responsive to feedback, and actively updating it.

lol dude at least we have devs that are trying to help our absent app problem. Sometimes they provide unique features that the original apps dont have which is a plus in my mind. honestly i rarely see you support this platform yet you are here on "WINDOWS" central

"Dave's" trolling again.....must be banned from Android & IOS community's ?

You rarely see me support the platform... Lol.
Funny stuff... Very good.

Hi Mark , can u fix the download link? It's not working I think. Thanks alot btw. :)

A lot of devs migrating their apps to Windows 8.1 lately.

Yeah basically going from Silverlight apps to WinRT

Pretty glad WinRT (Windows Runtime) / Universal Apps are replacing Silverlight. :-)

I second that, the app quality in general on windows devices is getting so much better.

I love when apps have beautiful login screens!! This make me want to use it even I don't use the service that the app are made for. :)

No one, who visits this website, uses Pinterest! Please No.

Is that so? Guess I better stop using it then so your statement is true.

Stop generalizing, if you don't like the app just keep it for yourself.

Not true, and just to note it's not just for women.

I use it. Ignorant comment.

+1. 16stone just has no idea what Pinterest is used for.

I use it, my fiancée had me make an account so she could forward me some wedding ideas.

I use it as well. Comment fail!!!!

Actually I'm sure there are multiple people who use it. Myself being one of them. And pin.it is indeed the best app for pinterest- pin it should just hire Chris Zorn to make an official app for Windows imo.

I'll buy this, I never used this service though. EDIT: last update 20/02 it's that right?

Yes this apps been out for a few months. I think he's working on a new update but he's been a little busy with life.

This has been an amazing app. I've helped him Beta test this new release and it came out amazing! Anything you guys want to add for features just shoot him an email or tweet at him through the app. He's an amazing app dev and he always loves hearing from users.

Yes!!! Finally found something better than an official web wrapper.

Great App, and the Developer is equally great regarding feedback. With the Beta version he was very clear about changes, and if aspects were broken, why they were, and when he expected to fix them etc.

I agree. I was very impressed with his communication and frequent updates.

I'm excited about this!! I use Pinterest a lot, so I'm happy to have all the new features.

I love the Universal App trend.. Hope this is just the beginning

I personally have this app installed and must admit that third party devs include so many unique features that its a shame that they are usually overlooked because they are not the official ones. At least these companies could look into making these their official apps and even offer simple edits here and there and leaving the maintenance up to the original devs

One of the better made third party apps on WP. I am happy to support developers such as Chris.

So many apps and things that I don't use...

I use it and i like it.I dont know if the developer makes more money from ads or selling the application.If they make more money if i buy the app,I would buy that.

Thumbs up for the developer.

I keep trying to buy the ad removal. Fails everytime. Dev didn't have much to say...

Same here! It's driving me crazy. This needs to be fixed. Just take my money already!

Yeah he blamed the store. But I can give my money to everyone else without issue.

This is why Pinterest dropped their basic official app. As long as this kind of app exists, I don't mind if it's not official.

...about you? You got that right.
Windows Central Newsletter
Thank you for signing up to Windows Central. You will receive a verification email shortly.
There was a problem. Please refresh the page and try again.