Pin.it for Windows Phone 8 - the superb Pinterest client you have been waiting for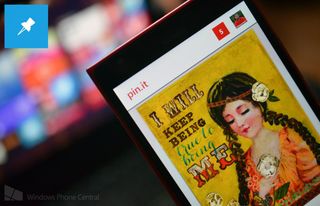 At times, the slight lack of official first party applications on Windows Phone can be a bit disheartening to some. Many services and products can be named that lack an official app including Sonos, Fitbit, Snapchat, and others, but today we are looking at a third party solution for Pinterest users – known as Pin.it.
While searching the Windows Phone Marketplace for "Pinterest" surely does not return null, but many of the applications displayed are simply shells that take you to the Pinterest mobile website. Theses shortcuts can be decent to use at times, but you might as well just create a shortcut directly from IE10 Mobile to your Start Screen to accomplish the same task.
Exploring Content
Pin.it is not just a web shell; it uses the official Pinterest API to build a full featured and well-designed third party solution for Pinterest lovers (such as myself). Before we even dive into the review, I want to state that you can obtain Pin.it free. The developer, Chris Zorn, has done an excellent job creating an ad-free app experience at no cost to you - if you have any questions or suggestions you can reach him on Twitter via "@_montawk".
Using the application is a blast and those familiar with Instagram clients, will notice a similarity when opening up Pin.it for the first time. Your boards are all displayed in a single full screen column that displays each image in its full glory – there is no squashing down of images or messy interface to jump around – open the app and you are ready to go.
If you are interested in interacting with a post, tap on it once and you will be brought into a detailed section where you can view the image larger, read comments, or perform other various tasks. Three buttons at the bottom of the screen allow users to re-pin, like, or comment on a post with a single click. The pop up options menu also allows you to save the image directly to your phone for later use.
If you are bored of looking at your subscribed section, you can swipe to the left from the main page (or click the "eye" button) to switch to the Explore section. From here, you can browse either the most popular posts or various posts by a plethora of categories.
Your Content
A new post can be created from any point of the feed by clicking on the '+' button at the bottom of your screen. You will be able to upload a pin from your phone, add a pin a website's URL or create an entirely new board.
A magnifying glass icon that be found next to the '+' button also allows you to search the Pinterest site in any way you wish. Your own queries can search across individual pins, specific boards, or a specific Pinterest user (pinner). A check box is also available that allows users to search their own boards.
If you are afraid of missing a new notification, do not worry about it. In the upper right hand corner of the main screen, you will find a small red box that will show you the number of currently pending notifications you have. Notifications can range from someone else pinning something you previously pinned to finding out that one of your fellow Facebook friends have joined the service.
If you are more interested in your personal profile, you can click your picture that is displayed alongside the notification icon. Selecting this option will bring you to a page where you can get a complete overview of all of your boards, pins, likes, followers, and those you are following. You can even create, view, and add to secret Pinterest boards that are not visible to the public.
If you find the need to update your personal information on Pinterest, you can do so via the application's settings menu. The settings menu can be accessed from the main feed page by bringing up the addition options on the bottom bar.
Customization
Numerous aspects of your profile can be adjusted directly from Pin.it for Windows Phone including your first and last name, your Pinterest username, your "About You" section, and your location. This area is also the section of the application from which you can choose to log out.
Swiping to the left reveals the "theme" section in which you can adjust the application's accent color ranging from the default, "Pinterest Red", to a variety of various bright or dull selections. You can also choose whether the overall theme of the application is light or dark and whether or not the app uses monochromatic coloring or a varied pallet. As you can tell – there is a lot to customize.
When you are done picking out your favorite color, you can slide over to the "live tile" section to setup how you want your tile to behave. The Pin.it tile stretches across all three various tile sizes and can fit perfectly however you wish on your Start Screen.
The tile itself can also be highly customized. First choose what you wish to be displayed, you can choose from "Cycle recent pins from my feed", "App logo only", "App logo and recent pin", and "My profile image". If you do not want to display the application tile, you can also choose to pin a specific board or your own profile – each of these tiles also comes with a huge assortment of customization icons.
If you are in the habit of making friends, the last section contains a "Find Friends" tool that allows you to search across Facebook and Twitter for fellow pinners hiding within your social networks.
Conclusion
Overall, the Pin.it application for Windows Phone 8 is a complete joy to use and I am ecstatic that a third party application of such high caliber has finally arrived. I always fear saying that I would pay for a free app, because I then become nervous that the developer will mark it up and anger the community – in this case, though, I will say it – I would gladly pay $2.99 for this beautiful masterpiece of code.
While reviewing Pin.it, I personally could not find any negative comments as everything worked so flawlessly and with such a high level of customization. If you are a Pinterest lover or just want to try the network out, download Pin.it from the Windows Phone Store.
Notes From The Developer
We spoke to Chris Zorn after we reviewed Pin.it, and he wanted to make us aware that a select few users are having an issue with logging into their Pinterest accounts via Facebook. If you are one of the few individuals having that issue, the developer explains an update is live to fix the issue, but you can also try logging into Pinterest through Facebook in IE mobile, then attempt to use the app again.
Chris also has plans for future updates including a new feature tutorial, the ability to send pins and boards, notification counts on live tiles, optional multiple column layouts, and more.
Windows Central Newsletter
Get the best of Windows Central in in your inbox, every day!
Not interested .. Waiting only for wp8.1

That comment makes no sense.

I think it does. Contradicting to Pinterest is not interested. Perfect.

So why waste time clicking into the article if one doesn't care?

I dont think you quite get it

I never understood Pinterest's appeal. Then I read 98% of its users are female who love to dream up weddings and recipes. So I understood then.

That is the only use (or uses) I perceive, really: recipe, and maybe a bit other... things.

Guys use it too. I do. For recipes, DIY tips and cool geeky memes and stuff.

I'm not a woman, and I like recipes. Lol. I usually head to the DIY section. Most of it is uninteresting to me. (knitting, crocheting, etc) But there is the occasional item that i like. Its more of a time waster for me than anything else. EDIT: Tony beat me to it :-)...i use it for the memes too, but I have been using reddit more and more for that.

I use it as my visual diary.

There Will Be nicer news from Here Maps, Just wait a few minutes

It has a lot of interest for creatives for creating mood boards, concept sheets and so on. As a visual tool it's ideal for this.


Actually it's also has a wealth of info and links on everything ranging from crafts to DIY stuff to technology in addition to recipes. There is a massive amount of content to be found on it. Recipes and weddings are just a fraction of what it has.

That's why I love Pinterest... What's not to like about 98% female followers if you a man...? I regularly chat to women of all ages I've met through commenting on their pins, some have joined other social sites, such as Google Plus...

I use it for pinning tech stuff, style inspiration, sports, things I want (wish list). Its a great site

Looks like 6sec/6tag with the Polaroid theme...

I use it to collect cool web design and graphic design stuff

That is what I would use it for if I used it

I use it for fashion, diy tips, computers, videogames, recipes and other things. I'll give this app a try as I was using pinsation which was the best app I used that didn't use a website wrapper

I don't use Pinterest, but I know lots of people who do and this app looks incredible. Great design, smooth experience, and all those options! I'm amazed the developer has released this with no ads for free, even 6tag starts off with ads before the in-app purchases. Excellent work and I can't wait to see what this developer comes up with next (Ideally something for a service I use, lol). Hopefully someone else will notice what a great looking app it is rather than just that they don't use the service or that it's not WP8.1. Every great app helps the platform, guys! ;)

One of the best apps for WP undoubtedly.Neatly done.

Thanks for the review! There is a uservoice page available at http://pinit.uservoice.com Feel free to contact me for anything regarding the app.

Thankyou for this incredible app..

Thx for developing this. I've been using pinsation but this one looks a lot better, runs smother and is free (at least for now). Excellent job!

Thank you so much. I've been dying for an app this good.

If there is not one there already (havent used the app yet), I suggest adding a donations button somewhere in the settings. This is an awesome looking app and I'm sure there are people out there that are willing to reward you for your hard work.

I'm on the fence as to how to monetize. Obviously I'd like to earn some revenue for my work. My initial thought is to add ads to a couple of pages and then create an ad-free version. I want to make sure they're not obtrusive and don't limit the viewable area too much. I'm focused more on finishing up some of the remaining features and fixing bugs though. Once that's done I'll figure out what I want to do.

I would definitely pay for the add free version and I'm sure I'm not the only one.

Well done Chris, your app is awesome.

He should look into making one for Windows 8.1 as well!! I'd love to use this on my Surface 2!!

This is certainly a possibility. I haven't done any Windows app dev, but I'll look into it.

This blows Scrapbook pro out of the water. What a well designed app. I'd gladly pay for this and drop scrapbook pro like a bad habit.

Excellent app for pinterest! Been using pinsation for a few months but this one is even better imo. Thx to the dev.

Nice catch, got it! Thanks!

This is great - i can see my secret boards finally! It's fast and looks good too! And the developer seems to be really active on his user voice forum :)
Thanks for showing me this!

i don't use Pintrest but this app looks awesome

Pinsation gone, pin.it on :)

Great app. Ive been using Pinsation all the time so here's a premature comparison list of the two (since ive only been using Pin.it for a few mins) Pinsation v Pin.it Pinsation
Pin.it Easy to save images to hub and view source
Easy to save images to hub and view source Bugs sometimes present when repinning
Repinning seems to be flawless Sharing only via text
Sharing to social networks, text, email, copy link thumbnail scrolling through recent pins
full size scrolling through recent pins Notifications toast (buggy), Live Tile support (doesnt work for me); small and medium size tiles
Notifications counter, Live Tile (works); All size tiles NO lockscreen support
NO lockscreen support NO Theme
Theme light and dark; Accent colours Modern app design
Tapcentric design Hate the logo tho so glad to see you can use the pinterest logo or let the live tile circle recent pins. Thank again for the great effort. Shout out to Daniel Gary as well tho for giving us Pinsation from so early on in the game

well that didnt come out in a table at all.smh

Haven't been able to log in yet using Facebook

Send me an email and I'll help you out. Typically it's because you haven't fully completed the permission process for pinterest. Try this: Open a browser on a computer Navigate to http://facebook.com and log out Navigate to http://pinterest.com and log out Navigate to http://pinterest.com/login Click Login with Facebook Login Complete any prompts from Facebook Re-open pin.it Log in with Facebook If you have login approvals enabled you may have a problem as well - the next update will adress this.

Thanks chriszorn for this excellent app. The other pinterest apps for WP were lacking in features and performance. The only additional feature I would like to see in this app is optional multi column display for quick browsing. Thanks again.

You're welcome. The optional multi-column view is a planned feature.

There is a tremendous wealth of content on Pinterest. Want to look at lingerie pics, for example? Thousands at your fingertips.

This looks like rudy huyn or rudy hyun wathever his name is 'work Posted via the WPC App for Android!

Don't use Pinterest and really have no interest in it, but I watched the video anyways because I am ALWAYS interested in well designed apps. This app looks awesome. Well designed, responsive, fluid, and stable with many options. I forwarded the app link to a few friends on pinterest and within 5 minutes I got messages back saying "OMG this is so awesome! thank you!" haha It is always great news to know we have another rockstar dev in the WP world. Thank you so much for this app and your work.


Fucking doesn't load boards. Fix it damnit.

Well let's just relax a little bit. Send me an email and I can add you to the beta. I believe I have this problem fixed and ready for the next update.

How timely. I was just wading through the Sea of poorly designed Pinterest Apps in the WP Store. This App is so beautifully designed and thought out. I wouldn't mind a few soft neutral colours (beige for example) as background themes beyond the white/black options, but that's as i find white and black rather 'harsh' colours to view photos against. I'd certainly pay for the App, it's most certainly worth it. A big thank you to the Developer :)

What is Pinterest? I see it everywhere? Should I be excited? Looks like a massive scrapbook.

This is the best free app on WP8 for Pinterest, I don't know about paid clients, as I wouldn't pay for social media apps... But if you're in to this particular social media site, use this app...

I'm all for it, but im seriously missing a good tumblr client like Blueprints. Jose Arriega seems to have jumped ship
Windows Central Newsletter
Thank you for signing up to Windows Central. You will receive a verification email shortly.
There was a problem. Please refresh the page and try again.