The PiPO X8 'Windows TV box + Desktop Tablet' is one weird-looking PC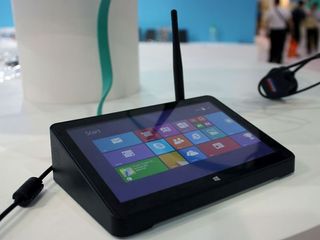 What do you get when a Chinese OEM decides to make a Windows 8.1 PC that combines a tablet and a desktop PC in a strange form factor? If you are PiPO, the result is the X8 "Windows TV box + Desktop Tablet", which has been made and marketed as a set-top TV box that runs Microsoft's OS with a touchscreen.
The device is designed to be plugged into a wall socket; there are no batteries for the PiPO X8. However, even though it's been made to hook up to a big TV screen, it can also be used as a stand-alone PC with its built-in 7-inch 1024x600 touchscreen, no mouse or keyboards are required. Inside the X8, there's a quad-core Intel Atom processor, 2GB of RAM and the choice of either 32GB or 64GB of onboard storage.
PiPO says it will launch the X8 sometime in May at price of under $100, and there are also plans to release a version that will dual boot to Windows 8.1 and Android. This is certainly one of the oddest-looking Windows 8.1 devices we have ever seen and will likely have a limited audience.
Source: Notebookitalia.it; Via: Neowin
It's.... different indeed. Oh well, popcorn time on that thing and it's go time!

Weird indeed but from price perspective much better than the Intel stick and built in screen can double as a lap tablet (lablet?)

The built in screen makes set up and troubleshooting easier, at the very least.

Hmm ya got a point there!

I could see a couple of uses for this thing in this form factor: -POS terminals for retailers, especially kiosks and restaurants -Self Service Information terminals -Kitchen computer Best part is that it's so cheap!

NEED something like this! Is there some app to control channels and stuff on this?

That's one weird looking pipo. I wonder if its hot?

If the price is indeed under $100, this could be an interesting device to have hooked up to a TV. If you can use it with a remote and play games with an Xbox controller, it could be great.

Honestly, this would be an interesting idea for my kids to do their Chinese homework on. Run it as a cheap little homework helper.

Why? Just set their phones to chinese language and let them figure it out themselves.

Duel boot function is really interesting..

i could see this replacing all those ipads i see in restaurants that are used for seating charts / cash registers. But thats the only use i can think of for this...

Exactly my thoughts. I could also see this being used in self service kiosks for information and whatnot.

How is this under 100 dollars and the pipo x7 is 130?

If I understand this correctly, the fact that they added a screen under 8 inches gives them access to the free OS from Microsoft bringing down the price?

It's not the screen. It's just windows with Bing. Which the x7 has as well. So maybe its just the site im looking at has it for that price.

Fine Netflix player if it has a remote.

If it can be mounted "upside down" from its orientation in the picture, it would be a great device to mount on walls... Conference room bookings, kitchen, garage, etc.

This is an awesome looking computer for my living room

They just need to create an companion app so we can control It with our phones

Have you tried GyroRemote for windows phone?

Internet of things, with a twist ;)

Conference PC? Conference PC! Looks like it would fit good on podium

Good for grade students and school usr.

Looks like someone knocked my Sony Dash over.

Could be used as a payment device (like an iPad-driven Square terminals), restaurant table ordering/jukebox terminal, hotel room TV device, conference room scheduling-- any scenario where you want a cheap screen to run a dedicated app.

To nonai, if you want, you can use this POS system
www.pos-texas.com/
It's more relevant and useful to business field!
You can use also some POS devices on restaurants. It's interesting, but I use the same POs system.
Windows Central Newsletter
Thank you for signing up to Windows Central. You will receive a verification email shortly.
There was a problem. Please refresh the page and try again.