The Pirate: Caribbean Hunt, a Windows 10 PC game for the sea dog in all of us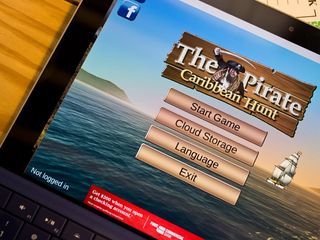 The Pirate: Caribbean Hunt is a Windows 10 PC game that sends you out on the high seas to plunder, battle, trade goods and rule the Caribbean during the age of pirates. Reminiscent of the classic game Sid Meier's Pirates, The Pirate sports high-quality graphics, plenty of ships to buy and upgrade and a boatload of missions to tackle.
Controls aren't overly difficult to master but does require a little patience and multi-tasking skills. The Pirate: Caribbean Hunt sports RPG qualities with character development opportunities such as weapons proficiency, sailing skills and other characteristics a good captain would need.
Available for Windows 10 PC, this free gaming title can be slightly addictive and overall, The Pirate: Caribbean Hunt is a fun game to spend a little down time with.
The Pirate: Caribbean Hunt offers a minimal main menu with options to start a game, utilize cloud storage to allow gameplay across multiple devices, choose your language and exit the game. The cloud storage feature is free and requires you to create a user account.
When you first jump into gameplay with The Pirate, the game carries you through a series of tutorials that cover the basics of controlling your ship, interacting with the various ports, establishing your pirate stronghold and battling other ships. Once you complete the tutorial series, gameplay is mostly an exploration of the Caribbean in search for ships to sink and loot to plunder. However, there are tasks available to give the gameplay a little more definition.
While the gameplay involves three primary displays for when your ship is in port when your ship is at sea and a world map view. The port display has your currency information, trading button, gameplay menu button and ship purchase button in the upper left corner. Ship repair and upgrade options are available from the button in the upper right corner of the display.
The gameplay menu, also available from the sailing display, offers you the option to access your Captain's Skills, Reputation, Current Tasks, Book of Ships, the Gaming Store, view the roster of neighboring pirates and access the game's settings. Settings cover options for sound levels, accelerometer settings and graphics quality.
The ship sailing display has your ship's wheel positioned in the lower right corner of the screen with sail controls (raising and lowering) positioned just above the wheel. A ship compass, emergency repairs menu and a transition button (the cannon) to the battle mode is positioned in the lower left corner. Ship status is displayed in the upper right corner and as you battle other ships, their damage is displayed in the upper left corner. Canon controls replace your compass while in battle and left/right targeting overlays appears along the side your ship. To steer your ship, simply raise your sails and use the pilot wheel to steer. The direction of the prevailing winds is displayed by a series of blue arrows.
Both the sailing and port displays can be pinched to zoom in or out and can be rotated by touch to alter your point of view. The detail in these screens is outstanding from the waves breaking on the ocean to the deck of a boat splintering into tiny pieces when hit by a cannon ball. The only thing missing are tiny pirates scurrying around the deck of the ship.
The world map view is accessible from either the port or sailing from a button in the lower center of the display that bears a compass symbol. The map view displays any available ports (along with their Country of allegiance), any ships worth battling and any cargo that is adrift at sea. Tap on your destination, confirm this is where you want to head and your ship travels there without delay.
Gameplay with The Pirate is somewhat freeform, and while there are defined tasks, everything revolves around a few core activities. These activities include:
Sailing your ship to recover cargo that has gone adrift while avoiding floating charges that can sink your ship.
Battling ships and looting their cargo.
Buying and selling cargo in the various ports of call.
Upgrading and improving your ship's cannons, sails, hull strength and cargo hold capacity.
Hunting down rival pirates and sinking their ships.
As you complete tasks, the Captain gains experience and as you advance in experience levels you can upgrade his skills. Skills include military, sailing and financial skills. While The Pirate: Caribbean Hunt involves a lot of activities, the game does a good job of walking you through all the particulars during the tutorial sessions.
Overall Gaming Experience
First the positives. The Pirate: Caribbean Hunt is packed full of excellent graphics and animations that are full of detail. They may not be Xbox One level graphics but could easily rival Xbox 360.
Next, the amount of gaming involved with The Pirate: Caribbean Hunt is plenty. The game includes 30 ship upgrades, 20 Captain's skills, 16 classes of ships, 5 types of cannon ammo and dozens of ports to visit. The Windows 10 PC title increases in difficulty as you advance in experience, helping it avoid becoming too easy of a game.
Gaming controls are easy to pick up and learn, but during battle, you need to be able to multi-task. Often is the case where you are steering to line up your cannon shot and have to blast your enemy out of the water at the same time. The pilot's wheel does not maintain your turn if you release your hold on the wheel. It's not a major issue but requires a little practice to get things right.
The game has an addictive quality that can easily keep you occupied for a while. The cloud storage is a nice option to allow you to pick up gaming on a tablet while on the go and resume the game where you left off when you get home to your desktop.
As far as complaints, I don't have many with The Pirate: Caribbean Hunt. The game ran smoothly with no glitches or bugs experienced. I did experience a slight delay in raising/lowering sails but that adds to the realism. Overall, The Pirate: Caribbean Hunt is a great, free title to have in your Windows 10 PC gaming library to play when you have a little down time to burn.
Download The Pirate: Caribbean Hunt for Windows 10 PC (opens in new tab)
Windows Central Newsletter
Get the best of Windows Central in your inbox, every day!
George is the Reviews Editor at Windows Central, concentrating on Windows 10 PC and Mobile apps. He's been a supporter of the platform since the days of Windows CE and uses his current Windows 10 Mobile phone daily to keep up with life and enjoy a game during down time.
Going to try now :) tried it. Its nice. But consumes time. Also, the soundtrack during attack resembles pirates of the Caribbean :D

This looks a lot like Assassin's Creed IV: Black Flag. 0_0

There's some quality W10 2-in-1's, Hybrids, or Tablets out there that are very affordable, & will handle this sort of game with ease. Then ofc there's the more traditional W7-10 form-factors, they can be much older yet STILL handle this with ease...