Pirate MMO 'Atlas' coming to Xbox Game Preview in 2019
Sea of Thieves better look out.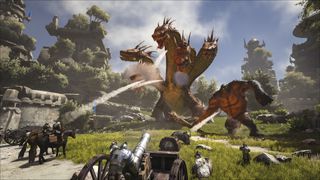 The directors of ARK: Survival Evolved announced a new pirate MMO called Atlas at The Game Awards 2018, and from the looks of its trailer, it's shaping up to be some fierce competition for Sea of Thieves.
Like Sea of Thieves, Atlas is a fantasy pirate adventure with slightly more realistic graphics than the former, though it's still a bit stylized. Where players complained that Sea of Thieves felt rather empty, Atlas looks nip that in the bud by showcasing action-packed battles with dozens of people and even some fire-breathing dragons.
According to the developer, Atlas is nearly 1,200 times bigger than ARK: Survival Evolved and will support up to 40,000 players simultaneously. Those certainly aren't numbers to scoff at, but we'll need to wait and see if the studio can deliver on that promise.
Atlas is set to come to PC on December 13 and will release into Xbox Game Preview sometime in 2019.
Jennifer Locke has been playing video games nearly her entire life, and is very happy Xbox is growing a stronger first-party portfolio. You can find her obsessing over Star Wars and other geeky things on Twitter @JenLocke95.
rather empty* not father empty

"40,000 players simultaneously" Easily possible if they build on previous MMO models. 15 years ago MMOs were providing seamless worlds hosted across servers and capable of managing between server boundary interactions and hundreds of players. SWG is the best example, with a really brilliant design. With today's computing increases and cloud scaling, it has been surprising that more games don't host huge populations, instead of the 30-100 survival server setups, and even like Ark don't perform as well as they should. (The idea of the survival games is to be all server based to prevent cheating; however, in practice this doesn't prevent cheats because of the data models and loads on the servers.) Even in the old MMOs, they still upheld the concept of never trusting the client, without doing all the computing for the client. Anyone that is interested in gaming server technologies or even the base concepts of what makes a game fun, should start by following Raph Koster on twitter and his blog. (Someone I do not personally know, but has earned my respect.)

Maybe this is what SoT should have been. But then again, hope it's not going to turn out like another early access like Ark: Survival Evolved.
Windows Central Newsletter
Thank you for signing up to Windows Central. You will receive a verification email shortly.
There was a problem. Please refresh the page and try again.