'Planet Coaster' Xbox interview: Bringing the rides to console
Planet Coaster is arguably the world's most excellent theme park builder, and it's coming to console.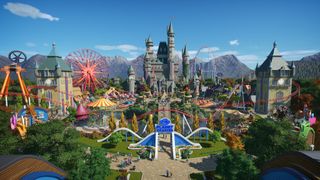 (Image credit: Frontier)
A short while ago, Frontier Developments announced that Planet Coaster is heading to Xbox and PlayStation after solidifying its place as one of the greatest tycoon games of all time on PC.
In Planet Coaster, you aim to design, staff, and develop your very own theme park, continuing the decades-long tradition established by games like Roller Coaster Tycoon and Theme Park. Planet Coaster pushes far beyond its predecessors, however, with some of the most comprehensive design tools in the genre, alongside a vibrant creator community that bakes in even more content.
We recently caught up with Planet Coaster Game Director Gary Richards to learn more about how Planet Coaster is making the leap to Xbox One and PlayStation, planned to launch in the Holiday of 2020.
Build a dream theme park
Pandemic-safe theme parks for all.

Planet Coaster is a complex tycoon game all about building your very own dream theme park. Manage budgets, visitors, and attractions, with the most comprehensive theme sim on the market.
Building Planet Coaster
Jez Corden, Windows Central: From a design standpoint, are there any features missing on the console version vs. the PC version? If so, how come?
Gary Richards, Game Director: With Planet Coaster: Console Edition, we've built upon the depth, charm, and sophistication of the original version, while fully optimizing the game with console players in mind to ensure we're bringing the most authentic coaster park experience to console.
Players will be able to choose from the same Career scenarios, Sandbox and Challenge Modes, quickly and easily creating custom parks using hundreds of new pre-made creations and customizing them with the same piece by piece creation PC owners know and love.
In addition to this, we're delighted to be adding two fully-voiced tutorials, exclusive to the console edition, to help get players up and running in building the coaster park of their dreams. These guided tutorials are led by a brand new cast of characters ready to teach players what they need to know while adding an extra sprinkling of personality to the world.
Source: Frontier
What are some of the challenges of building a console version of a game designed primarily for mouse and keyboard originally?
The most challenging part of building a console version of the game was taking the depth and complexity of the creative tools in the original game, and adapting them for a gamepad so that players can create their parks to the same level of detail with ease and control while ensuring the gameplay still felt intuitive to the player.
In Planet Coaster on PC, there can be many different interfaces onscreen at once, and the player can control these using the cursor. With the Console Edition, we wanted players to have the ability to quickly and easily place down their fantastic rides and scenery by having the most relevant options and actions at their fingertips, with the more advanced features only ever a couple of button presses away.
This meant reworking the UI designs with gamepad in mind and ensuring the on-screen text was readable at a distance. We've also made some of the menu's full screen to make it easier for players to navigate through the options, while updated object icons help simplify the process of designing parks by visually grouping themes together in the browser.
We've also introduced new control options that allow console players to build more efficiently. There is a context-sensitive radial menu that offers a handy shortcut to frequently used tools and actions, we've added a Movement Snap option for lining up objects and creating symmetrical arrangements, and there's an updated camera system which supports precision control for adding the finishing touches to a ride and high up, sweeping movements for quickly navigating around your coaster empire.
The result is that the game feels perfectly at home on consoles, and the more creative features like editing buildings, laying coaster track, and modifying terrain feel very natural to use on gamepad.
Have you given any consideration to including mouse and keyboard support on Xbox One?
While a huge amount of development and focus has gone into adapting the controls for a gamepad, the new UI will also switch seamlessly between gamepad and mouse and keyboard to support those console players who wish to play with a mouse and keyboard on Xbox One.
Have you begun making any considerations for next-gen consoles like the Xbox Series X?
It's exciting to be supporting the next generation of console, like the Xbox Series X, and we expect next-gen players to see improved graphical fidelity, faster load times, and enjoy a native 4K experience. We will continue to explore the potential of this next generation to bring the best coaster park experience ever seen on console.
Planet Coaster has enjoyed some interesting IP-based DLC such as the Ghostbusters and BTTF packs, should we expect to see more of that? What about a Halo or Gears of War pack?
It's always fun to have the opportunity to work on IP-based DLC. However, currently, the team is fully focused on bringing the best possible coaster park experience to console and have nothing further to share at this time.
In a game that effectively revolves around user creativity, what are some of the craziest rides you've seen the community come up with?
There have been so many! From memory, the Railgunner was one of the first launch coaster experiences that brilliantly used the sci-fi pieces to create an amazing guest experience from station to station. We also have several creators who are always thinking outside of the box to recreate movie scenes or historical happenings like Alien or the moon landing. And then there's dark rides, a much anticipated free update which really changed the game for us and will be included in the console edition. We've seen haunted mansions themed around Hotel Dusk and Alice in Wonderland, to mention a few. Our community is vibrant and creative; the sky truly is the limit. We cannot wait to see what our console players create when they get their hands on the game.
Does Planet Coaster on console have a roadmap for post-launch support and content? What does the future hold for the game?
We have nothing to announce regarding DLC at this time. However, we can confirm that at launch console, players will get a wealth of fantastic community requested content and features that have been added as free updates to the Planet Coaster base game over the years. These include additional scenery, rides and coasters, go-karts, security guards, fireworks, and hotels, right up to the most recent addition of the interactive shooting dark-rides, a favorite with the coaster community and the development team.
With such a creative community on PC, we are looking forward to seeing what gems the console community creates. Sharing content has always been in the DNA of Planet Coaster, and for the console edition, we have created an integrated workshop that enables players to upload and share their creations with the console community from within the game. It also allows players to download community-created coasters, scenery, and buildings to include in their own parks, sparking the flame of inspiration to help create the coaster park of their dreams.
Thanks to Frontier and Gary Richards for joining us!
Planet Coaster is gunning for a Holiday 2020 launch on Xbox and PlayStation 4, joining its established presence on PC. Planet Coaster is a tycoon player's dream, and the fact it'll come to Xbox with keyboard and mouse support, alongside optimizations for Xbox Series X should make it an addictive addition to any sim player's library when it launches later this year.
Build a dream theme park
Pandemic-safe theme parks for all.

Planet Coaster is a complex tycoon game all about building your very own dream theme park. Manage budgets, visitors, and attractions, with the most comprehensive theme sim on the market.
Xbox Series X/S
Main
What is the Xbox Series X release date?
How much does Xbox Series X cost?
Why you can't preorder Xbox Series X yet
Get the Windows Central Newsletter
All the latest news, reviews, and guides for Windows and Xbox diehards.
Jez Corden a Managing Editor at Windows Central, focusing primarily on all things Xbox and gaming. Jez is known for breaking exclusive news and analysis as relates to the Microsoft ecosystem while being powered by caffeine. Follow on Twitter @JezCorden and listen to his Xbox Two podcast, all about, you guessed it, Xbox!