Plants vs. Zombies 2 announced for late spring 2013. Headed for Windows Phone 8?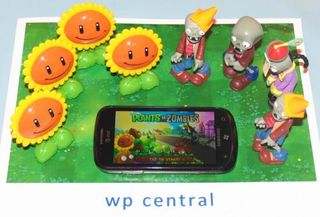 It looks like plants and zombies will be battling it out once again for dominion over your front lawn. PopCap Games, makers of the wildly popular first installment of Plants vs. Zombies, announced today in a press release that a sequel to the tower defense-style game will be slated for a "late spring" release in 2013. Though no specifics were mentioned, PopCap indicated that the sequel will "include a bevy of new features, settings, and situations, designed to delight the franchise's tens of millions of fans around the world."
An unidentified spokesperson connected to game had this to say:
The Seattle-based maker of such hit games as Bejeweled and Peggle was acquired by entertainment powerhouse, EA Games, last year. Plants vs. Zombies was a huge success, spanning multiple platforms including, iOS, Android, Xbox 360, PC and Windows Phone. We expect the same kind of widespread availability for the sequel as well although no platform-specifics were given at this time.
Looking at the close relationship between PopCap, EA, Microsoft and Nokia, we do expect a Windows Phone 8 tie-in.
See the entire press release after the break.
Source: PopCap Games; Via:GameSpot
Windows Central Newsletter
Get the best of Windows Central in in your inbox, every day!
Here come the WP8 only games!

By late-Spring, 2013 I don't think that's really a problem. In fact, with the benefits that WP8 brings to gaming (like way better graphics, in-app purchases, etc.) I'd be genuinely TO'd if they didn't make this WP8-only.

really? So everyone with a WP7 will have it traded in by spring 2013? I guess everyone is joining the abandon WP7 bandwagon.

I will still probably have mine till 2014.

Man, never thought i'd hear someone be ticked off for developing for wp7. plants vs zombie doesnt require 'way better graphics'. and the whole in-app purchases needing to be a wp8 exclusive still doesnt make sense to me (doesnt tentacles had paid dlc? doesn't tapitude have micro transactions?) what is the limitation in wp7 that makes this impossible when it's already happening?
let's face it, wp7 is dead. if you got a day one device, i guess you wont care since your upgrade is probably due, but for those nokia owners, i feel sorry for them.

Don't feel sorry for me. I'll have a $199 Surface tablet to play it on. Then I'll use my still amazing Lumia 900 to play the original. Enjoy your pessimism.

Right in time for my Windows phone 8 device

Waiting long time for thbraaaaaiiinzzzz......

Already read this elsewhere and cannot wait! Though hoping I'll have somehow managed to get 200G on both the WP and XBLA versions by then (which I doubt). I joke to someone else that this might be the rumoured PvZ FPS, though either way I honestly doubt it would be a WP8 exclusive considering that every other platform it's appeared (practically all of them) on has a stable and loyal fanbase too. If anything I wouldn't be surprises if we get ditched again considering we still don't even have Mango support for the first one...

No cause WP is still second rate we won't see it till late 2013 early 2014

Well if that's wp8 only I'll be irritated. Not due for an upgrade till 2014. Pvz2 is a game in really looking forward to. Hope Lumia 900 is exception in that.

Now I really need a 4.8 inch super super HD... Nokia.. Or you know what... I will play this shit on my SURFACE.. CAN anybody tell me how to get out of the snow boarding stage on pvz??

Great news! I don't have WP yet, but I will be picking up a Nokia WP soon. I just may put off purchasing the PvZ app, and then wait to see if PvZ2 will hit WP.

With that said, I am definitely getting PvZ2 for my PC :)

WP8 games only are coming.... I am switching to an iphone 5 when available but will still be enjoying my Nokia L900 :) (not at recording at concerts right now it sucks at audio when it's loud....)

I'm not too worried about if it comes out for wp7.x or wp8, I'll either get a wp8 device or hopefully some wp8 rom gets hacked to run on my focus or focus s.

Won't happen you would also need to change the kernel that's why current Gen wp7 can't be upgrade to wp8

Bought the original on the DOTW and my 3 year old has been obsessed ever since. This will be great, even if it only hits WP8. It's not like they won't spread it across every other platform known to man.

Win mobile had zuma as afree game. Me want for wp7

Seriously people, I VERY much doubt this will be a "WP8 Exclusive". Popcap Games have a VERY large user base on MULTIPLE platforms so making a platform exclusive game for them would not be a smart move. Not only that but considering EA now own Popcap I see this happening even less. I mean, name me one EA game that isn't multiplatform?

I think by WP8 exclusive people mean "no WP7 support" and not "no support for other platforms." I can't see any way EA would skip iOS or Andrioid.

EA always have to milk the games. Couldn't this just be an update, of course not were talking about EA here. They milked all of the sports games, Sims, need for speed. When you do this to series, people find it boring. I hate EA. >:( but LOVE plants vs zombies

Dude, I can't believe you're complaining that one of the best games ever is getting a sequel. Which would have happened even if EA did not buy PopCap. No need to put a silly anti-EA agenda before excitement over great game announcements.
Windows Central Newsletter
Thank you for signing up to Windows Central. You will receive a verification email shortly.
There was a problem. Please refresh the page and try again.