Plants vs Zombies Garden Warfare 2 open beta begins Jan. 14 for Xbox One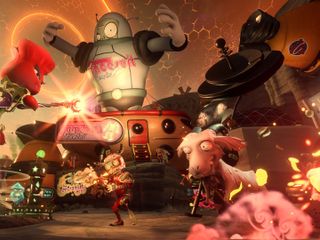 It will soon be time to go back to the garden for some weird multiplayer action. Electronic Arts will offer Xbox One and PlayStation 4 owners a chance to play the open beta test for Plants vs Zombies Garden Warfare 2 starting on January 14.
Here's a quick look at what players can expect in the open beta test:
Enjoy the Backyard Battleground (we're saving tons of great content and plenty of surprises for launch!), and play our King of the Hill-inspired mode, Flag of Power, where you can jump into the action right away and experience an immersive and escalating battle.
You'll also get to try out six new PvZ character classes, as well as a returning roster of your favorite characters from the original Garden Warfare.
Jump into our 24 person multiplayer modes – the new Herbal Assault and Gardens & Graveyards
You'll be able to play across four distinct maps – Moon Base Z, Frosty Creek, Z-Tech Factory, and Seeds of Time.
The open beta will end on January 18. The full version of Plants vs Zombies Garden Warfare 2 is due for release on Feb. 23.
Buy Plants vs Zombies Garden Warfare 2 from Amazon (opens in new tab)
Windows Central Newsletter
Get the best of Windows Central in your inbox, every day!
I am still taken aback by the price. I will probably grab it as I have a lot of hours in the original. But...

Look at what your getting for the price

I know... just a shock. Was "arcade" priced for the first so it just caught me off guard. I loved it though I am sure I will love this.

The first Garden Warfare was retail priced

It was 39.99. So maybe not "arcade" priced.

Can't wait. Loved the first one.

I'll have to get it for my kids. Looks fun.

I want this game and will have it on DAYONE!

Will I be able to play with my friends who have playstations?

The first game was very polished, from what they have shown the 2nd one looks great.