PlayerUnknown's Battlegrounds install 'up to 30 GB' on Xbox One X
Retail copies for PlayerUnknown's Battlegrounds are surfacing across major retailers, indicating an install size of up to 30 GB on Xbox One consoles.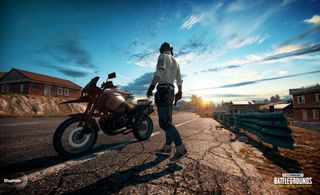 Later this year 2017's biggest success story in gaming, PlayerUnknown's Battlegrounds (PUBG), is on track for release on Xbox One. Following months of development through Steam's Early Access program, Microsoft has picked up an exclusivity deal for its console debut, publishing the game via the Xbox Game Preview program. With few details on expansions to further platforms, Microsoft has been keen to capitalize on this launch period, currently marketing the game as "console launch exclusive."
Microsoft recently unveiled that PlayerUnknown's Battlegrounds will hit Xbox One on December 12, via both digital and physical versions releases. It now appears that placeholder game packaging is beginning to surface across major retailers – providing further details on what to expect from the Xbox One version.
A look at PlayerUnknown's Battlegrounds Xbox One controls
According to placeholder cover art for the physical release of PlayerUnknown's Battlegrounds, "up to 30 GB" of free storage is required on Xbox One. Microsoft is keen to note that as an unfinished product this is "subject to change," though provides an idea of the potential download size to expect at launch. For reference, the PC version of PlayerUnknown's Battlegrounds also recommends 30 GB of storage but only totals 8 GB once installed at this time. This could indicate that Xbox One and PC require headroom for incoming updates, however, may also indicate differences between the two versions.
This figure should be the install size when on Xbox One X, looking back at the box art of games previously launched with Xbox One X support. For example, Forza Motorsport 7 recommends 99 GB of storage on its boxed copy, while the Xbox One X install clocks in at 95 GB. 4K resolution and High Dynamic Range (HDR) have been previously promised features on the console, which should be enabled via the "Xbox One X Enhanced" update.
It should be noted that while PlayerUnknown's Battlegrounds is slated for a retail boxed release this December, this version will contain a 25-digit key for redemption via Xbox Live. This means that despite which version you purchase, the full download is still required over Xbox Live.
Windows Central Newsletter
Get the best of Windows Central in in your inbox, every day!
Matt Brown was formerly a Windows Central's Senior Editor, Xbox & PC, at Future. Following over seven years of professional consumer technology and gaming coverage, he's focused on the world of Microsoft's gaming efforts. You can follow him on Twitter @mattjbrown.
I wonder if the xBOnex will be able to manage more than 12 FPS... I also find it amusing how elements previously held over he heads of pc gamers, inconvenient keys with retail discs and huge downloads and installs, are now accepted parts of console gaming.

You must be a fun person to hangout with....

And you're clearly an excellent judge of character, indeed I am!

@fuzzylumpkin. The xbox one x is vastly more powerful than the og xbox one and the ps4 pro. It was built for 4K gaming, it will handle the game in 1080p with no issues.


This actually wasn't a diss on the xBOnex, but on PUBG. We're talking about a game that people struggle to get a decent framerate on medium settings @1080p using a 1080TI or Vega 64 coupled with an i7 or R7... The optimisation is atrocious.

Umm they already said it runs at 4k 30fps

Dude you should inform yourself a bit. I'm running everything maxed in Pubg on 4K resolution on a GTX 1070 8GB, i7-4770 on 4,5GHz and 8GB RAM and I have a constant 70 FPS.

Hey man theres literally no chance youre running 4k resolution on that 1070 with a meager 8 gb cache... The 1080ti alone with 11 gb cache is still not enough to make PUBG run at 60 fps on 4k. This can be found from a simple google search. (i also have a 1080 ti and i7 7700k, a 4k monitor, and a 1440p monitor, and i play on the 1440p monitor because it does not run stable at 4k from personal experience). So in conclusion there is absolutely no shot you're running it at 4k, lying about non-joking matters on the internet just gives people false perceptions, don't do it. Have a good day sir!

xBOnex? Is that your gamertag?

It's a contraction of Xbox one X, I'm a little surprised you couldn't figure that out on your own... I don't feel the need to put an "X" before and after my usernames, because I'm not 12. I also don't spell them out L I K E T H I S.

"I wonder if the xBOnex will be able to manage more than 12 FPS" Why wouldn't it? "I also find it amusing how elements previously held over he heads of pc gamers, inconvenient keys with retail discs and huge downloads and installs, are now accepted parts of console gaming." Who is hold that over the heads of PC gamers? I know many people that tout the all digital on both platforms.

Too bad I can't even find the game on the Australian Xbox store to preorder and preload.

It's on the Microsoft Store:
https://www.windowscentral.com/e?link=https2F%2Fclick.linksynergy.co... You can also get it from JB for $34 or EB for $39.95. The retail copies are just a shiny box with a digital download code, and you can't pre-load until release day

Big games with lots of assets/4k = bigger installs. Not rocket science is it?

That's actually pretty average

Agreed, if anything I'm concerned it's too low for a 4K game. The only real problem I see is the fact that the game box contains no install disc.

Save your money and play Fortnite if you want to try a battle royal game. PUBG is overrated and overhyped. Also any game @30fps should be a no go especially a multiplayer FPS.
Windows Central Newsletter
Thank you for signing up to Windows Central. You will receive a verification email shortly.
There was a problem. Please refresh the page and try again.