Plex finally gets live TV support, coming to Windows 10 and Xbox One
It's a little way off yet for Windows fans, but one of the best home entertainment services around just got even better.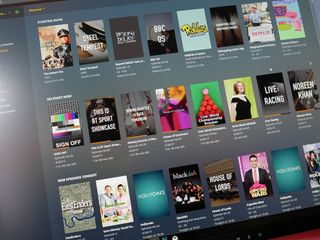 Live TV support is something that has been sorely missing from Plex, not least because you've been able to record TV for a while now with its DVR feature. That always required using the web app to browse and schedule recordings, but that's all about to change.
Plex is now bringing live TV channels and a front-end to its DVR to all of its client apps. It's a staged rollout, with Android TV and iOS mobile apps the first to get the new features, but from there one-by-one the rest will follow.
How to setup Plex DVR
While there's no timeframe for the Windows 10 or Xbox One apps being updated, that little snippet above provides some very interesting information. Plex TV, it seems, will be able to use the Xbox One OTA TV tuner to provide the channels. And the ability to set shows to record. Hello Xbox DVR that never was.
Sure, it'll still require you to have a Plex Media Server running on another machine, everything Plex does requires that. You'll also need a Plex Pass (opens in new tab) subscription. But inside the Plex app on Xbox One you'll be able to watch TV, record TV and then playback recorded TV. It's not necessarily important where the shows are being stored, but it looks like you'll be able to do just that.
Of course, you can also use something like the HDHomeRun Connect (opens in new tab) in place of the Xbox OTA tuner, but it's great to see Plex declare support for the Xbox hardware in this way.
Windows Central Newsletter
Get the best of Windows Central in in your inbox, every day!
Managing Editor - Tech, Reviews
Richard Devine is a Managing Editor at Windows Central with over a decade of experience. A former Project Manager and long-term tech addict, he joined Mobile Nations in 2011 and has been found on Android Central and iMore as well as Windows Central. Currently, you'll find him steering the site's coverage of all manner of PC hardware and reviews. Find him on Mastodon at mstdn.social/@richdevine
I hope this means they will actually update the Xbox one app, it can;t even play the next episode of a series

In due course all apps will be updated.

I'd imagine the UWP will come to Xbox around the same time too.

I completely forgot to ask them about that during my briefing. I'll follow up. All they've got right now is that the other apps will follow. They're going step by step to make sure that if anything breaks it's an easy fix.

The Plex team are rock stars I completely trust them based on what they've done with the product so far. Looking forward to seeing it roll out, would love to have confirmation if they will converge to a single W10 UWP app so if you get a chance to follow up that would be awesome

How're about they fix the one million bucks in the UWP first? Ugh. Poorly programmed app.

That's a lot of money in the app. Where did you find it??

Suppose to be "bugs". Nice catch though 😉

This is just one example of why Xbox One doesn't need a big media focus. If the tools and platform are there for fully featured apps, chances are companies like Plex are going to do a better job of it.

Nope, because a) plex requires a server still,not just your Xbox One. B) requires a subscription. The Xbox One should have a DVR function for the TV tuner, all built in as they were going to.
I won't touch Plex because of the server requirement for Xbox One. Such a shame.

I don't have a subscription and use Plex on all of my devices, but if you do have one the core functionality works without a server too if you host your files on the cloud. Sure, the DVR feature will never just work from the cloud but running your own Plex server is very easy. Having a DVR feature on Xbox One would be a plus rather than a negative but it's never going to run well on the current Xbox Model, it struggles just to run the standard dashboard - Having it reliably record in a low power mode etc. would be considerable work for something that a lot of users may not even use.

That's fine for TV, but Plex is way more than just recording TV shows. That's mostly why it's become so popular over the years. Frankly, for $120 lifetime it's an absolute bargain.

Having a separate NAS box with either Freenas or OMV running in the background is easy and absolutely rocks as a home theater solution, but to add the dvr functionality to it makes it even better.

I hope they'll finally update the Xbox One app to be UWP instead of a separate thing. I hate the existing app, it's so limited in functionality compared to the UWP one which works great on PC & mobile.

I guess this is great for most people. But we live in an area that doesn't have any OTA television stations, and Dish gives us the absolute best viewing variety and quality compared to Time-Warner cable. We're able to DVR whatever we need over our Dish box.

HDHomeRun does also have a cablecard tuner for you folks in the U S of A. Dunno if it's compatible with your provider, but basically it does the same thing with cable TV as it does with OTA TV. Helps you share it between devices over your local network.

Interesting. We have a Plex NAS and use it occasionally - we watch Netflix more often than our own collection - but this would be tempting to buy a Plex Pass and use Plex for our live TV instead of OneGuide. The only selling point OneGuide still has is a big one: it can open by default. Could always do both, too: default to watching by OneGuide when we are watching live, jump over to Plex to use DVR.

If it let me record to the Xbox One hard drive or a connected external drive, I'd be all about this. I don't have a PC or other device to run a Plex server from. That's the DVR solution we were promised with the Xbox One and I think that's what we all really want. This is better than nothing for those with the capability I suppose, so I'm not against it by any means, but it's not really any different than any of the other bandaid solutions like an HTPC, Tablo, or running some other OTA DVR box though the HDMI input.

Yup, Microsoft should still pick that back up for sure. This isn't the alternative for everyone, but it's at least an alternative.

If you use HDHomeRun tuners, live TV is already avaiablle on the Xbox One (and Windows 10) via the free HDHomeRun app. But of course, there is no integrated DVR experience, and the EPG is limited to what is currently showing. Haivng a true Media Center-like experience on Xbox One via Plex would be great. (It's sad that Microsoft, who already had all of this technology built and ready to go, just walked away from it.) We still use a dedicated Windows Media Center box on our LAN to record TV from a pair of HDHomeRun tuners, and we can already watch recorded TV episodes via Plex (the Plex Server in our home runs on this same box). However, at some point I will probably cut over to using Plex DVR instead. Gaining the option for viewing live TV in Plex will just kind of seal the deal, I think. Yay progress.

I hope these people finally include "browsing by folder", it's available in their app in many other platforms,including Windows.

Their Xbox is app is Sh*t. Fix that first then add features. Right now i don't know anyone in the UK that uses it because its buggy. All the other Xbox apps are used by loads of people because they are quality and work. 4K on Amazon and Netflix. ITV hub. BBC, 4od. 5od. Now TV. Heck o can watch live Freeview natively through oneguide without and app. Or any other box. Leave Plex to the Mobile Audience. It's bit worth having on Media centres. It's crap.

That's a lot of different tuners to choose from. I'm partial to the HD Homerun, but I'm curious if anyone can recommend another tuner over it? I have yet to decide which one to get. As for Plex, I signed up for a lifetime pass and couldn't be happier. It works on EVERYTHING! I saw they even have support for the Netgear Nighthawk X10 router now. Of all the media server platforms, this one is by far the best.

Doesn't Emby do all of this already and is more MS friendly.

I switched from Emby to Plex a year ago. I'm all Microsoft. I find that Plex is much easier to work with. Emby was a little glitch, but it's a great service too. Plex is just way more established and available.

And once it's out on all platforms I can finally get rid of media center and upgrade my pc to Windows 10. Microsoft missed an opportunity by never improving on media center after release 15 years ago. FINALLY a replacement. Maybe it's a niche market but I love it. Media Center finally a dead man walking.

I tried using the Xbox One as my cable tv tuner and guide. I really wanted to use it, but it was slow to change channels and the picture quality was awful, compared to my cable box. I ended up going with my cable provider's TiVo solution. Never was able to use one of the highly touted features of the Xbox.

Must be the broadcasters, Switched from my cable to the XBox today during the PGA and the picture improvement was night and day. The Super Bowl was the same.

I'll try it again, but I will be extremely surprised if it's any better.
Windows Central Newsletter
Thank you for signing up to Windows Central. You will receive a verification email shortly.
There was a problem. Please refresh the page and try again.