Plex launches new desktop app, retires Microsoft Store version
The revamped app is meant to be the one desktop Plex to rul them all.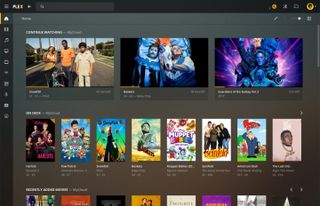 What you need to know
Plex launched a new desktop app today.
The revamped app will eventually completely replace Plex Media Player.
Plex has also retired its Microsoft Store app in favor of this new version.
Plex today launched a new desktop app (opens in new tab), simply called Plex. The new app is meant to take over as the main way to handle and watch all of your Plex content and it contains the same server and library management capabilities as the web app.
The new Plex app "has all the glorious player capability of Plex Media Player, plus an exciting new offline capability," according to the Plex team. What was previously called "Sync" is now just known as "Downloads," a way to download your media to your device to take with you on the go.
With the introduction of the new app, however, Plex is making some big changes regarding its Microsoft Store app and Plex Media Player. In regards to the former, the Plex Microsoft Store app is no more. Plex has retired it in favor of the new app. From Plex:
Plex says the new app is more capable than the Microsoft Store version and supports all of the platform's modern features.
As for Plex Media Player, it will continue to work and be supported through January 20, 2020. The new Plex desktop app will then take over as the replacement for Plex Media Player and it will stop receiving updates. Notably, the new app is lacking a TV mode, which is intentional. Plex says it is dropping TV mode in favor of supporting its apps across streaming boxes like the Apple TV and Roku for TV play.
The new Plex app is available to download now (opens in new tab) from Plex. The app is free, but you'll still have to have a Plex Pass subscription to use the offline download capabilities.
Dan Thorp-Lancaster is the former Editor-in-Chief of Windows Central. He began working with Windows Central, Android Central, and iMore as a news writer in 2014 and is obsessed with tech of all sorts. You can follow Dan on Twitter @DthorpL and Instagram @heyitsdtl.
**** them. And that is it.

♫♫
Another one bites the dust
Another one bites the dust
And another one gone, and another one gone
♫♫ But but... UWP is the future...

Why can't they just put in in the Windows Store. It does not matter if is UWP or whatever. I'll like to receive updates from the store automatically.

In the comments on their blog post, they said they are in the process of doing so. I don't think they took the to time to understand the OS's they support lol... because they could have easily just replaced the app vs removing it and adding it as a new one.

Good to know. I've already sent them user feedback to NOT abandon the MS Store. With desktop bridge there's really no reason to.

Better yet. Why can't they just use the app that is available for the Xbox One on Windows as well. I just don't get it.

This... But dev have become morons since they moved from PC to smartphones... They are lazy dumb and completely out of touch... It's about the right time for a big paradigm shift and the new generation to kick out all that gunk... It's like the transition of the bill gates Wozniak etc Era got pushed out by this one.. They are about as current than 3.1 devs were when win7 came out...

Well said. This are people who are doing things the old way.

Because UWP is limited in functionality. They are making a full Windows program, they are dropping the crappy mobile app.

Oh, you mean like the crappy mobile apps on Android or iOS? Yup.

Android and iOS are small screen touch operating systems. They aren't used on large screens with mouse and keyboard. The precise input method and larger screens allow more complexity than a small touch screen. You don't expect mobile apps on a PC. Why do I have to explain this to you?

In their blog post comments, the guy stated that both the Windows and macOS app is a mixed PWA-Win32 app, not an Electron app. This allows them to update both versions at the same time.

Bleached, this is the dumbest **** I ever heard. Didn't you read that they want to do a crossplatform app? As in Linux, Mac and Windows? If they wanted to do a Android, iOS and Windows they could've used Xamarin and nobody would've be the wiser but they would miss Linux and Mac versions which is what they didn't want. They are probably using a QT framework or something similar.

They say right in the article they are making a desktop app and it is more capable than the current "metro" app. I mistook that as a "Windows apps". Sorry.

So does this mean it can't be used for OTA DVR? If not, there goes my Plex Pass that's the only reason I had it.

I don't like this kind of move.

The scaling in the app is horrible on my Surface Pro which makes these types of moves suck even more. Everything is too small

It will be a webapp. Usually you can zoom there. Spotify client can also but in to 250 percent zoom mode if you want

But if you want to only access your music from the cloud you have to pay.

Yesterday, I've found out that my company is switching back from Slack to MS Teams, just to find out that Teams are not in the store any more. I've installed desktop app and it looks like UWP app :).
Why would anyone buy Windows 10 ARM device when even MS "chat" program is not in the store?

So this is a bit odd but they have the store version still but is only available on Win S since they can't run x86/x64 apps.

Teams is part of the Office business subscription that's why. But yes it's available as a standalone download as well. The old UWP app was discontinued in favour of the new app, and that's when it got removed from the Store. I agree, they should add the new one in, just like the other Office apps!

Why not just put the new version in the Store? Plex overall just confuses me.

In the comments on their blog post, they said they are in the process of adding it to the Store. But, I don't think they take the to time to understand the OS's they support lol... because they could have easily just replaced the app vs removing it and adding it as a new one.

I see, thank you for adding that detail (it really should be in this article too). There are restrictions on the apps that get posted to the Store, no? Maybe they conflict with some of new Plex's features. Think about it: Even Microsoft Keyboard and Mouse and Keyboard Center isn't in the Store.

I just paid for the Plex Windows Store app, last month (necessary for streaming)! Can I get my money back?

They can still put it in the store as a UWP wrapper, just like spotify. Would still have an interesting integration with native windows 10 features. Interesting though still that they have chosen to make a legacy app over a PWA.
On the plus side people with xp, 7 and windows 8 can use it, too! Hooray for supporting older devices, instead of leaving them behind. A better longer life for older devices too, and helps reduce ewaste. Smart! Curious to see how quickly the web will pirate this app outside the Microsoft store. Interested to know what the exhaustive list of features is that makes the legacy app better than UWP. Anyone?

Really good idea. I have had an android phone for 18 months now. Afte owning Windows phones. And I expected the apps to be great. In all honesty they are terrible. Across the board. I have consistently moved over to using the internet browser for almost every single app I've downloaded. The apps are terrible. Unstable, missing loads of features compared to the browser and the layouts are terrible in comparison to the browser as well. It all started with the official Premier League app for fantasy football. Basically widgets don't update, they get stuck with 10 hour old information among many other silly glitches. On a windows hybrid like Surface Pro it is so much better to use touch screen in desktop mode. I actually think it's far superior to any other tablet with apps. It's faster, more feature rich and I don't continually encounter the wealth of glitches I do on my Android device. Apps in 2019 should be way way better than it is. Apps are seriously overrated and frustrating to use.

Was this comment copied from a 2016 post?

?????. I have no idea what your talking about.

i miss and loved my lumia 930 with windows os, iv had a s7 edge and a s9 plus since and still theres alot of good android simply doesnt have that windows mobile did. but lets be honest. windows 10 tiles is awsome if you use third party software to make the tiles as windows and microsft dont provide any backed in help so unless you want a ugly start menu with crapy shortcuts the size of tiles then it really wasnt good. Even today i would prefer the store app for plex but their tile never did anything, that showed you how lazy plex team are. Hell plex has been a mess for a couple of years, this one new ui is great in comparison, just abandoning windows store means im not likely to invest in any miocrosft tablet or laptop or plex in the future after all whats next, netflix leaves? its the same problem the mobile phone had yet no solution has happened and microsft continues to miss out on basic features like a tile editor even after all these years of release, quite frankly microsft and ples should boith be ashamed. Yes im gona now look into alternatives for plex. Shame but hopefully i can move away from plex and hopefully android can do a decent os for desktop cause im also fed up with microsft slow lazy and very software fixing, updateing or even giving us basics. remeber edge that didnt let you open new tabs to your home page of choice or gestures on mobile they removed a month later. not plex has left the store and a hole on my desktop. Was about to lifetime join plex and also buy a xbox one s but no chance now. Itll be the shield and ill be done with it.

So... they decided to not support Santorini, Oasis and all future WCOSes (including Xbox)...

i love new plex app, it simplifys things to how they used to be before all the rubbidsh like haveing to select see all movies in 3 moves when it shoiuld have been first move but i have 2 small critisisums.
a) i love windows 10 start menu ui and hate it when apps or software cant be bothered to make a tile for at lease looks. ples windows store app looked basic but nice. The new app icon is a shortcut so unless i use third partty software then it suchs looking wise on start menu.
b)Why do windows and plex continue to ignore things like tiles? If windows had a built in tile editor or plex could be bothered to make a better shortcut looker then id not have anything to complain about. but really why isnt there simply this app on windows store. thats what i want because i still hope oneday for a windows mobile phone. I was about to pull the cord and subscribe cause i love this interface but not being on windows store is a subscription killer for my usage. I see no reason not to suport windows store.
Windows Central Newsletter
Thank you for signing up to Windows Central. You will receive a verification email shortly.
There was a problem. Please refresh the page and try again.