Plex Media Player app for Windows is the way to go on your living room PC
If you're using Plex on your Windows PC and a connected TV, you need to use the Plex Media Player app.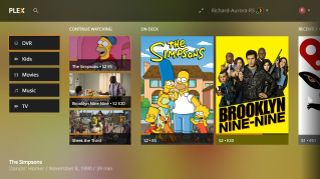 Plex is one of the easiest, best value ways of creating your own home media server. It runs on basically everything and it handles just about everything you'd need it to.
Windows-powered PCs make great media boxes, and if you have one of those hooked up to your TV and you're using Plex, you have to use the Plex Media Player.
What is Plex Media Player?
It's a lesser known client of Plex that you may not even know exists. The regular app available in the Windows Store has options for keyboard and remote control input, but it's still pretty much designed for folks interacting with a PC in the normal way.
The Plex Media Player app combines the web app of the Media Server with a dedicated big screen mode that is much easier to navigate on the TV from the comfort of your couch.
You can download it from the Plex Website, with the only caveat being that you'll need at least a 64-bit version of Windows 7 or newer.
Download Plex Media Player for Windows (opens in new tab)
Why it's so good
Firstly, it's the big screen interface. If you're in full-screen mode then you have an app that resembles other Plex apps for TVs.
For example, the Plex app on my LG webOS TV is basically identical to the Plex Media Player for Windows. Everything is incredibly visual, with large text, large images and not a lot of information on screen at any one time. It's also remote friendly, which is crucial.
The one thing it lacks right now is support for live TV and using the DVR. Eventually that will change, but since that is on a staged rollout, you'll have to use something else to watch TV on your TV right now. Plex will eventually do it all, but not yet.
What Plex Media Player also does is give you everything you'd find inside the web app for your media server inside it as well. That's particularly useful if your Plex Media Server install is on another PC. That and you don't need to go into a web browser.
To switch between the two interfaces takes nothing but a click of a button. But what you have is one app to control your entire Plex setup from your TV while also enjoying your content.
It is but another branch on the Plex tree, but if you have any interest in using a PC in your living room for media, then this app is worth getting. It perhaps doesn't get the attention it deserves, but it wraps up all the good bits of Plex into a friendly interface for the TV.
Windows Central Newsletter
Get the best of Windows Central in in your inbox, every day!
Managing Editor - Tech, Reviews
Richard Devine is a Managing Editor at Windows Central with over a decade of experience. A former Project Manager and long-term tech addict, he joined Mobile Nations in 2011 and has been found on Android Central and iMore as well as Windows Central. Currently, you'll find him steering the site's coverage of all manner of PC hardware and reviews. Find him on Mastodon at mstdn.social/@richdevine
Plx is the only app maker that said fark it and throw it on everything. I woldn't be shockd if i made its way to car infotainment and iot devics soon

Not so Emby an open source competitor to Plex exists and has many clients but sadly the tech media are somewhat blind to it because of Plex and the mindshare it has.

We have satellite. There is no over-the-air TV in our area. We have cable internet. I don't see any substantive advantage to using Plex.

Plex is great for organising and watching your own content. A couple of months ago I ripped all of my DVD's and BluRays to mkv files and put them on my QNAP NAS. I also have shows and movies regularly acquired through other means. Plex organises them all perfectly and I can track what I'm watching and it'll resume a show if I need to interrupt it for some reason. And that watching or resuming works on any device I own... e.g. Xbox, PS3, desktop PC, tablets, mobiles etc. I also have cable TV (Foxtel), but I only have one set-top box connected to the main TV. The cable company do offer some shows via Internet streaming - but that requires a proprietary app only available on a limited number of devices. When the wife is watching something on the main TV I can use Plex on the Xbox One connected to my second TV. Or I can watch on my desktop PC, or even sit with her on the couch watching my show on a tablet with headphones. Of course I can do a lot of those things with VLC (or similar) but VLC doesn't track which episode I'm up to, and won't resume if I move from my tablet to my Xbox. Plex also doesn't use any Internet bandwidth (as it streams from my own NAS), unless you leave the house and try to connect to it externally (I haven't tried it, but it's possible). To me Plex is more than just watching shows - it's about organising your library, and doesn't require you to actually sort and title the underlying media yourself i.e. as long as you said it's "Fargo S03E02" then it'll figure out it's "The Principle of Restricted Choice", give you a synopsis, tell you all the actors, download some posters and artwork etc. And all of that for free!

I'm staying with Kodi, sorry 😁

I just use Xbox one S and its apps and over the air Freeview. Alot in 4K to.

You know I'm an Emby fan, but tempted to give Plex another try with this and their recent improvements (liveTV specifically).
@Richard - looks like you've been using both recently... How does your experience with live TV differ between the two?

Plex is OK for video but it sucks at audio. I decimates high quality audio to lofi. I've had several conversations with Plex tech regarding this with no fix offered. Suggest Kodi as a much better choice.

We can use the plex web app too, we don't absolutely need the w10 app? Plus this is a paid app I guess

There's a W10 desktop version too... that's free. I don't understand why the paid app version exists really

The Windows App version is not free. It stops working unless you pay ($12 or something IIRC). Fortunately the desktop version is free, so I just use that

Add plex pass and all apps are free
Windows Central Newsletter
Thank you for signing up to Windows Central. You will receive a verification email shortly.
There was a problem. Please refresh the page and try again.