How to set up and use Plex DVR
You can record all of your over the air (OTA) TV to your PC using Plex. Here's how.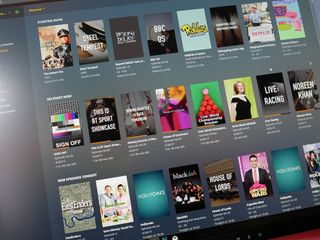 One of the things you lose by pulling your cable box out from under your TV is its digital video recorder (DVR) functionality. You can buy a replacement that works with OTA TV channels, but there's a better way: Use your PC or Network Attached Storage (NAS).
One such way of doing this is with Plex, the hugely popular media server software. It recently added beta DVR functionality. Here's how you set it up.
The only things you need are a Plex Pass subscription and some form of connected TV tuner. For the purposes of this guide, we're using a HDHomeRun Connect (opens in new tab).
How to set up a HDHomeRun tuner
All the management of your Plex DVR will take place within the Plex Media Server web app in your PC's browser.
How to use Plex as a DVR
Go to settings in Plex Media Server.
Click on server.
On the sidebar, click on DVR (Beta).
Select your tuner from the box.
You'll see the channels already detected. If you want to rescan click on scan channels.
Select your country from the dropdown box
Click continue.
Enter your postal code to allow Plex DVR to pull in channel guides for your area.
After your DVR has initalized, select the best guide for your area from the dropdown box.
Now your Plex server is set to receive live TV over your local network. It doesn't allow you to watch live TV, only record it, so for that, you'll still need something like the HDHomeRun official app or Kodi. Hopefully, in the future, you'll be able to schedule recordings from the regular Plex apps, too.
Recording is simple, but it requires that you set up a library first. If you don't have one, you'll be prompted when you first try to record something. It's a simple process that involves specifying which drive and folder to which you wish to save your recordings.
The program guide inside Plex is both easy to navigate and extremely full featured. You're able to view by type — show, movie or radio — as well as by what's live, starting soon and upcoming. Recording options are available to allow you to record just that one episode or all new episodes of a TV series.
Once recorded, they'll show up in your DVR section inside any of the Plex apps you use to sync or stream at your leisure. It's that simple
Richard Devine is an Editor at Windows Central. A former Project Manager and long-term tech addict, he joined Mobile Nations in 2011 and has been found on Android Central and iMore as well as Windows Central. Currently you'll find him covering all manner of PC hardware and gaming, and you can follow him on Twitter and Instagram.
LOL, we're not about to give up our Dish. Besides, there ARE no loca TV stations where we live. Well, a couple of stations out of Mexico, which is the same thing. We get everything we need from Dish, Hulu and Netflix.

Using the PlexDVR with my HDHomeRun at home. I wish there was an easy way to remove the shows after they've been watched. Another item that would be nice is an easy to setup plugin for commercial removal. Hacking in ComSkip isn't easy.

I think I saw somewhere buried in settings you can tell DVR stuff to delete at a certain time after you watched it. If I'm not mad expect a post on how to do it :)

I thought I saw that option as well (remove automatically after it is watched), but now I can't find it. However, I just noticed that there is an option under the advanced settings of the library section for "Allow media deletion" (owners can delete media). So they option does exist, I just didn't know it. Now I'm going to need to setup users for each of my kids so that they don't accidentally delete other stuff (like family photos).

I'm planning to migrate to this at some point, once MS figures out a way to shut down my hacked Media Center onto W10. As it stands I have modified the registry to disable any and all MS updates so that I can keep my HTPC running the pre-Anniversary update version so that Media Center still works. As far as removing programs, I've always found that it was better on Media Center to set up the recorded TV directory as a share, then I can navigate to it from any PC in the house and delete old recordings far more easily than the built-in method through Media Center. I have a Ceton CableCard quad tuner in the HTPC, but also an OTA HDHomeRun that works well. Plex apps on all our TVs and the HTPC, as well as both Plex and HDHomeRun apps on our Windows Phones and tablets make for a nice set-up. I imagine at some point the price of Ultra HD Blu-ray drives for PCs will come down to the point that I can justify the cost of not only that, but having to build a new HTPC that meets all the other requirements to successfully play UHD Blu-rays through a PC. For now the PC and 50" LG 4K do a terrific job of upscaling regular 1080p Blu-rays and MKVs. My company is in the process of building a new 50,000 square foot office/showroom/warehouse facility, and I'm planning for (I'm the company IT guy) a dedicated Plex server and a Synology NAS to serve media up to the six 55"-65" TVs that will be located throughout the place. It will be a fun project, in addition to the 130 Cat6 drops and all new networking equipement that I'm putting in the place. I'm trying to squeeze the budget to get a 65" LG 4K OLED for the conference room :)

I have been using my Silicon Dust HDHomeRun (cable card based one) with Comcast for years with Microsoft Media Center and recently switched to using the Plex DVR when I updated my HTPC to Windows 10. I have been using Plex for a long time but only for my own video library. Having recoded TV shows availabel via the Plex app is super cool. As someone else pointed out it would be nice if there was a way to delete shows after they are watched. That would be nice, as well as being able to configure what shows are recorded via the Plex app. As far as I know you have to go to the Plex server to add TV shows and manage the recordings. Another thing I would like is the "normal" channel guide that Media Center/Tivo/every cable/Sat carrier provides. I like to see what is on each channel and when.

The web based Plex app (app.plex.tv/web) has the Program Guide in it and you can schedule recordings there. Most of the proper client apps don't have that functionality yet. I suppose they are waiting until they take the 'beta' tag off before doing that.

Yeah you'd expect that once it's a fully finished product you'll be able to do it in the other apps.

Unfortunately the Plex UWP is one of those apps that have a TON of issues and either the developer doesn't know how to fix them, or the OS is just causing to many issues for the developer to be able to even begin to deal with the issues. Sucks, because with as many Windows 10 users as there are, this app should be so much better than it is. Even the look and artistic setup of it is behind that of iOS and such. W10, even with all its growing number of users, doesn't get the love it should in the app department.

I have a lot of issues getting content successfully sync'd to the pc using the uwp app. It will hang/freeze and stop transferring data.

Yep. Non stop. Says its transferring and never does a thing.

Think it's an issue across the board right now, doesn't seem to work on the other platforms either.

I think Plex on Windows 10 looks better than on iOS.

I have Sky Q, but also use Plex for on the move or if I want to watch movies at someone else's house, works pretty good on the Samsung TV's as the app they have and on Xbox1/PS4, what would be good is if they had a Plex App on Sky Q, since they have a YouTube App!!! Plex is on my Windows Phone and everything else, but no Sky Q app for Windows Phone!!!

So will the PVR work on the XBox One app..? I'm still using an Xbox 360 and Media Center for all my live TV, movie photos etc. Q

You can watch content you've recorded, but right now you still need to set the schedule in the server app directly. I'd expect that to change eventually, though.

Sounds like this has some limitations and if you have to pay for a subscription the HD Homerun service may be a better option for just TV. It would be great to see a comparison of plex, silicon dust, and any similar DVR options. Thanks

Both Plex and HDHR DVR options cost, the former is part of the Plex Pass though which offers other things. For $30 a year the HDHR DVR should be pretty good. I'm going to contact SiliconDust see if they can help us out with getting a look at their DVR so we can do a bit of a compare :)

Awesome, thanks! I am using MCE as DVR still but it occasionally gets frustratingly sluggish and one of these days I know that we will no longer have guide updates making it useless and I want to know where to throw my money. Aside from MCE, I also currently use the silicon dust player (whatever it's called) on Windows 10 and Android for live TV and it's great as long as I'm on 5GHz wifi for adequate bandwidth. I have HDHomerun Prime.

Re: scaots,
The are instructions on www.thegreenbutton.tv to change to a different guide update service for Windows Media Center (WMC). I haven't done it myself, yet, but others have. The service is called EPG123. To use EPG123 you need a subscription to Schedules Direct. It is currently $25/year.
Best Wishes
Windows Central Newsletter
Get the best of Windows Central in in your inbox, every day!
Thank you for signing up to Windows Central. You will receive a verification email shortly.
There was a problem. Please refresh the page and try again.