Plex for Windows 10 PC adds new Cortana features with latest update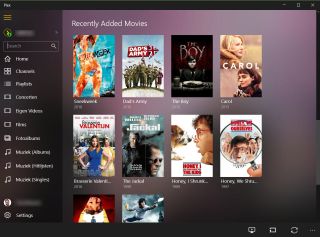 The Plex media home streaming app for Windows 10 PCs has received an update. The new version has some additional features and improvements, including some extra support for Cortana.
Here's the full list of what's new and improved in the Plex 3.0.43 version:
(Home) Redesign of account picker screen (#1724)
(Home) Lock account when account picker is opened (#1757)
(Cortana) Playing and shuffling libraries and playlists is now supported
Blur background art on synced content for better readability - available on Windows 10 Anniversary Update (#1774)
There's also a list of bug fixes in this update:
(Video) Revert transcoding of media with multi-channel AC-3 audio (previously causing stuttering), since it introduced issues for other users (#1767)
(Video) Force transcoding of HEVC files with REXT profile, since it causes the video player to crash if used as-is
(Video) App crashes when updating system transport controls and the media doesn't have a subtitle
(UI) A bunch of minor tweaks to UI (#1768)
(Playlists) Fix breadcrumb on playlist page (#1768)
(Music) Restore volume at startup (#1775)
(Cortana) Various bug fixes and performance improvements (#1712)
Fix crash when navigating to album by folder
In addition, Plex pushed out another new version, 3.0.45, today that fixed one additional bug:
Fix crash after sign in on Windows 10 November Update builds
We are still waiting for Plex to release its promised Windows 10 Mobile version. There's no word on when it will be available.
Download Plex from the Windows Store (opens in new tab)
Windows Central Newsletter
Get the best of Windows Central in in your inbox, every day!
Keeps getting better - Hope we'll see this version on Xbox One in the future. Especially once Cortana commands for third party apps is implemented - I want that for an app I'm working on myself which is pretty much purely a Cortana extension.

Yes, I want to be able to use Cortana to search and play specific media."Hey Cortana, go to The Wire, season 1."

Unfortunately the way the commands work you have to include an activation phrase (The app name usually but the dev can specify the activation phrase) so it would be something like "Hey Cortana, go to The Wire, Season 1 using Plex" or could be "in" Plex etc. or "Hey Cortana, Plex go to The Wire....etc" In this case it still makes sense but it can be hard sometimes as a dev to come up with ways to make the commands sound and feel 100% natural when you need that trigger word in there. It's easy where the app name is what it does - I made a Windows Phone 8.1 app called "Backup my Band" so the 1 Cortana command in that is "Hey Cortana, backup my band now" so really the command is just "now" and the rest is a trigger word in that case. Not sure if it works the same on other platforms but I know some people want MS to let us drop the App name, it would just mean more chance of collisions between apps though

That's fine with me. I understand that Cortana is a system wide service so some specificity is needed for the commands. I've just been waiting for something like this ever since I started using Plex on my Xbox.

I have been tempted by Plex several times. Installed the server and tried it with WMC, but didn't like how it worked together. Now that they haven't updated their mobile app I am less inclined. I am beta testing the HDHomerun DVR solution and on a whim one weekend they released a Windows Phone version. The developer decided to try it while he was working on the Xbox version. Within a couple of days he had most of the kinks worked out and it runs fairly well now. Still having glitches with anything running HD over wireless. Perhaps I will try Plex again now that HDHomerun is handling the recording. Might integrate better, but need the UWP app across Xbox, PC and Mobile.

The new Plex mobile app is usually updated once or twice a week. Not sure where you're getting the impression that it doesn't get updated.

Well, the UWP app is out for PC right now. I'm sure the Xbox and mobile apps are in the works.

This is beautiful news right here. I'm a big Plex fan.

Yes Xbox needs this as the current app is poor and difficult to search in. Keep it up Plex! Posted via the Windows Central App for Android

I just got the email for the Windows 10 Beta mobile app and just installed it on my 640XL

Plex sucks compared to a few moths ago, ui wise and layout. Its not as good as before but so waiting to see it cortana works well in plex.

spent 20 minutes going through vasrious comands suposed to be suported in plex, not one of them works and its february 2017. It just keeps geting better for microsft.

doesnt work on my uk english computer plex and voice still isnt at all working even after 6 weeks of trying

lol I like the comments here, shame its 2017 28th may and still Cortana doesn't work with plex. nice job whoever is to blame. and yes I have used the proper commands according to plex.

2017 july and still cant get cortyana to work in plex even with what some people here say or even whats written on plex forums. 2017 july and still no go, no wonder windows 10 is struggling, yet more broken promises from lots of places.
Windows Central Newsletter
Thank you for signing up to Windows Central. You will receive a verification email shortly.
There was a problem. Please refresh the page and try again.