Plex for Windows 8.1 is now free but in-app purchase needed to unlock most features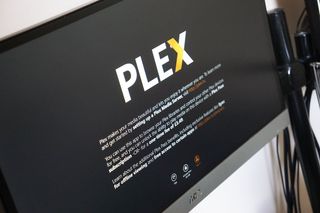 Plex has made its popular media streaming app for Windows 8.1 free to download and use, but owners should be aware that it needs an in-app purchase to unlock most of its features.
Here's what you can do now with the version 2.0 of Plex for Windows 8.1:
Unlimited playback of on-device video and photos.
Fling unlimited photos and videos from your Plex Media Server (available for free at https://www.windowscentral.com/e?link=https%3A%2F%2Fwww.anrdoezrs.net%2Flinks%2F100048247%2Ftype%2Fdlg%2Fsid%2FUUwpUdUnU30090%2Fhttps%3A%2F%2Fwww.plex.tv%2Fmedia-server-downloads%2F&token=gt6eGkG1 and the Camera Roll on your phone or tablet to other supported Plex apps, such as Roku, Android TV, Fire TV, and Plex Home Theater (coming soon to Xbox One, Playstation, and other apps).
Also be aware that playing media from a Plex Media Server on the device running the free version of Plex for Windows 8.1 is limited to one minute for music and video, and it also places a watermark on photos. You can unlock unlimited streaming to your PC or tablet with a Plex Pass subscription or with a one-time in-app purchase, which also unlocks other features as well.
There is a Windows Phone version of Plex, but it remains priced at $4.99, so getting the free version of Plex for Windows 8.1 won't unlock some features for the Windows Phone app.
Download Plex from the Windows Store (opens in new tab) (free)
Thanks to Kenice for the tip!
They should have free apps across the board. It's still $4.99 on IOS as well, which is crazy if you're a subscriber. It works really well though.

Yeah on Android they've had a version to download for Plex Pass subscribers for a while AFAIK.

As I understand it, if you have a Plex Plass the mobile apps are given to you for free. If you don't, you have to pay for them. Even on Android (unless, of course, Amazon is cool enough and gives it for free again. That's how I got the Android version lol)

I haven't found anything to download on iOS yet. I wish they would so my daughter could have access to the plex server with her account, but still it costs $4.99 on top of my subscription which stinks:(

How do you get them for free as a subscriber? I still had to buy it for Windows/Phone.

If you have a Plex pass all apps are free.

Except when you still have to pay for them up front in the store.

Amazing apps. I was fine with 4.99.

I installed on Windows 8 and then checked on WP... It was priced $4.99 but when I tapped buy it told me that I already owned the app! Universal Apps!

I paid for it on WP about a year ago but when i try to download on my PC and tablet I have to pay $4.99.

I got it for free since a year, Nokia made it free for a month!

This is a MS bug. Contact Microsoft support and they can sort it out for you.

It was free for a bit on windows phone, sure you didn't pick it up back then?

So happy I baught the lifetime-pass when it was cheap. :)

Really wish I had I am long time Playon user but the interface on Plex is awesome. But I keep using Playon for scripts wish I could combine the two.

The one thing that irritates me about plex is that it completely ignores metadata tags in FLAC files and will only scrape the info online, for which is usually incorrect.

So what's the deal if you already bought the app when there used to be a charge for it? Do you still have all features unlocked?

Exactly. I bought both the WP and Windows 8 versions years ago. Paid for them separately. Paid for my phone and tablet, and my wife's phone and tablet too. So in our house we bought it four times. If I have to pay again to use the features we are used to using, I'm gonna be freakin pissed!!!

I don't think you lose any functionality if you previously purchased the app. I just installed it from the store and I didn't see any watermarks on my photos and I was able to play music with out the 1 minute limit. I also noticed in the account section it stated I owned the app. I am not a lifetime plex pass subscriber either..

Wish they'd give us an eta on fixing the issues on the xbox one app

Universal Apps for the win! I bought it about a month ago. Already got my $5 worth! Nice having the free app with limits though to allow users to see the way the app is setup. It works really well. Here's hoping that the Windows 10 on Xbox will also allow that 'version' to be 'free'. Right now, I can't stream from my Xbox app without having the Pass. If it was still ~$75, I'd think about it. Can't quite go for it at $150.

I still can't stream my music from my Plex Server over LTE. I'm a lifetime member, I can sucessfully stream over LTE from my Surface, HTC One M7 (Android) and the browser URL, but my Lumia 1020 running 8.1.1 DP only works over WIFI --- over LTE it says I have no media. Even the Plex support forums haven't been able to help after sending in logs.

I had the same problem and realized I had not enabled mobile. That was a big DUH for me.

This gives me a chance to try it as I don't really understand the benefits. I can stream every file from my server just using the network in file explorer. Unless someone would like to enlighten me...

Well, the client is very nice, it supports all the features that DLNA don't (like thr extra info for the media, for example), channels are better, etc.

Now this sucks now i have to pay for it again on my WP.

Alread have for. WP-Roku 3- Windows 8. One of the best apps anyone can buy

Why they just not make a demo-version? Simple paid app was much better.

Does a plex subscription unlock it?

Man, just pay the 5 bucks. Plex is worth it. Easy to setup and easy to use.

Used a Microsoft Store Card redeemed using Bing Credits just for this app. Not disappointed though cause Universal apps FTW!

I'm kinda sorta SUPER bummed about the fact that people who already paid for it are now getting knocked back to the demo version. That early adopter love is NOT being felt right now... Anyway, I do love Plex, and I'll probably "buy it twice", but it would've been super-classy for them to distribute the full version to folks who bought it way back in the day (especially considering that the web interface was always free and no one ever really HAD to buy the Modern version). *sigh*

Hi Tim. If this is the behavior you're seeing, it's definitely not what's supposed to happen. Any previous purchases should carry over, and when looking in Charms/Account you should see a Windows Store logo meaning you have purchased the app. If you can give me more details, please post them in the Plex Forums at https://forums.plex.tv/index.php/forum/123-plex-for-windows-81/ and I'll sort you out. Thanks, Pedro

Awesome, thank you Pedro! I just posted over there and here is the link: https://forums.plex.tv/index.php/topic/155897-plex-20-update-not-syncing-with-windows-store/ Looks like I may have caused my own problems by attempting to play with Plex 2.0 on the Win10 TP. If you have a workaround, I'd love to hear it, but I don't expect anyone to lose much sleep over my silly banging around with beta software. :) Thanks so much for the prompt and courteous reply (and on another site no less!) Means a bunch. Tim

The app purchase isn't tied to your plex account, right? I know this change is only for Windows 8.1, but I just want to be able to stream media from multiple plex servers on my Xbox One.

MS needs to get off their ass and fix the Plex for Windows Phone store bug. I haven't been able to download it for months now and the thread In the Plex forums says they are aware of the issue and have been able to replicate it.

Is there a benefit to using this on Xbox One as opposed to dlna/play to?

Meh, I just use Universal Media Server to stream to all my devices in the house, including my XB1, it's free and easy, just like me.

Except UMS is all Java and that has a host of other possible issues (slowness, managing updates/security, etc).
Windows Central Newsletter
Thank you for signing up to Windows Central. You will receive a verification email shortly.
There was a problem. Please refresh the page and try again.