Pocket Explorer for Windows Phone 8.1 updated with thumbnail view and more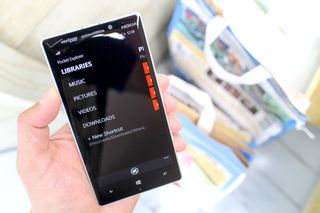 Last week we told you guys and gals about two new file explorers for Windows Phone 8.1. One of them, Pocket Explorer, just picked up a really nice update. It's a really nice app that allows you to manage your documents, downloads and much more! Let's check out the latest release of Pocket Explorer for Windows Phone 8.1.
Head to the Windows Phone Store and you'll see Pocket Explorer sitting at version 1.1.1.17. Here's what's new and different in this release of Pocket Explorer:
Feels faster
(NEW) Thumbnail view added
Better support for very large folders
Multiple crash fixes
Accurate properties for folders
(NEW) Can move/copy multiple folders at once
(NEW) Can cancel file operations
Ha. It probably does feel faster. Jokes aside, this update will be welcomed by the community. Most crashes that users have been reporting seem to be fixed. Let us know if you experienced crashes with Pocket Explorer and whether or not this update fixed them.
You'll also notice the new ability to move and copy multiple folders at once. In addition, you can now cancel file operations using the app.
Looking ahead, the developer informs us that we can look forward to things like OneDrive support, prettier/colored thumbnails, sorting options and a possible search function. When Pocket Explorer picks up this update we'll let you know!
Pocket Explorer is a free app for Windows Phone 8.1 users. The trial is fully functional, you'll notice a banner on the bottom asking you to upgrade. Other than there's no difference between the trial and paid version of the app.
Download Pocket Explorer from the Windows Phone Store.
Via: Reddit
Windows Central Newsletter
Get the best of Windows Central in your inbox, every day!
Already in the article, mate.

For once it really is faster.

Look Sam, it's pretty clear you were tempted to write 'Seems faster'. Just give in ;)

That update was fast! Joke aside, great to see this app being updated, it's rather good!

With One Drive support, I'll have to trade in my Icon for a Samsung and 128 GB. If he can add FTP, I'll lose my shit.

Faster ! Will download it. Before this I am trying to ignore any file manager but now gonna make it a try :)

I felt the same way, but the previous article enticed me to try it and I realized how much I in reality had been waiting for the tools therein. But after testing a few apps its clear "pocket file manager" (different app) has by far the best set of tools. Main difference is this app adds cloud file management in with local.

Does the banner consume battery like an ad banner would? I have paid for many functional but non-essential apps just to get rid of the ad banner... Also, are there any advantages to this app over Aerize Explorer?

Mark did a good comparison last week. Check it out!

That link was to a story about the new story layout for 8.1 :/

It has smaller icons and you can see the picture not just the name. As it is now I think it's better than Aerize Explorer

Shows both pictures, the big one and a small one

So it's, er, really nice then? Okay. Got it. Really nice. That's all I need to know.

So we have third party solutions for file explorers but not from Microsoft.. Hopefully we get something soon from them

If it was from Microsoft it wouldn't be a third party solution... :P ;)

Pocket file manager has onscreen volume, my choice.and slider for for video playback.

I also HAD pocket file manager but this one is more user friendly (easier to use) especially for my huge music library and it seems the dev is gonna be on top of the app unlike pocket file manager.

Hope to see/read some day soon that WhatsApp is updated

Yeah I'm waiting for that too... Since months

It's actually better than I expected for an app that just been launched a few days ago. I like it and I already have a file manager but this one is easier to use. My honest congrats and thanks to the dev. I'm buying it.
Edit: Damn!! This thing is blazingly fast!! It feels more like it's part of the OS instead of an app. Remember when our music and games lists scrolled this fast? Very impressive.

Great! Love this app, and thanks to developer for updating so fast!

Yes! Fixed the music crash bug :)

Hey developer please let your app fetch PDF attachments from emails so that we can save them to and access them from the local storage folder in the root menu just like in Pocket File Manager app. Pocket File Manager does everything but the UI of this app is much nicer and I would prefer to use this instead. However Pocket File Manager solves the PDF debacle in Windows Phone indirectly.

FileEx has incremental loading, so loading initial view is immediate.

Can you send multiple Office docs? I need an answer please. 10x!

Is there any app I can use to edit ID3 tags on the phone?

I installed Pocket Explorer and found £3.58 in change, a washer, a handkerchief, my keys and an old furry toffee. Amazing. The toffee was a real bonus.

Doesn't work on my 1520. Everything is on my 64g sd card and the app just says "folder empty" for every folder on the card.

No option to delete files so I consider this app worthless. The basic functions should be free at least. Aerize and the other similar explorer are better.

Umm. Yes there is! I've deleted heaps of files using this

Great app, going to purchase this one. Being able to easily share via NFC anything is pretty stinking awesome. The other features in the app are great, but the ability to share anything via NFC puts this one over the top.

I bought it.....aaannndd......it can not read files from SD. Just showing folders. (Files from internal storaga shows fine). I thought it would just list the whole files (from SD card and internal storage) into categories. Please fix this! Greetings! EDIT: Nevermind, i figured it out. NICE APP!!

Well. Last update is a disaster. The app won't even open. Hope it gets fixed soon.