Is 'Podcasts!' the best podcasting app for Windows 8? Our readers discuss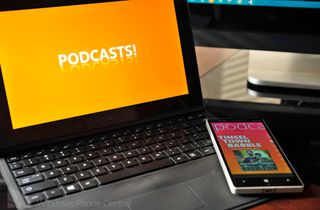 Once again, we travel to the Windows Phone Central forums to help a reader in need. This week, we are looking at a question by SocalTouch, who just purchased his Dell Venue 8 Pro. SocalTouch wants to know what the "best" podcast application for Windows 8 is. Let us see if we can help him out!
Before everyone screams out the Zune desktop application (because we know it is a favorite of many), let us note that our reader is looking for a Windows 8 application – something that is touch friend for his 8-inch Dell tablet, so think apps from the Windows Store.
The immediate Podcast app that we recommend is "Podcasts!". This free application for Windows 8 machines allows users to easily browse and subscribe to a large word of podcasts. Open the application to see featured Podcasts, your subscribed Podcasts, and lists of the most popular podcasts for a variety of different categories.
You can subscribe to a podcast and view the latest episode in addition to a collection of episodes from the show's past. Navigation is extremely easy and playback can be controlled via your multimedia keys or the volume dialog pop-up.
The application is very minimalist and does not feature much within its Settings menu. You can customize the color theme of the application or change the default playback speak for all of your shows, but beyond that, you simply subscribe to what you are interested in and allow the application to display to you the latest episodes available.
Speaking of podcasts, we cannot mention this topic without giving a plug to our own WPCentral Podcast. Be sure to subscribe either on YouTube or via the Podcasts! app to hear the latest in Windows Phone and Microsoft news.
To grab the "Podcasts!" application from the Windows Store for Windows 8, click here (opens in new tab). You can also find "Podcasts!" on Windows Phone where the app first began; to download that variant click here or scan the QR code below!
Do you recommend any other great Windows 8 podcast applications for our friend, SocalTouch? Also be sure to join in on the conversation in our comments below and in our Windows 8 forums! You can click here, for a direct link to the topic.
Leave a comment below and be sure to mention what some of your favorite podcasts to listen to are!
Windows Central Newsletter
Get the best of Windows Central in in your inbox, every day!
It's a great app, been my number one for a long time on WP. Its been reliable and stable. But the lack of updates made me switch to Podcast Lounge. Since PL isn't on W8 yet I highly recommend PODCAST!. SlapDash could also be worth a look, but I haven't followed there progress, if there is any.

Podcast lounge us to be nice, but auto download is extremely buggy now and it NEVER deletes finished episodes like it is suppose to.

I have not had that experience. Podcast Lounge on 920 is on of my favorite apps.

Podcast Lounge REALLY needs a Windows 8 version. Heck, just hurry and merge Windows RT and Windows Phone so we can run it on Windows 8 (or am I misunderstanding what such a merger would mean?)

I'm hoping for a Windows 8 version of Podcast Lounge soon.

This. Lounge is a GREAT app with lots of updates.

"Podscout" is really great looking podcasting app, but I stopped using it when the trail ran out because it costs $5. Which, in my own opinion, is pretty expesnive for a podcasting app. Wish Podcast Lounge would jump to W8, because Podcasts! has never worked for me for some reason. Also hopeful that the upcoming Bing Podcasts app for WP8.1 will also arrive for W8

I wouldn't blink twice at paying $5 for an app that I'd use every day. Let's not let all the free and $1 apps detract from spending money for things that are used often and appreciated. I know someone that wants a new smartphone but says she can't afford it. But she'll blow a ton of money on a vacation three times a year. So the thing she uses all day every day takes a back seat to something way more expensive only three times a year. Sounds smart!

I just put out a podcatcher for Win 8.1 called Narrowcast. It focuses on areas where other podcasting apps annoyed me like PODCASTS! Lack of focus on your subscriptions, or Podscouts lack of information/ability to queue up items. It's currently on "sale", going up once it goes universal (assuming the WP8.1 rumours are true), and I'm putting out an update this week that adds the ability to add podcasts/search anywhere in app, as well as only letting downloaded items being queued.

Im hoping the bing wp app in 8.1 will come to Windows 8. Hopefully everything will sync including play position.

I've tried quite a few and the app that currently gets me through my commute is P|Cast.

Yes, this is a decent player.

Podcasts! on Win8 is an unstable mess of an app. Perhaps this is specific to the RT build but on both Surface and Surface 2 it would crash like that's its job. I too hope that WP8.1's Bing Podcasts app comes to Win8.1 and that it is a much better experience than the currently built-in one in WP8. tl;dr listening to podcasts in both Win8 and WP8 is a terrible experience and I hope it is vastly improved soon.

I can recommend Appadon Podcast. Works for me.

IPodcast is a really good podcast app especially if you pay the small price for the full version. Excellent feed management and good background downloads

I don't know much about Win8.1 podcast apps, but I just recently came across an app for WP8 called Casts which is in beta right now and it's really easy to use. Pretty simple and not a huge amount of features, but the UI is clean and minimal. It has a favorites system for subscribing to podcasts and allows for downloading of podcasts too, but it also has OneDrive backup options and allows podcasts to be added with a direct url. It's also free and has no ads so that's nice too.

Sounds promising! Who is the developer?

Podcasts! is pretty dire - if nice looking Podcasts! still can't play video podcasts in the background (podcast just stops until Podcasts! is given foreground focus) but worst of all - after a reboot - Podcasts! doesn't 'remember' last played position And Podcasts! doesn't sync podcasts or listening positions across devices My comments refer to Podcasts! on Surface 2

I've always used PODCASTS!, partly because its free partly because its what I'm used to. That and there just aren't many Windows 8 podcatchers available. As tablets go I don't really have any practical use for a podcasting app like I do on my phone or an MP3 player unless its a video podcast.

Exactly. If were to have time to sit in front of my tablet or PC and listen to a podcast, I'd just stream it from the website so I had closer access to the show notes.

iPodcast works great. I'm not a fan of "podcasts!"

Is that even a Windows 8 app? Can't find it in the store.

It is for Windows Phone, and is respectable, but isn't my go-to player.

Gobble by far....dev responds...many updates. And is the only Podcast cathcer that is attempting to make auto downloads work.

I tried podcasts! And Slapdash. I ended up using slapdash as the lesser of 2 evils.

On Surface 2 - Slapdash won't keep the screen awake -

I've been happy with bring cast. I tried both Podcast! and podcast lounge. Podcast! would erase my subscriptions regularly. And I didn't like PL. Bringcast is not the best solution given the built in solution doesn't work in my country :(... But bring cast backs up to onedrive and automatically creates audio and video playlists.

I'm good with built in podcasting app.

Me too. The whole article was about podcast players on Windows 8, though. It threw me off a bit too. I thought this website was about Windows Phone...

I've not found one Win8 podcast app yet that works properly on my machines. I need to download podcasts to watch offline and each one I've used has the same error where, except for TED talks all of the videos are corrupt and unuseable when downloded. It's frustrating because I want to watch them on a Venue 8 Pro but end up still using the phone because of this issue.

As a podcaster www.tinyurl.com/tapod13 I left the native app because I found it didn't always auto update my feed in a timely manner. Podcast lounge and podcasts! Pro both picked up the feed shortly after I updated. Hoping the new Bing podcast app will be done properly so I can go back to a native player to manage my podcast playlist.

Ive been using Slapdash on Win 8 for awhile, while not perfect, it does sync across platfforms, and has a fairly big catalog of shows to choose from (plus manual feed adding). Only thing is many of these apps dont have playlists, especially at night I like to listen to multiple shows back to back. Slapdash will let you play multiple eps of the same show, but not from different shows.

Although podcasts are almost my only form of media entertainment, I rarely consume them via Windows 8. I use PODCASTS! and SlapDash if/when I do.
One of the original point with podcasts is that one can consume them on the go.
Getting back to the phone side of things (which is why I still scan through the articles here), I've tried every podcasting app I could find on Windows Phone, and none are really reliable enough for me to use them over the native (US only, I know) podcast player on the Music+Video Hub. It gets the job done. Also, the most recent update to the Lumia 1520 has unlocked the ability to store downloaded episodes to the SD card, which many thought was coming only with WP8.1.
Favorite tech podcasts of mine include Observed Tech, Mobile Roar, StL TechTalk, Phones Show, Pocketnow Weekly, Windows Weekly, Engadget, All About Windows Phone Insight, Surface Geeks, and Windows Phone Central.
As far as other podcasts, I enjoy Techfoolery (until it ended), Dan Carlin's shows; Common Sense and Hardcore History, New Media Show, Podcast Answer Man, This Is Your Life, and Beyond The To Do List. I've probably missed a couple.
I really wish there were more Windows Phone podcasts out there to listen to.

Podcast+ Pro - closest thing that I have found to iCatcher which I loved on iOS.

They're all terrible. I generally just use the Stitcher or Feedly website. TuneIn Radio app is OK, but has a limited selection, and no offline support.

I use podcatcher which does everything I need.

Does any of the podcast app downloads new podcasts while the computer is sleep/hibernate or inactive like windows phone or other mobile platform?

I use slapdash, Podcasts updates cause me to reset my favorites everytime. This is not fun, Slapdash works like a charm.

I have yet to find a podcast app for Window 8/RT that I like.

This article on allaboutwindowsphone.com compares 16 different podcasting apps and is a must read for anyone interested in podcasts on WP8: http://allaboutwindowsphone.com/features/item/18410_Podcatchers_podcast_...

I hate the ad-centric UI of Podcasts! It puts featured podcasts in large tiles and in front, while my own subscribed podcasts are in small tiles on the side. The biggests items in the UI should be the podcasts I have selected, not the ones some stranger wants me to try.

Tried them all, and none really nail it. Podcast2Go is quite promising and has some nice UI touches and features, completely free also.

Gobble is the best of the many I have tried and replaced my old favorite Zune.

I highly recommend podscout on Windows 8.1, it's fairly light in the features deptartment yet does all I need and can search itunes and gpodder for podcasts.

I just found a new Android app from Google Play, this app can subscribe iTunes podcasts via Android phone, anybody has other recommendations like this. Just change Android from iTunes, still want to browse iTunes top podcasts? https://www.windowscentral.com/e?link=https2F2F...
Windows Central Newsletter
Thank you for signing up to Windows Central. You will receive a verification email shortly.
There was a problem. Please refresh the page and try again.