Poki 2 available for Windows Phone, revamped interface and a ton of new features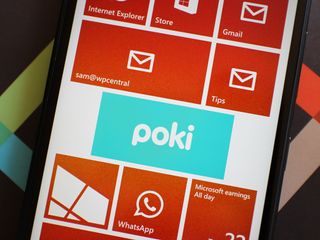 Poki for Windows Phone has been updated. Head into the Windows Phone Store and you'll now find version 2 of this very popular Pocket client for Windows Phone. Pocket is a read-it-later service that enables you to save articles and more for offline reading. This update for Poki introduces a new UI, tons of new features and a new freemium pricing model.
Poki 2 features
Poki 2 is live in the Windows Phone Store, and you'll want to update. There's a massive changelog of new features in this release. You can read the full changelog, but we'll highlight a few important changes.
Rewritten from scratch for WinRT
New and faster database engine
Revamped interface
Ability to update (add, edit, delete) items when offline
Automatically sync in background when Poki is closed
Improved speed on startup for large lists
Tutorial for new users
Account + Achievements are saved and restored across installs
Support for English, Polish, Norwegian, Spanish, Portuguese, Russian, Chinese, Slovenian, Danish, French, Czech, Slovak, English (UK), and German
Much, much more!
We've been playing with Poki 2 for months now as part of the beta. It's a wonderful app and one of our favorite Pocket clients for Windows Phone.
Poki Premium
Poki 2 is an update to Poki 1 but introduces a new pricing model. The app is now free, but an in-app purchase of $1.99 moves you to Poki Premium. With Poki Premium you get a few extra features like background sync, the ability to update items when offline, ability to multi-edit items and four themes for the app.
Users on Poki 1 will get Poki Premium for free when updating the app, just make sure you already have Poki 1 installed on your Windows Phone.
There's a Windows 8.1 version of Poki coming out before the end of the year. Pricing changes a little bit when you take that app into account. Poki Premium is just $1.99 if you only want to use Poki on Windows Phone. Just want Poki Premium on Windows 8.1? That'll be $2.99, but for $3.99 you get Poki Premium on Windows Phone and Windows 8.1. A sweet deal considering the overall polish you get when using Poki.
Want to win a promo code for Poki Premium? Just follow the official Poki account on Twitter (@pokiapp) and 50 codes will be raffled off next week.
Grab Poki 2 for Windows Phone and let us know what you think!
Get the Windows Central Newsletter
All the latest news, reviews, and guides for Windows and Xbox diehards.