Popular action-strategy game Tiki Monkeys now available on Windows Phone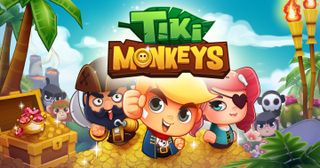 It's time to chase down some primates and retrieve stolen treasure, as action-strategy game Tiki Monkeys is now available for Windows Phone. Launched earlier this year on Android and iOS, the game runs on the Unity engine and delivers hours of exciting gameplay.
Here are the main features of the game:
Free to play
Colorful and polished HD graphics
Easy to learn, hard to master
Explore the island and meet all the different enemies
Pick a strategy to get the maximum score out of each area
Play against your friends on Facebook
Lots of adorable characters to choose from
Incredible Power-ups to collect and upgrade
The gameplay involves clearing rooms while scaring off monkeys and avoiding obstacles. One of the main features of the game is the social element, which allows you to connect to Facebook and challenge your friends. You can choose from three main characters at the start, with more characters becoming available as you progress further.
Interested? Check out the game by downloading it from the link below, and let us know what you think.
Thanks to everyone who sent this in!
Windows Central Newsletter
Get the best of Windows Central in your inbox, every day!
Harish Jonnalagadda is a Senior Editor overseeing Asia for Android Central, Windows Central's sister site. When not reviewing phones, he's testing PC hardware, including video cards, motherboards, gaming accessories, and keyboards.
Bring up some nice games Microsoft...

Yeah Microsoft is one of the best in gaming. We want their gaming experience instead of third party games. They can make a high end phone and make games like susnet overdrive available for the same

Sunset Overdrive is made by Insomniac Games, Microsoft only publishes the title.

^^^This! Most major game houses publish titles. Even Halo was developed by bungie.

Forza mobile is a dream cone true now isn't it?

Yeah if Microsoft markets with such games advt it then ppl may consider WP over iPhone. This can turn even turn the isheeps to WP in the later run. Or an Xbox phone.

Looks like a good addition to my App List.

looks like a nice xbox title

off topic: Lumia 630 in the Philippines updated to OS version 8.10.12397.895
Firmware: 01061.00066.14235.36002
Hardware revision: 3.0.4.0 I don't know if its the same with you.. sorry for off-topic >.<

Need to clear some spaces on the phone before clearing monkeys from rooms then.

I, for one, care about this. Notice he said it was released earlier this year for iOS and Android. We need to be more enthusiastic about these releases! Download them, play them, then delete them--at least it will show the developers there is interest by the WP community. I even occasionally buy cheap apps that were on other platforms previously to reward the devs. I spend that much on a soda...it's not much to spend on an app. :)

Nah I rather spend my money on apps I actually want to use.

Nahh..i prefer rewarding devs who come to WP first... Or atleast simultaneously...

That's a crazy attitude. We're playing catch up big style here. Not many come to WP first because of the returns we need to show there's a desire for known titles first.

Some apps have loading resuming problem on WP coz WP skin is very thick and natural compared to other mobile operating systems which have more animated interfaces. Correct me if I wrong!!!!

Corrected and institutionalised.

Thought it was tiki towers, classic java game :(

*classic WP7 game. I still own it

Looks fun!!! Downloading now.
PS. I keep noticing few people who are always complaing no matter what the article is! Specially when a game is released. Such negative vibes that if one wasnt thinking on those lines gets bound to ponder again.
Rant over. ⌒.⌒

Technically you just complained about people complaining :p

You're right asna_n800. They sure do pout a lot. Let there be a new app for .99 cents, and or no xbox support and its like a nursery at feeding time in there.


:D it's good to see these quality games coming to WP!

Actually played this on android at one point awhile ago when I was using friends phone. I'll download to support the dev and review. Nice to see more stuff that are on those platforms. Always happy to see more stuff from devs.

How is this new? It was one of the only games I completed on wp7

Are you thinking of Tiki Towers? This is a different game and it's not available on WP7

We should all be happy that new(old) games and apps are being ported to WP. I'm kinda glad to see these games