Popular 'empire building' game The Tribez lands on Windows Phone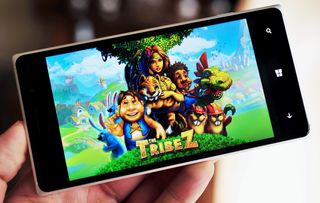 Game Insight makes some outstanding mobile games including the addictive Cloud Raiders, 2020: My Country and Airport City. Today, their other empire-building game The Tribez is finally available for Windows Phone users.
The Tribez has been on iOS and Android for a few years (since 2012) already garnering some very high reviews. The game weighs in at 153 MB and yes even those with 512 MB devices can get in on the action. So far, the graphics of The Tribez look outstanding and the sheer size of the game's world seems highly impressive.
From the app description:
Naturally, The Tribez carries on in the tradition of other empire-building games like Star Wars: Commander and Age of Empires: Castle Siege complete with online social-gaming options. However, the time-period for this game goes back much further, bringing with it some new twists.
No word if there will be a port for Windows 8.1, but Game Insight has a history of doing just that so we will keep an eye out for that release as well. For now, we are going to fire up this game and take it for a spin, and we think you should too.
Peep the embedded trailer to see the game's story and some gameplay.
[Update: Link fixed]
Daniel Rubino is the Executive Editor of Windows Central, head reviewer, podcast co-host, and analyst. He has been covering Microsoft here since 2007, back when this site was called WMExperts (and later Windows Phone Central). His interests include Windows, Microsoft Surface, laptops, next-gen computing, and arguing with people on the internet.
Dang, I bet this is just another one of those pay to win games..

U know what's funny? I've been playing age of empires castle siege and I haven't spent a single cent. Money can only advance your civilization for those people paying, and those who are left behind cant be attacked by advanced (paid) users. I've also attacked those with money, and stolen some of their gold (which are real money they paid for) and used it on my own.

That's nice, but you're talking about an isolated case - which is by the way retributive only if you play a lot to the game. Anyway, don't want to start a new debate here, but the thing Joeul wants to say is - I guess - that we don't see enough of fully featured paying quality games. I mean, once you've bought the final fantasy collection and a few strategy games such as Arma or Majesty and Skull of the Shogun you're pretty much done with games that do not evolve in a way that you're constantly tempted to buy some gold to advance faster. I think it's a shame. I'm a big fan of Windows Phone but I've just had to buy an android tablet just to be able to play the 4 other missing final fantasy, the excellent might and magic, the exceptionnal game dev story, the porting of Baldur's Gate (I MEAN BALDURS GATE COMON), the porting of mount and blade etc.. which are all the greatest mobile games ever played. But I think the reason is tightly linked to the fact that the market shares are so thin on WP yet that developers cannot afford to loose the loyaulty of the consumers by making them pay for quality content. Instead, they'll get those hundreds of freemiums, that - as a true gamer - I deeply hate. EDIT: I'm being unfair, we had Terraria on WP too, best gaming week of my life.. but still not enough to satisfy my needs

Well at least you CAN play age of empires. Mine disappeared after the last update and I can't even delete or reinstall it.

You should format your memory card.

I'll be excited when we get a true rts not some time consuming ftp crap I want something like aoe 2, rise of nations

Play ages of empire. And wait for domination to come

I'm not able to open the link from WC app directly, it says "phrasing error".

Hey "Daniel" are you came from "Denial Attack" ??

No. Load balancer issue. No denial attack.

Hahaha, I'm just kidding bro :D

Link not working in wp app :(

guys just type "tribez" in store

"No app with that name found"...

Check out "The Tribez" for Windows Phone http://www.windowsphone.com/s?appid=4a833969-bf05-45f6-81d6-9eb449b1f9c6

I hope authors here will stop using the word "finally" in conjunction with app releases :( Feels so negative.

Game came out two years ago. Let's see...nope, won't stop saying it.

Well it was just a feedback. Upto you whether you take it or not. I wouldn't dwell on the past though.

When you are on WP u ought to say 'Finally' very often as we are growing but at a slower pace than other platforms. For eg. Hyperlase has been introduced months back in ios while we are still sitting with instagram beta. So 'finally' sums up the wait preety well.

Nice, I used to play this a lot on my android tablet!

Publishers' games aren't HD..

The trouble with there games is the cloud support. I don't dare another Insight game until they have that. This looks fun, just as Airport was.

Cloud raiders saves in the cloud and I think 2020 does now. Both of those survived for me after a hard reset. Big business deluxe didn't though which disappointed me cos I lost all my progress and I had spent about £10 on credits that I lost and couldn't get back

There games are so addictive. Bit stuck in a rut on cloud raiders but still live them

It has non-Xbox Achievements. As for why it's not an Xbox games, that's because only a few games commissioned directly by Microsoft are allowed to have Xbox support any more. And many other reasons that we've discussed in the past.

Not another Clash of clans well I will try it out........

At least it supported 512 MB Devices
Windows Central Newsletter
Get the best of Windows Central in in your inbox, every day!
Thank you for signing up to Windows Central. You will receive a verification email shortly.
There was a problem. Please refresh the page and try again.