Popular YouTube app myTube gets awesome update for Windows Phone 8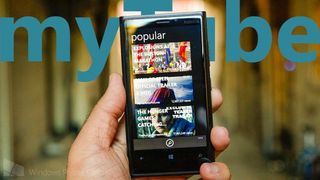 While Microsoft and Google hash out the details on the official app YouTube app for Windows Phone we'll keep enjoying the solid third-party alternatives in the Windows Phone Store. Metrotube and myTube top the list of our favorite YouTube apps on Windows Phone. Relative newcomer myTube just picked up a big update that adds some killer features. YouTube videos playing their audio in the background anyone?
If you head to the Store and update to version 1.2.0.2 of myTube you'll be greeted with some really awesome tricks. The biggest new feature is the ability to play the audios from videos in the background. So if there's a crazy cool electronic dance music mix that clocks in at 45 minutes or a lecture you're studying you can totally listen to it while doing other things on your phone. The audio plays using the background audio agent in Windows Phone so you'll be able to use other apps while listening to the audio. It'll show up in the music controls when you press the volume buttons so you can pause and play from there. Just tap the music icon next to the play button on the video detail page to get it up and running.
This little audio trick really shines when using the app as you would YouTube on your PC or tablet. If you're using myTube to watch a video and exit for a second to do something else the audio keeps playing in the background. Jump back into myTube and the video will pick up in sync with the audio. This may take a second or two depending on your network connection (the faster the better – that's not what she said). However, if this is something you're not a fan of you can disable it in the settings.
Other features in the new myTube include:
Ability to pin users (uploads or favorites) to the Start screen
Pin your favorites history and recommended videos
Share videos from Mehdoh
Follow comment threads
Reply directly to comments
Background video downloads
Options to share by message and email
Search for users and search filtering options
Pin videos to the Start screen
Quite the update for myTube don't you think? By far the coolest feature is the ability to have the audio continue in the background. Something I'll most definitely be doing.
You can grab myTube for Windows Phone 8. The app is only $0.99, but does include a free trial that limits you to 1 hour of video within a three hour period. But honestly, it's a kickass app from one student developer that is worth your dollar. Get it in the Store, by QR code below, or swiping to the right in our app.
Get the Windows Central Newsletter
All the latest news, reviews, and guides for Windows and Xbox diehards.
Since you mentioned it, is there any news on the official YouTube app?

At this point I don't care, mytube wrecks the competition and has everything I need and was looking for in a YouTube app. It doesn't even make my phone hot as lava rocks or drains my battery like metrotube.

Yeah agreed we don't need one any more. The developer for myTube was in touch with us about letting users chose his app as the target for playing videos from our app and I advised him to do what MetroTube have done and sign on to the same video uri schema as the default YouTube app used. Now you'll be able to use MyTube for all your video needs instead of the normal YouTube app, it's a pretty awesome world.

As long as he lets us still play videos not available to mobile, so I can listen to music without hassle :)

Who cares anymore!! This app is awesome many congrats to the developer, thank you very much for coding this masterpiece !!!

Who cares?
Clearly I do.
I want Fruit Loops... not Fruit Rings. So... I guess my answer is that... no one knows jack about it.

It's not like your getting fruit rings instead of fruit loops. Think of it as fruit loops in an awesome new box! Google doesn't seem to be in any rush to give us their official YouTube so I say embrace our talented developers and get the app. Btw this app rivals the official Microsoft one before Google had it pulled...

They can sleep when they die. Until then, keep feeding me WP news!

MyTube vs MetroTube. Can't make up my mind.
Oh well I just bought them both.

nice!
is there any exclusive feature for metro?

Can't buy metro. Not available here in Indonesia

change the region setting to US, you can buy any apps. pay with paypal, me from indonesia also...

i have bought many apps that not available if you set the region to Indonesia.

MyTube all the way, just for the way of scrolling in videos!

Pffft... Desktop site in IE on my Lumia all the way.

Mytube is much better. But mytube causes your other storage to get to 5gb fast. So I deleted mutube no matter how good it is and kept my metrotube. A Shane really.

I also bought both and have both pinned to start. Both are top notch apps. Both are better. ;)

Well, I kept the amazing YouTube app that microsoft made a while back and had to pull off the store. Works beautifully on my 920.

Wow, this feature alone made me go to mytube. Pretty sleek and elegant! Now I can listen to whole albums and text freely :). When MetroTube gets this though I think I'll dump this :P Edit: Wow, the fact that you can just press the music button and it works flawlessly to switch! Wowww, I am definitely impressed. MetroTube will have to work to win me back lol

I want this so bad, but I am stuck on 7.8 .'(

Hey twelvetudors, I'm hoping to release the 7.8 version by the end of the summer ;)

I love this app! metrotube seems buggy compared to this app. Plus this dude is always updating and willing to listen to suggestions.

Does the data drop when it is playing audio only? That would be definitely worth it.

This is what I want to know too.

The app uses the 360p video file for audio, so sorry I don't believe it will save on data :(
It should save on battery if that's a concern for you though :D

Hi: I cant download mytube. An error when doing it (lumia 1520). Any other app i can download just fine, but this one. ​error 80004005 ​ ​ ​ ​ ​

The mytube developer is AWESOME,,,I recommended a feature and a few days later I got an email telling me that he implemented my idea into his latest update,,,,couldn't ask for more from a developer.

Same here! (moving the portrait scrub bar below the playing video)

Thanks for suggesting that, that was my minor annoyance back when I first used the app.

I agree with you man! I asked for the music option that just got released! Feels awesome to get what we ask for!!!

The audio thing was in the previous update

Been so impressed with Metrotube but brought MyTube after a minute on the trial!! Wwooww what an app!! WP8 SO much better than Android and IOS!!!

Have metrotube and official illegal YouTube apps already but this one with background audio would be good for podcasts...EDIT: purchased

I wish Microsoft used myTube's video player as their default interface. Clean, snappy and has the best scrubbing feature I've seen

You know what...you guys are forcing me to give it a shot ;)

Yeah just try it out and see if you like it. It's a mad app

Wow.!! Just saw this and tried it and it's that awesome.!! You guys should really give it a try, really really impressive.!! Haha

is it possible to request, on the scrub bar... some kind of indicator of how much the video had buffered...


and... save to sd maybe??? :P (i know it might not possible right now)

+920

maybe make it monochrome until it loads, then light color - loaded, dark - elapsed time

Im still rocking the microsoft youtube app which got removed because of google... So my question is Microsoft youtube app(not the one which opens mobile webpage) vs mytube ?

MyTube has no competition really - scrubbing, downloading, playlists, interface, playing under lockscreen, background audio ...

Best way to watch Youtube videos. So very elegant.

I've used popular WP YouTubes and Mytube beats them all, i even prefer this over MS's official Youtube. The fast forward and rewind is the most precise! Few things I look forward to is record and upload video, inbox, and playlist.

Stupid bank & stupid technicality... Ughhhhh

Mytube is a nice app, maybe the best

myTube is no doubt an awesome app, but I cant get over the fact that it hogs the storage (probably with the video cache?) and there's no way to clear it.

Get in touch with the developer ;)

Feels good being part of the beta

Nice. I suggested this feature to him a while ago and now he implemented it. He really listens to his users!!!! Love this guy. :)

Anyone who hasnt tried it has to, its my favourite app for wp, its unique, fast, beautiful and has more features than you could possibly want. Needless to say, it changed my views of what a wp app could be like ;)

I have had the app but use it less than the MS released version or metrotube because I can't play my playlists. I'm guessing the problem here is me not knowing how to. Help anyone?

Love the background play feature. Don't think google's app on Android does that. The iOS version (I still have an iphone) won't even let you play your personal playlists (again... could be me not knowing)

Hey Abe, you can access your playlists from the app's homescreen ;)

Yes. That I know. What i meant was to be able to play the entire list without having to select the next video after one is over.
Currently I can see my playlists, once I click on it it shows me all the videos in the list and I can't play all videos with a "play all" button if it makes sense. I have to select the first video and once it is over I have to select the next video in the list; it does not start automatically. The MS version of the app and metrotube (metrotube is a lil cranky, can't play the next videowhen the home screen is locked) allow me to do a "play all"
Honestly, your app is probably one of the best across all apps (outside of youtube) in terms of design, flow and creativity (in terms of what you can acheive with the metro). I am hoping this one feature can be added and it would be my youtube default. Currently I use the MS version to play playlists and yours when i am browsing for videos.

Awesome job in making the google app look antiquated.

Thanks.

Ah I see, well in that case auto-play will be available in the next update, so keep an eye out ;)
And thanks a lot for trying out my app :D

Seriously, Thank you. Any app you develop, you have my support.

You can even CLOSE the app, the audio stays in the music API, SWWEEEETT! ^_^

Downloaded this app a few minutes ago. Freaking awesome and well worth supporting the devs for. No need for the official app anymore!

until Screwgle realizes it's more popular than the Microsoft one ;)

Haha, lets just hope that they don't :D

Good app but lacks important things. I can't choose where in the songs I want to listen in the background, the whole song starts over when i press the music button and when I reopen the app and want to keep playing the song, it starts over.. Being able to seek with in the songs in background would also be good

Hey MojoDoj0,
When you click on the music button the song is supposed to start from the beginning. Think of it as a start button lol.
It sounds like you're experiencing an isolated bug though, if the audio restarts when you return the app. If you want, you can joiin the beta to help fix the issue :)

Have anyone figured out how to do that or is it not possible?

go to the settings in the app and select play music in the background

Even if I do that, the songs keeps starting over from the beginning. Does it work for you? To continue playing the song in the middle in the background?

I am not quite sure what you mean but when I minimize, it continues and does not go back to the start. MY problem is the lack of ability to play my youtube playlists... something I cna do with the MS youtube app.

I've been using metrotube for a while and never felt the need to check this one out but now that I used it I immediately switched :)

What I'm really waiting for is a YouTube app that lets me upload videos that I have already taken with the camera.

I've emailed developer. In the works but most YouTube apps don't have that ability. I assume something to with google, as always.

Best youtube app existing. Carefull though, the phone's quickly getting pretty warm (Lumia 920) :)

That's actually the only disadvantage I've found.. ^_^

buenas como puedo actualizar mi samsung sgh-i937 de 16gb por que tengo wp7.8 y quiero saber si puedo pasarlo a wp8

I've always been a metrotube guy but after reading these comments, especially the feedback from the developer I'm sold. Downloading and buying now.

Any chance on getting a W8/RT version?

Hey OldSchoolTMoney,
A Windows 8 version is in the works :D