Porsche Design's Book One is a slick (and expensive) Windows 10 2-in-1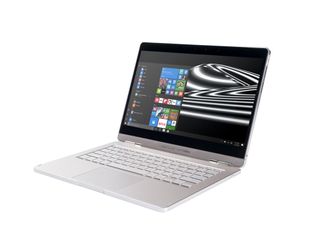 Chalk this one up to names we didn't expect to see associated with a Windows 10 2-in-1, but Porsche Design has taken to MWC 2017 to debut just that. Called the Book One, Porsche is calling this the world's first convertible and detachable 2-in-1.
The draw here, of course, is the design of the Book One. While it's somewhat staid, it still looks pretty slick down to its unique hinges and resemblance to a certain Microsoft product that also just happens to have "Book" in its name. Outside of the exterior, the device is powered by internals that you'd expect from any new, high-end Windows 10 convertible. Inside, the Book One packs an Intel Core i7-7500U processor, 16GB of RAM, and 512GB of SSD storage. As for the display, you're looking at a 13.3-inch QHD+ (3200x1800) IPS affair.
If you're interested in the Porsche Design Book One, however, you're looking at shelling out a pretty penny. The convertible-detachable 2-in-1 will launch in April for $2,495 in the US or €2,795 in Germany. That's a high price to pay for what you get, but it's certainly a much better bang for your buck that certain other "luxury" tech products on the market.
Dan Thorp-Lancaster is the Editor in Chief for Windows Central. He began working with Windows Central as a news writer in 2014 and is obsessed with tech of all sorts. You can follow Dan on Twitter @DthorpL and Instagram @heyitsdtl. Got a hot tip? Send it to daniel.thorp-lancaster@futurenet.com.
Plenty of Surface Pro clones from other OEMs out there, but this would be the first Surface Book-inspired device to hit the market, no?

Surprised to see a pen. Would love to have more informations, but seems like only half job done...

i dont like the design and the price is just.... L U L

Surprise surprise negative comment. Is it because it's window

Porsche Design products are surprisingly priced lower than you expect from a niche luxury brand like from example Vertu.

Uh huh... Have a bunch of items from them like Pens ( Tech-/LaserFlex Pushpencils and Ballpoints ) and Glasses.
Like the Quality even though one of the Pushpencil's Paladium coating has been worn down to the base material ( took like 10y to do so though ;D )

I'm not a big fan of Porsche Design or Vertu as most of the products look appealing but the specs are distinctly average. This is the first product from Porsche Design that I've seen that isn't anything like average. Is it overpriced, possibly but I haven't really looked at anything comparable TBH.

I would gladly buy that and my girlfriend has already decided that she is saving up for it. For lack of better words, I'm excited.

If she has to "save up" for it, then perhaps she shouldn't buy it.

Well, when it comes to Porsce Design, expensive is a given. :P

Expensive maybe, but it is still cheaper than the Microsoft Surface Performane Book with simlar specs.

This is insanely cool. I can barely believe it. I've been making a concept of the Surface Book 2 for a while in 3D... And it's almost exactly this. :o

Love the concept. Hopefully the Surface Book 2 takes some design elements from this.

$2500 and no dedicated GPU????

am I the only one who loves the fulcrum hinge and its sexy gap? Seriously the Surface book has ruined the other laptops for me! Every thing else looks from a decade a go.

I also love the design of fulcrum hinge! Too bad I cannot afford one hahaha


Most of us want to have good income but dont know how to do that on Internet there are a lot of methods to earn huge sum, but whenever Buddies try that they get trapped in a scam/fraud so I thought to share with you a genuine and guaranteed method for free to earn huge sum of money at home anyone of you interested should visit the page. I am more than sure that you will get best result.<br>~~~eee
Best Of Luck for new Initiative
••••••••••••► http://jobbiz5.com

I couldn't care less for anything with the name Porche on it. I liked the Porche design Huawei Mate 9 and I love the look of this 2-1 though but I refuse to pay a high premium for them just for the name embossed on them

Let's be honest here. MS may right now be nowhere in the phone market. Currently. But in terms of laptops and tablets? They destroy Apple and Google completely. Windows 10 tablets now outsell Ipad and Android. So much so Androids biggest supporter Samsung have now fully got behind 2 in 1s. Hell Porche Design have mad a 2in1 ultimate laptop. The Surface team really did their job with Surface showing the world just what is capable. Otherwise we would be stuck with the rubbish tablets design that came before Surface.

@Richard Loveridge, well said. It also gives hope that when Panos' team is ready with a mobile device, it will have an impact.

Totally agree Richard Loveridge with every word that you have written here. Windows 10 and all its new form factors are really doing it..

It's actually cheaper than the Surface book with comparable CPU, RAM, and SSD ($2,516 on Amazon right now: https://www.amazon.com/Microsoft-Surface-512GB-Intel-Performance/dp/B01M...), but probably doesn't have the discrete graphics boost of Microsoft's Perforamace Base. In any case, price is high, but not out-of-line with the only directly similar item on the market. To my surprise, if you're in the market for a Surface Book and don't need the discrete graphics (most of us don't, and the GTX 965M is not that powerful anyway), this Porsche is a perfectly reasonable alternative to consider. Personally, I prefer the 3:2 aspect ratio of the Surface Book, but that's purely personal preference.

Exactly. I am seriously looking at this product now, as I was really looking at purchasing the MIcrosoft Surface Performance Book (16/512) anyway. Just need to decide if I want to forgo the dedicated graphics. I do like this porcshe design too.

It's only a difference of $300 CAD - the Porsche is $300 cheaper than the Surface Book Performance. Honestly, I'd more than likely just buy the Surface Book. Especially since Microsoft give a 10% educational discount anyway, thus, bringing the price down to equal.

I much prefer the design of the surface book but hey, yo each their own

I expected more in terms of design tbh.

Nice specs, plain hardware, not worth the price tag unless you're one of those who buy tools based merely on branding. Branding is useless to me. Regardless, wonder what happens when you detach the screen, flip it horizontally, reattach it and rotate it all the way back...basically, what happens with the screen facing the bottom of the keyboard?

It's obvious branding doesn't matter much to you.....if it really did matter....you would be on imore. Hahahaha

First my ass. I have a little Asus T100 which detaches, and I got that thing in 2012 or 2013. I call bullshit. And, for an article to include it shows just how out of touch Microsoft and "journalists" who center around the company truly are.

It is the first to both be a convertible (i.e. its keyboard folds back 360 degrees) and a detachable (just like your ASUS T100). That's what the claim, not merely first detachable...
Windows Central Newsletter
Get the best of Windows Central in in your inbox, every day!
Thank you for signing up to Windows Central. You will receive a verification email shortly.
There was a problem. Please refresh the page and try again.