Portal to take center stage in Valve VR demos at GDC 2016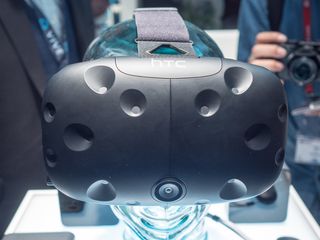 Valve will be showing off new virtual reality demos next week in San Francisco during the 2016 Game Developers Conference. The demos will almost certainly be using the HTC Vive headset which the smartphone company has developed in partnership with Valve and its SteamVR platforms.
Valve's brief email announcement on the demos is as follows:
Aperture Science is, of course, the main setting for Valve's popular Portal series of puzzle games, which has already been used in at least one SteamVR demo.
This. Will be. Incredible.

Valve usually releases games with new hardware, there were several reported Half Life 3 leaks, showing that it was on Steam, several clues on last year's summer sale and other stuff. Maybe, let's hope, that Valve releases Half Life 3 together with Rift. It will be incredible with only oculus being launched, but if they release Half Life 3 together with oculus rift, well, it will be a historic day

I can only imagine how insane Portal will experience in VR.

I really think this will end up being like 3D. Lots of hype and then fizzles out. The geeks are only so many. It looks like a toaster having sex with your face. I can't imagine they are comfortable to wear, gets all hot and sweaty. Until they are small, lightweight and breathable most people are not going to want to buy one. Of course there are the apps and games that make people want one. Which there are none of yet. Augmented reality I think as a much better chance of catching on. But of course they will also have to literally be the size and weight of sun glasses to be practical. Which is a long way off.

I disagree (although I think it's silly you're being downvoted for your opinion). I think it's just a matter of time before VR/AR becomes mainstream. We need a few more product cycles for the tech to get better, smaller, and cheaper. But it's definitely coming. It may never reach the userbase numbers of gaming consoles, for example, but I have no doubt one of these tech companies will figure out a way to make a profitable product that will be here to stay.

Portal 3 confirmed? :p Sent from Windows 95
Windows Central Newsletter
Get the best of Windows Central in in your inbox, every day!
Thank you for signing up to Windows Central. You will receive a verification email shortly.
There was a problem. Please refresh the page and try again.