Portico update finally available to Lumia 920s from BUILD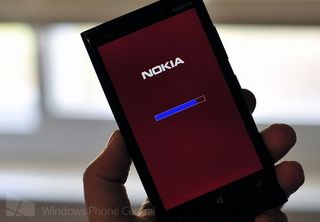 About 2000 people attended the //BUILD/ developer conference this past fall in Redmond, Washington. Microsoft attracted attendees from all over the globe in an event that sold out in less than an hour when tickets went on sale in August. You were given a Surface RT, Lumia 920, and 100GB of SkyDrive as part of your $1600+ registration fee. Unfortunately for folks with those Lumia 920's, you haven't had early or timely access for the Portico update. At least until today.
If you find yourself in possession of a Lumia 920 from Build, you can check for an update to get Portico on the device. I was at Build and happen to still have my Lumia 920 from then, but can't check since I've since flashed a Rogers ROM to get it unbricked. Anybody with a Build Lumia 920 want to chime in below?
For those Devs with Lumia 920s from Microsoft Build, the "Portico" update is now available for your devices! @nokiadeveloper @bldwin @dvlupFor those Devs with Lumia 920s from Microsoft Build, the "Portico" update is now available for your devices! @nokiadeveloper @bldwin @dvlup— Chanse Arrington (@chansearrington) March 20, 2013
One benefit of this version of the Lumia 920 was its pentaband support for multiple radio frequencies. A must for a device that was given to international attendees and allows me some fast speeds on T-Mobile here in the U.S.
Developers and other attendees from the event have been frustrated with Nokia for how long it has taken them to get Portico. Many were hoping for a 'Nexus' like experience and to receive any sort of update first. That hasn't been the case, AT&T and Rogers users got Portico on their Lumia 920s back in December and now developers from Build are getting it nearly three months later.
That brings up another question, should Microsoft and its OEM partners like HTC and Nokia introduce a Nexus type of device? Unbranded and not locked to any carriers, a device like this would certainly be a hit with the enthusiasts who read sites like ours. Updates would hit first on those devices (whatever happened to that 'enthusiast program') and be a great way for Microsoft to test out new updates before pushing them to regular consumers. Anyways, I'm probably dreaming.
Source: Nokia Discussions, Twitter
Thanks for the tip Chris K!
P.S. Yes, I know that's a picture of an AT&T branded 920 above
Windows Central Newsletter
Get the best of Windows Central in in your inbox, every day!
First. Unlike Build devices!

Yes, a Nexus type device would be Awesome!

Possibly a surface phone?

This would make perfect sense.

This is what the 8X already is...

Except that the 8X software update needs to go via the manufacturer and the network. A Surface phone would hopefully not have those restrictions, as Microsoft can test the hardware themselves and the operators wouldn't need to be involved (I'm a perfect world, anyway).

I think we all would be anxiously awaiting the day a surface phone would see the light of day! I know I would!

Why would a Surface Phone cause anxiety for us? I have nothing to worry about. If it sucks then you just get something else.

Certainly not all. If Nokia jumped ship yes but until then I wouldn't want Microsoft to embarrass themselves by putting out a Surface phone. It would take a massive effort and a few years to make a phone equal to the Lumias.

Sigh. Some country like Malaysia do not even get the Portico update yet.

I sent my Lumia 920 in for repair 3 weeks ago (proximity dust problem) and I still had not gotten the Portico update either.
Unbranded on Telia Sweden.
I hope its updated when I get it back.

I essentially thought my build 920 was a "nexus". But clearly I was wrong given the slow update after months of probing. I do think its a great idea though. And a good way to enter the phone market without upsetting Nokia too much. Unlocked surface phone could even be built by Nokia just as google uses Samsung and LG.

How come i checked for an update on my 920 and it says its up to date?

cuz yo mama too fat, she blocked it! OOOOHHHHH~~~~~~~!!!!!!!!! jkjk

Doesn't make sense that these devices would be neglected. Don't they go to mostly developers and people Microsoft would like to impress for lack of a better term. You would think these phones would be first for everything.

I agree with you, where we fail is the fact that we think there's a plan. The portico rollout was nothing we were promised. No early optin, no carrier bypassing, etc. Instead we're told each carrier requires customization. As a programmer, that screams of bad code. If it needs to be customized at compile-time, it's wrong.

But seriously is it because its only going out to a limited number? What's the deal?

I'm assuming you have a BUILD model?

What the hell is a build model?

I would love to have a utility to completely un OEM amd un carrier brand my phone. Remove this God-awful VZW backup assist that is burned into the ROM settings.

What you do is; 1. Don't buy a subsidized phone

That's actually what I was thinking myself, lol. Thing is though, I've seen that some unlocked phones (initially the 920 at one point) didn't work on U.S. 4G LTE networks.

Unfortunately that doesn't apply. I have an unsubsidised phone, it's never been near a carrier, and it's only just received Portico (I'm in the UK).

Android Nexus devices doesn't sell well, so no? Basically only bloggers who praise them.

Yeah what ever happened to the "enthusiast program"

Finally!! I'd become the laughing stock of my Windows Phone buddies as I was the only one without this update.
It's downloading as I type. I realise it can't fix the tonne of dust under the camera, but fingers crossed it does somethign to address the proximity sensor problem...

What kind of proximity sensor problem? Only one I know about is "dust on proximity sensor" problem. Is there some other - fw related - problem with proximity sensor?


If by "proximity sensor problem" you mean the screen turns off when you make a call & doens't work again until they hang up , Stop using the apps that chages the wallpaper , I'm not really sure how its related , but I had the same issue in my 8X , everytime I make\recive a phone call , screen goes black & doesn't respod , a few days ago I noticed that it only happens when I'm using an app to change the wallpaper (every 30 minutes) , When I set a wallpaper manually it works fine . :/
I'll download more apps to test this & see whats the problem

The fix blows. Literally. Just pucker up and blow, as hard as you can, right at the top of the phone by the proximity sensor. It will then work okay for a few hours/days before new dust collects. Of course, this is still a royal PITA and Nokia needs to issue a fix to make the sensor waaaay less sensitive ASAP (is that possible, or are we 920 owners all screwed?).

I have read somewhere that they (nokia care centre) have permanent fix for dust on proximity sensor problem - probably some additional seal

Not sure about that, but I was able to fix the screen issue (at least for now) by blowing out the top of the phone with an air can.
Update downloading now-it's about time! Hopefully this isn't indicative of what's going to happen with every update.

Woke up this morning and did a daily check for portico on my dev ed 920 and was so happy to see it finally available!

Just got the update on my BUILD 920.
After the update, instead of seeing 4G or 3G in the status bar, I see "L".
I've only seen possibly values like "3G, 4G, E (for Edge), H (for HSDPA), etc", but never "L".
I have internet connectivity, so it's working fine. I ran a speed test and got 3Mb+ download speed, so it's working okay (especially considering I'm in the center of an office building with 3 of 5 bars).
Does anyone know what the "L" stands for? LTE? (I'm on AT&T in the chicagoland area).

Good question. I'm installing the update right now but I'll let you know what I see when its finished. I'm on AT&T as well.

Yeah, same here. I'm pretty sure "L" is for LTE.

Finally! Installing the update right now. My biggest hope is that it somehow fixes the texting problem I have. A good number of my texts end up not getting sent the first time and I have to click to resend. Does anyone else have that problem? On AT&T in DC area.

If only they would release the firmware to NaviFirmPlus, I have another bricked BUILD Lumia that I flashed with the AT&T firmware I would like to re-flash it with the correct firmware.

On the bright side, the update seems to have corrected by bluetooth syncing problem with my car Stereo. I can now access my phonebook and missed calls again!

I wonder what other little fixes are hidden away in this update.

I too have a bricked Build device that I need to fix, Nokia Care not able to help me, they say they don't have access to the correct ROM for this device. What exact version did you flash yours with?

Finally! Installing now. Nokia needs to TAKE CARE OF DEVELOPERS. We should have access to the updates first, not last.

Crap-o-rama! Installed the update, everything works great, but my Internet Sharing on AT&T fails now!
Probably going to have to wipe it and reinstall everything. UGH!


ok, I did a "reset your phone", and its been "spinning its gears" for about an hour now. do I now have a brick? seems to me like there is a problem with the update they just released.


So nokia has pretty much confirmed that my build 920 is bricked. They are not sure how, as the update shouldn't have caused any problems. But for the rest of you, I suggest avoiding the "reset my phone" option.
On the bright side, their support is good, and they are going to ship a replacement phone to me.


What number did you call? I have same spinning gear syndrome with my Build 920.

I submitted a service request through the Nokia Expert Center. http://expertcentre.nokia.com
They don't believe my phone was bricked by the update, but it was perfectly fine until I installed the update. Then the internet sharing didn't work on AT&T, so I went to the About settings, and reset my phone, and that was it. Instant death.


Any luck getting a replacement from Nokia? I, too, used the internet sharing on AT&T, then updated my phone to Portico and lost that capablity. I am now stuck and trying to figure out what to do. How do I rollback the portico update.
I submitted a case to them about three months ago b/c my flash quit working and they are supposed to be sending me a replacement (dev device) but I am not holding by breath.

I went through the nokia expert center, and am on the list for a replacement phone. Apparently there are a lot of developers on that list, I think the Portico update killed quite a few phones. However, they aren't promising any specific timeframe for the replacement - I was told it could be anywhere from one to three months (which kind of puts it in the Build 2013 timeframe, so I'm wondering if they are giving out more phones this year at build).



Same here, but I have been on the list since late December. They told me late January and then the same thing, two to three months.
My guess is that they will give phones out at \\BUILD 2013 but I think it will be a Microsoft branded Surface Phone. All the rumors have pointed to a Summer '13 release and it make sthe most sense that with the release of 'Blue' and a new push for Windows Phone 8.1 that they will want to get the hardware (running 8.1 beta) in the hands of develoepers ASAP.

For those curious, build 920 on T-Mobile now gets HSPA+. :D
Windows Central Newsletter
Thank you for signing up to Windows Central. You will receive a verification email shortly.
There was a problem. Please refresh the page and try again.