Postcards, a randomized photo sharing network for your Windows Phone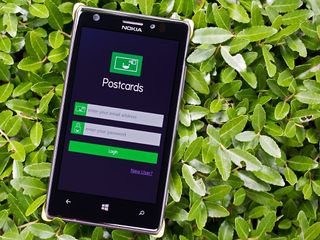 Postcards is a simple photo sharing Windows Phone app that allows you to send a photo to random users worldwide. The interface is straightforward and the only information shared is your photo, the city where the photo was taken and any comments you add to the photo.
Postcards may not rank up there with the likes of Instagram or Fhotoroom with regards to photo sharing networks. However, if you like the randomness of seeing what is out there in the world, it might be worth a try.
Easy registration, simple interface
When you first launch Postcards you will be prompted to create a membership account. It's free and required to use the app.
The main pages for Postcards include:
A page that lists any received postcards
A page that will list any comments posted about the postcards you have sent
A map view with pins on where your postcards have received postcards from
An options page where you can view postcards you have tagged as favorites, view an About page and logout of your account.
To receive a postcard, you need to send a postcard and that process starts by tapping the "Send a Postcard" button bar on the Postcard Comments page.
The internal camera app with Postcards has a shutter buttons (hardware button works as well) and a flash control button at the top of the screen. Once you capture an image, a text box will appear already labeled with your current location that you can add a personal message to. When you have everything set just right, tap Send and your postcard will be delivered to a random Postcards member.
Shortly after you send your postcard, you will receive a postcard from a random member as well. When you receive you postcard options will be available to tag the image as a favorite, reply/comment on the postcard or report it as inappropriate.
Overall Impression
With any social network, photo sharing or otherwise, its success is dependent on the level of participation. Postcards has the potential of being an easy way to randomly share and receive photos from parts of the world you may never visit.
The Windows Phone Store description describes Postcards as a means to show the common, everyday life of people from all around the world. While the app has potential, its success is very much dependent on audience participation that seems to be very low at the moment.
As far as performance is concerned, there are a few bugs that need to be ironed out. I experienced a few crashes while transitioning from the main pages to the camera app and received postcards weren't always listed on the received postcards page.
The crashes weren't frequent enough to render the app useless but it would be nice to see the list of postcards received. These bugs may be one of the factors keeping participation down though.
Postcards is currently rated at 4.5 Stars in the Windows Phone Store. Until the performance bugs get ironed out, we see this rating a little on the high side.
Postcards - Windows Phone 8 - 2MB - Free - Store Link
Windows Central Newsletter
Get the best of Windows Central in in your inbox, every day!
George is the Reviews Editor at Windows Central, concentrating on Windows 10 PC and Mobile apps. He's been a supporter of the platform since the days of Windows CE and uses his current Windows 10 Mobile phone daily to keep up with life and enjoy a game during down time.
What the use of so many social and photo networks? I already have Facebook and Twitter watching me! And messenger, and instagram... :\

Let the random flood of penis pictures begin!

Just sayin', if you cop a pic of a big black dildo.....you're welcome ;p Bahaha but seriously allowing people to send pics anonymously is just crying for this kind of abuse!

Lmao right. Omegle, the picture version.

Nice little app, but lack critical features like uploading of locally stored photos and social network integration to reach a wider audience. Nonetheless, easy to use and lots of potential

I think this is a brilliant concept. What a nice way to spread some good vibes around the world. Particularly for these times that are so riddled with strife and hate.

Was there not an app like this previously, Rando, I think? If I recall, they had to shut down due to a "hack" of some sort where a user sent the same photo thousands of times. Did anyone use it and try this new one? If so, how do they compare?

I used Rando. It was my guilty pleasure. The cool part was seeing where the photo came from. It was shutdown. In fact I have started a app to replace it, but now I don't have to. The beauty of Rando was the anonymity of the picture. The other have of the story is that only WP users were allowed so you were dealing with people who had a common ground which explained why #toinstawithlove was still overflooded with photos even after instagram, instance, 6tag, and the rest were available. People sometimes just want to see pictures of random stuff without any commitment...just say where it is from and we are good to go. It was very enlightening because you would get pictures from all over the world. With the Nokia phones being sold in some of the lesser known places you got a chance to see how people lived through the pics. Can't wait to see how this app works.

I just don't get this kind of stuff. Why would I want to send pictures to a random stranger? And, likewise, why would I want to browse pictures from random strangers? Seems like a total waste of time.

It's like travelling, while having lunch alone in a weekday. Just open your mind. If it's anything like Rando it'll be very interesting.

I do this all the time anyway. It's called messing up.

Another free way to pass around porn and anything unsavoury.

No one comments on my pics :(

I tried it. Pretty cool! No abuse yet either. Nice Russian landscape, and a Brazilian beach.

I got a picture of some Indian chaps keyboard, another indian chaps shower curtain??? And some bored Public Servant at a conference in Sydney I keep getting their ones too!

USA, Indonesia, Australia, Denmark and Brazil. One bug I found, statistics don't update properly, and when countries fill a row it stops updating altogether. Still, love it.

Top sharing countries: USA; Australia; India; Canada; Denmark.

Reminded me of the app called Rando (Random) :)

Don't like it. It doesnt allow picking up images from the filmroll. Why would I substitute Lumia 1020 shots made by Camera Pro app with great colors and control to cheap generic camera app shots with no control over depth of field or exposure. These aint no postcards - its a disaster...
Windows Central Newsletter
Thank you for signing up to Windows Central. You will receive a verification email shortly.
There was a problem. Please refresh the page and try again.