"Powered by Nokia" Battery Pro+ app is a free and elegant tool worth checking out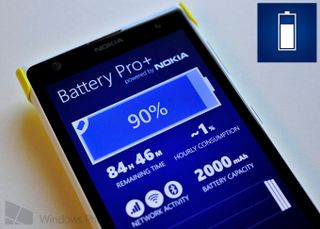 In case you needed another battery app for your Windows Phone 8 device, Battery Pro+, a new and free app will get the job done. What's real interesting about this sharply designed utility is that it is evidently sponsored by Nokia (though not exclusive to their Lumias).
Battery Pro+ is actually listed under Wunderman Polska, a third party developer agency that evidently Nokia Poland has hired to make this app and a few other utilities, including a leveler, flashlight and stopwatch. The main screen though proudly boasts "Powered by Nokia" and under the About screen, you can find an email with an @nokia-services.pl address and a "prepared by Nokia" entry.
So how is Battery Pro+? For free, it's not too bad. It boasts the deep blue color associated with Nokia and their traditional design for utility apps. While it doesn't vaunt a ton of features, it does the basics right.
Features include
Check the battery status in percentage
Check the hourly power usage
Check the time left for the battery to discharge
Range of battery usage (in the last 48h)
The Live Tile, updated every 30 minutes (OS limitation) looks clean and sharp like the main app itself and the info presented appears to be accurate. You also have shortcuts to settings for cellular, Wi-Fi and Bluetooth for easy toggling. Other than that, there's not too much else to say about it.
You can pick up Battery Pro+ by Nokia here in the Store. All Windows Phone 8 devices (incl. 512MB). Free.
If you're looking for something more comprehensive, you can check out the excellent Battery Performance app.
via: The Handheld Blog; Thanks also to halamadrid, Alberto M. and Josh H., for the tips
Windows Central Newsletter
Get the best of Windows Central in in your inbox, every day!
Daniel Rubino is the Editor-in-chief of Windows Central, head reviewer, podcast co-host, and analyst. He has been covering Microsoft since 2007 when this site was called WMExperts (and later Windows Phone Central). His interests include Windows, laptops, next-gen computing, and for some reason, watches. Before all this tech stuff, he worked on a Ph.D. in linguistics, watched people sleep (for medical purposes!), and ran the projectors at movie theaters because it was fun.
30 mns is not actually a bad thing. There are so many apps trying to do regular things in a another time cycle that negatively affect battery life.

It would still be nice to choose the options. Instant, 15, or 30 mins would be great.

They should look at how iOS 7 handles and background tasks and stuff.

Yeah they should, and when people start bitching about how they're live tiles don't update at all, then we know who to blame :P

My live tiles don't update at all :)

But actually they don't. I've tried a few battery apps and it can sit at one percentage for hours and when I go to check it's totally different. My phone that's the problem or the OS???

Try a hard reset: Settings > About > Reset your phone Sync your pics before you do if you give it a try.

So other people don't have this issue?
I did think of doing that, but didn't want to loose all my apps and settings. I guess i could just flash gdr2 & have fresh phone and latest update... But loosing my settings and having to reinstall my apps has delayed me.



Some poeple have issues, but it isn't normal behavior. All your settings and app list is back up and can be restored after you sign in to your MS account. Any saved game or app data will be lost though, unless they are cloud-based.

:raising hand: my live ones don't and haven't for months. I agree it's an OS weakness.

Thanks.
I only play Wordament, I guess I'll be ok. Maybe I'll give it a try.

This idea ranks up there beside the "Jump to Conclusions Mat". Thank you for participating.

The app is not much great. Expected even more from Nokia.

what are you talking about? This is not much great? its an awesome app, its replacing my current 'battery status' app on top of my home screen. I tell you why, this is a nice clean UI with a single screen that gives all the info you need including a Graph, plus quick access to WiFi, Cellular and Bluetooth settings right there. I always wanted this (quick access to Wifi/Cellular settings...as is available on all Android phones), but lazy Microsoft won't give it to us yet.
Only feature missing is Lockscreen support, hope they'll add it in future release.. check out the other apps from the same developer, lot of free useful apps too.

Installed ALL the APPS lol

Its nice and clean. I wish it also had a shortcut to enable internet sharing.

okay, now i just need a lumia device

It's not exclusive to Nokia, see 1st paragraph ;)

Not sure it works correctly with others though. On my HTC8X the app says battery capacity is 2000mAh but I'm pretty sure it's only 1,800mAh.

Hm, interesting. Give it time, I know it takes time to calibrate and may 2k is the default.

Well done. I like the shortcuts to Bluetooth, etc. Let's see how it actually handles it's own battery life usage! LOL.

I don't like battery apps. They all consume battery instead of saving it.

Although technically true, I imagine the battery power used to check the battery life every 30mins is pretty minimal and not something you would ever notice.
Plus I could argue having a battery app display a percentage on the lock screen means I can check how much battery is remaining far quicker. Thus saving battery power.

Another useful app brought to you by Nokia (aka: The guys who have to add the functionality that MS leaves out)

Now, if only they could add functionality that lets the battery tiles update more frequently. Knowing your percentage is almost useless when it only updates every 30 minutes. You can literally lose 10% in 15 minutes if you're playing a game or something.

You will not notice it by playing game :)

10% ? I really must have a bad battery then. :-( Any game I play on my 920 kills my battery super fast.

Thanks to all of you who missed the point which is (in plain English): A 30 minute update for a battery tile is unacceptable.

If my tiles even updated every 30 minutes I wouldn't mind. I know playing games will kill the battery, so i'm not so bothered by the 30 minute limitation, I know it'll be down. I'd just like to see the tile update without me having to go into the app.

But it wasn't made by Nokia.

So true. I wonder what th OS will look like without their input.
I don't know why it's difficult for MS to include basic features, darn basic features in more frequent updates. They are a software giant for f*ck sakes and the OEMs take care of the hardware.

Tell me MS, why is it so difficult, plus you even lock down Api's preventing those who can and are WILLING to improve the OS from doing so...

It's a trade-off... security of your data (and by extension, that of your contacts, work, etc.) vs. perceived convenience.

Today u r giving good news...

Hmm I sent in this tip about a month ago. :(

On my Lumia 900, there was a hidden diagnostics app that you could access. One of the most useful things in there was it would tell you the current battery drain, or if connected to a charger, the charging rate. For some reason that doesn't seem to be available anymore on the 920 or 1020 (or AT&T blocked it).

Does anyone know of a way I could check that on the 1020? Unfortunately none of these battery apps seems to have the ability to do that.

Yep, the diagnostocs tool was very helpful on the WP7 devices, unfortunately there is no such thing on WP8. About a month ago I managed to put my hands on a Lumia 925 prototype. Under "Settings" there was a diagnostics menu - muuuch more powerful than the WP7 tool with a lot more info....

its simple app nothing special about it

though it's simple, it's useful, even with consumption usage and battery usage statistics, which means you can see how much phone usage which will consume the battery on your phone.

So its just like many other battery apps, meaning nothing special about it.

At least it's free, I already helped battery and battery +....kkkk
Let's try this one two

Battery by enless soft is far more better ..

...with supported ads. Yet it's sub-par with any competitors, Battery Pro+ is still at v1.1, and it has way more things to do to improve it. And of course, it will be always free. Let's try this first.

Yes nothing wrong in trying it though ..

Mybattery is the best full color live tile.

How about insider? Hey Daniel, perhaps a nice idea to cover a story of which Battery app is the best by comparing them on drainage and extras etc.?

+1
I agree! Best feature of Battery is the notification when the phone is done charging so you can pull it off the charger (for those of us who like do such things). I have no reason to try this new battery app since it doesn't do that. That's not to say Battery by Enless is the "BEST", but I like that feature. Until "Live" tiles can update faster than every 30 minutes, I think a lot of apps that are supposed to give you status information will be seen as sub-par :( (Come on MS, these are more like Once In A While Tiles than Live Tiles!)
I don't even notice that it has ads, so that doesn't matter to me. (After reading Eas195's comment, I had to actually go into the app to see that it did have ads... I honestly don't notice them at all).

On time! "battery performance" trial ended so till will be my go to app. :)

Same app has been uninstalled, and goes to this app ;)

That same developer has a "Powered by Nokia" Flashlight Pro+ app, has WPCentral done written on that app?

Can you give me the link? I want to download that. Is that from the same developer (Wunderman Polska)?

By same dev. Go to battery app and click more from this dev. You can see all his apps

http://www.windowsphone.com/s?appid=9b11b0a4-e747-4cc0-a44f-e99182a870fa
It's by that same dev, I only found it because I seen it under the More from Wunderman Polska header on the Battery Pro+ page.

And he has Level Meter Pro+ powered by Nokia AND Egg timer Pro+ AND Find Me Pro+ both powered by Nokia too. I bet these apps or dev has NOTHING to do with Nokia officially. (his contact email is @nokia-services.pl btw)

I bet that too.
Query (WHOIS) that domain's registrant (like here http://www.dns.pl/cgi-bin/whois.pl )... it is registered by a company called Home.pl S.A.
It doesn't seem by nokia at all to me.

Battery mah is static. Because works on 8x but don't have a 2000mah battery, just 1800

Mine does detect the value correctly. 2000 mAh is the static initial value, if it can't detect the actual battery capacity correctly.
Wait a minute, you have 8X, right? I'm afraid if HTC uses different method to detect its battery status... or, it's just my thought.

People...People...try Insider by Chris Kim and you'll never download another battery app again.

Good tip. Just checked it out. Pretty handy....and free.

Reviews are nearly 5 star!

I'm Insider app developer, Chis Kim;) thks.

Chris. Nice app, just downloaded pro version. Just one request: can you correct the date format to dd/mm/yy? only the Americans use mm/dd/yy. I'm sure this must be able to tie into the phone settings so it changes on how the phone is set up..... Apart from that, good effort on the app!

I see, It will fixed in the next version.

Never heard of Wunderman Polska. I'm going to give the rest of their apps a try.

I think he is the developer at the Nokia Development... CMIIW.

Battery Performance: done.

Sounds good, will check it out.

When I get a battery app that shows me what is using how much battery, then I will be happy.

Same here. I'm hoping 8.1 will open more APIs for developers to pull that info. Loved GSM Battery Monitor on Android. Though the nature of Android pretty much requires you to baby sit it looking for rogue apps.

WPC has used & thanked me for 2 tips today.
I feel so special. LOL

LOL, I don't know how to do that. Is it depending on the forum only, or depending on the mail that we sent too?

Under "tip us" in the phone app.

Special, as in parking spot near the front door?

They should just give me WPC store credit. LOL

Your not kidding, are you.

Not if they want to give it to me.

This app is nothing about Nokia. It is developed by "wunderman polska", which is a network of advertising, marketing and consulting companies. And almost all apps under this developer has "powered by Nokia" sign.
I will trust the partnership only if Nokia put its apps in Nokia Collection.

+1
But his email address is @nokia-services.pl) = legit.

Query (WHOIS) that domain's registrant (like here http://www.dns.pl/cgi-bin/whois.pl )... it is registered by a company called Home.pl S.A.
It doesn't seem by nokia at all to me.

And it's "Nokia Blue"... It has to be official. =P

They're all the same. I would instead like to know battery power to the minute the way it should be. Say like the percentage in the battery symbol on the actual phone...like all other phones...I'd also like a notification centre. These things seem so basic!

I am using Insider and this app on my launch screen, for a free app, they are both useful in their own way.

Pretty bare bones boring battery widget that doesn't display battery Mah other than 2000. Now if you search for a battery app called insider, now that is one beautifully detailed app, with very useful info. That deserves a review on here.

+1 for a shout out by Daniel!

Maybe for non-Nokias?
My 822 shows as 1800 mah in the app.
The connection shortcuts in the app are a nice feature.

Wunderman Polska is an marketing agency hired by Nokia. Partnership started back in 2009 to implement various projects related with Nokia. Those simple & useful apps are meant to improve Windows Phone experience.
Nokia Contests - answer questions and win prizes e.g. Purity Pro earphones/headphones, Charging Plates, Portable Chargers (PL only)
Nokia Postcards - you can Crop photo via this app, after that you have to fill-in required fields (address etc) and send it, if it pass approval test it will be sent as a REAL postcard to inscribed address. Only specified amount is for free. (PL only)
Egg Timer Pro+
Stopwatch Pro+
Level Meter Pro+
Flashlight Pro+
Nokia QR
Battery Pro+
Find Me Pro+
Style Update - info about fashion gathered from three most-known fashion blogs in Poland. (PL only)

Why isn't it on the Nokia collection simply if it's powered by Nokia, I mean why would Nokia support something but not add it to their list?

Make one that increases my battery life and I'll be impressed. I don't need another app to show me how badly the battery in the Lumias suck.

My battery works great. Maybe you stream too much porn to your phone?

+925. Argie should have stuck with the non-streaming porn.

I'm surprised that Nokia Deep Blue isn't available as a theme color.

Its clean and simple while doing what it needs to. I like it a lot, thanks for the heads up.

They should have added a tag to turn flight mode on or off.

Needs location? For what?

I was asking myself the same thing just now...

Not bad but I think I'll stick with battery sense.

Query (WHOIS) that domain's registrant (like here http://www.dns.pl/cgi-bin/whois.pl )... it is registered by a company called Home.pl S.A.
It doesn't seem by nokia at all to me.

I'm glad to have downloaded this app. Does what I need. For me better Battery Performance. Plus it's free.

Why does a battery app need location services? Or data services?

Now its just this or battery status to be used...battery status lock screen additions seem to win for me so far.

Exactly why I'm sticking with Battery Performance. No lockscreen support means I just won't use it.

90% over 80 hours remaining, wut? im at 90% 12 hours remaining, the battery on these devices are so weird.

Wow...so I installed the Battery Performance app and it actually drained my battery while charging! Left it plugged in and went from 21% to 8% in a little over an hour. Uninstalled the app and went from 8% to 12% in less than 10 min. There goes $2 out the window.

Something else is going on. Try again.

They should make remaining time shown not only in hours but in days too. And remaining time should be added on the live tile.

I've never used a battery app before today, this one is quite basic for me and does the job, I also like the shortcuts within the app.

Tried it out. Looks better than "Battery" but is lacking somewhat. I wish someone would make a battery app that had event markers so we could associate particular events with power spikes.

Props to Nokia Poland. They are always bringing those nice little apps. I've tried a few of them and they work really nice.

I hope Microsoft gets rid of the 30 min bg check limitation.

I hope Microsoft builds a decent battery monitor into windows!

Add airplane mode toggle and the ability to use this as one of the app icons to be on your lock screen and this will be 5 stars easy... Its a 4.5 now

These apps never work on my L920! Live tiles aren't very live in general at all...

Love how a battery monitoring app needs location services.

Am I the only one here who don't use battery app anymore?

Lockscreen notifications?

Guys, do a battery round ups.

Gonna use the app... even replaced my data connection, blue tooth, and wifi short cut app. Looks nice enough for me.

HOW ABOUT WINDOWS 7 PHONES?????? Like Nokia Lumia 710! Please, please make an effort to release these new APPS/games to windows 7 phones too. It's really frustrating.

It bugs me that we need to download apps like this, surely this type of app should be preloaded on windows straight out of the box. Nokia clearly thinks so or it wouldn't be paying someone to fill in the gaps that Microsoft has overlooked!

By that logic, Angry Birds should be preloaded?

This app drained my battery

mine too! been charging for the whole day and it just refused to achieve 100% on my 920. instead, it just went from 90% to 88% when all i did was check the charging progress. have uninstalled it.

The guy in the picture has 84 HOURS remaining on his battery?? WTF? I'd love to have my battery last that long... But I presume on the phone this pic was taken on, he has not apps installed and nothing running in the background? If only, eh....

Good app, but there is one better (Battery).

Another "battery saver" that eats up your battery power ;) brilliant.
Windows Central Newsletter
Thank you for signing up to Windows Central. You will receive a verification email shortly.
There was a problem. Please refresh the page and try again.