Pre-Order the AT&T Nokia Lumia 900 for free!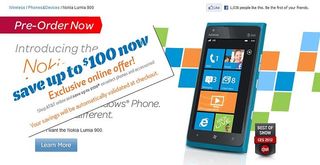 While the AT&T Nokia Lumia 900 already has an attractive price tag, want to make it more attractive? There is a way to take an extra hundred bucks off the price tag.
Just follow this link (opens in new tab) and choose the "New to AT&T" button at the bottom of the screen. Choose your Nokia Lumia 900 (black or cyan), your voice plan and your data plan. When you're ready to check out, a discount of $100 will be applied to the $99 price tag. With free shipping the total due at check out, notta.
The savings isn't restricted to the Lumia 900 and might still be around when the HTC Titan II becomes available on April 8th. The deal is only available for new accounts and you can't escape the $36 activation fee (it will be applied to your first bill). And while we all will groan at the increased activation fee, it is a small price to pay for a free Lumia 900.
Thanks to everyone who tipped us on this!
George is the Reviews Editor at Windows Central, concentrating on Windows 10 PC and Mobile apps. He's been a supporter of the platform since the days of Windows CE and uses his current Windows 10 Mobile phone daily to keep up with life and enjoy a game during down time.
New customers only .. boo.. way to reward the folks who've been with you 7 plus years AT&T .. :(

$99 is already a low price for this flagship phone. And considering there's also a $49 one in Walmart... Still, many people complain and won't stop until everything in life is free.

It's not a matter of price. Would you have said the same thing if it were an iPhone at $299? It just seems unfair that loyal customers get none of the good offers even if we're willing to extend our contract.
All service providers do it to attract new customers, sure, but don't disregard your existing ones :/

haha - well i just paid $99 for it anyway .. free would have been nice though :)



If L900 has an equally poor battery life as L800, also after the very latest update, I wouldn't even have it for free.

So how long have you had the L900? If you don't have it, don't comment on it! Honestly, you sound like a troll & btw, the famous iPhone 4/4s have poor battery life.....im speaking from experience

I was referring to the L800 that I've had for about two months now. I love the device otherwise, and was expecting the much hyped update 12070 to finally fix the battery problem, but no. It just makes me so mad to think that Nokia will blow their chances for a revival and stumble on such basics!

I understand where you coming from, and I too would love for Nokia to make everything smooth as possible or bug free, since this is the mega comeback to the U.S with Windows Phone O/S.

I freaked out then realized it was new customers only... SCREW YOU

so instead of free you can get it for 49.99 at Walmart what a whiner!

Wish I could get it but I'm stuck with Verizon. :(

Would have been nice information about 2 hours ago... before I ordered mine.

Is there no way to cancel it? Or maybe call AT&T to let them know that you're a new customer and wants to take advantage of the promo?

Ditto...i ordered mine like 3 hours ago. And I just got the email saying it is processed and can't be changed or canceled. Ugh.

they will credit you the 100$

Yeah I ordered before I saw some folks mention the promo in comments in the other thread. AT&T is pretty fast at making sure they start the process for New customers. I am porting my number, and that process began within minutes, so I was SOL when I called them to ask them to just cancel it and I can re-order. They were also not able to apply the discount. However, the order service rep did tell me that she left a comment about what happened on my account, and that I should be able to call a sales rep when the phone arrives to ask them to make the adjustment after the fact. Hopefully that'll go well.

You can go to the store and get the credit applied to your account. I did this with a similar promotion when i got my Focus back when they first launched.

Hmmm, How many more "Preorder ..." articles are to be expected? I know that the Lumia 900 is a important phone, yet, in a long shot, all those "preorder soon", "preorder now" stuff is nothing but advertising for AT&T and stores who sell those phones in the US. If someone wants to get the phone on AT&T, I am sure that most are capable to find a store that sells them. It's not that the Lumia 900 is already sold out everywhere anyway. :)

THANK YOU! There has to be other Windows Phone news to talk about instead of one phone on one carrier.

There likely is other news, but none of it is more important for the future of WP in the US than the success or failure of the 900.

the 900 is a success... don't worry about that.
I loaded up on Nokia stock :)

Forget Nokia stock, you can pick up Nokia stock options expiring in 2014 with a strike price of $5 (todays price less change) for about $1.60. Nokia goes back up to $10 by 2014? Well if it costs me $1.60 to make that bet, I'm willing to make it :)

I don't live in the US but I'll be following the Lumia 900 at AT&T very closely as this is almost make or brake time for Windows Phone. I hope there are plenty of articles on it over the coming months.

Just added a line to my account to get this for free. Sweet. now I will return the blue to get the white on the 22nd, or maybe I will just keep the blue not to sure yet but I will cross that bridge once I get to it.

And now you'll breakeven with all the extra charges you'll incur

instead of this they should just offer to pay anyone's early termination fees if they switch to AT&T and get the Lumia. at this point I'd leave VZ in a heartbeat for that!

thats kind of what the free 100$ off is, im glad I didnt reup my verizon...
Seriously this phone at this price is insane...


Would have been nice to see one of those promotional coming soon commercials att promised (liars)...its all about apple when it comes to promotion with att.

Commercials are coming, when the stores have stock, I think they will sell out the 900 early then get built up and go nuts.

Just ordered! Goodbye Sprint!
I've got 4 months left on my contract but the cancellation fee is less than the phone would have cost had I not gotten it for free.
Now to see if there's a market for a well-loved HTC Arrive...

How much do you want for the Arrive?

I preorded mine. After almost 10 years I'm saying good bye to Sprint

I left them after 12 yrs. Get ready for speed. Slow h+ in my area is 4.5 mb down. My bill is $10 more a month, oh damn.

Same here, now im just pissed because I paid $100. I can only be mad at myself but cant even blame this on early adopter since the discounts came out only hours later

Thank you for this I just ordered! Leaving Tmobile of since 2007!

Considering leaving tmob too. I've no contract as I bought my HD7 out of contract. Only thing holding me back is ATT plans are too high... compared to tmob. Even w/my corporate 20% off, it's still not close to my tmob monthly bill.
Originally hoping i can buy it off contract and unlock it for use on tmob but can't settle for EDGE. soo.....SOL for now

You're gonna feel stupid when T-mobile refarms their network to fully support AT&T or any other GSM phone.

I would love to get a Lumia 900 but I'm not leaving T-mobile. I left ATT because of their over priced plan and extra cost for this and that. I will wait until Windows Apollo for now I will just drool. :-(

Get an unlocked one from eBay (when available).

Nah,
Until that (ever) happens, he saved a couple of thousand $$$s. :)

What the hell I just orderd my phone less than 2 hours ago!?? I could understand if you run this add months down the line but to run an add like this hours after you take in money for pre orders from people who are new clients is just wrog. I'm going to call the order processing number and comlain like hell. lol 99 bucks is actually a great deal but it's the timing that bothers me.

Um.. just cancel your existing order. Phone won't be out for almost 2 weeks. Why are people STILL complaining when they just lowered the price by $100??

You're funny with your timing.

The complaints are ridiculous and hilarious, do y'all even realize that you'll save more money over 2 years than buying on contract? Especially when t-mobile refarms their network to support AT$T phones.

do you have any idea when the refarming will happen?

No one does, nor which areas it will cover. Yet this is being repeated over and over. At this time the refarm is NOT a factor.

It's currently in progress, it'll start being more noticeable in the summer.

the price is up in the air, never know whats going to happen

I can leave Verizon in March 2013. I'm going to be rational here and wait it out until then for a Windows 8 handset.

I was fortunately enough to cancel my order right away when I saw the $100 off promo. Thou I have to pay for early termination at tmo which off set that.

As usual the long time (8 years) AT&T customers can't get one for free. Every deal is to lure new customers in never to reward long time loyal customers. Oh well $99.00 is still a good deal on a new added line or upgrade.

Preordered this morning at att store....
Saw this and went back...
The rep printed out the deal and noted my account to credit me $100 at first bill. Done and done ,:D

After seeing your post, I called the store I placed my order from... and they are also ready to credit me $99 per line. But only after 30 days of service. It's a bit scary since, after 30 days, the online MIR might not be avaiable. Also, I got a back order email from AT&T. So all this kind of sux.

I will wait for the device to be available on eBay so I can get it for less than 400 dollars.

I think its going to be sold out for the initial orders

I went in to pre-order my Limia 900 and they said the system took of my upgrade fee and my phone would be there for pick up on April 6th.

I chatted with someone online since we're getting two Lumia 900s on a family plan and wanted to ask about the discount for two phones. She said ~
It is $100 an order, and I'm not sure if it will work for orders with multiple devices in it. So far everyone has had trouble ordering family plans and getting the discount.


I have 3 phones on the family plan and I am eligible for an upgrade, but when I went online to order the 900, it didn't apply the instant $99 discount. There's a text box for a coupon code. I don't know where to get the code from so was unable to pre-order

Is there any possible way for AT&T to move their (ridiculous) early upgrade to an iPhone towards any other phone. I'd love to get a Lumia 900 now instead of waiting until June when I'm eligible for an upgrade to any other phone besides an iPhone...

eh the Iphone has a much higher price tag... I would call them

w-t-f. Ordered mine in store at 1 pm today....

you guys should be able change your orders

I ditched sprint and ordered mine! :) Windows Phone and lumia 900 here we come! :D

so if Im reading this right, its free to only new customers and $99 for existing att users? Im grandfathered in with unlimited so I'll have to wait if I decide to get one. does anyone know when or if you will be able to pre order the white one?

WTF!
I just ordered 2 new devices (blac and cyan) at a local ATT store for 99 bux each. I am scrwed. These are both new lines.

For the folks talking about it only being for "new" customers I do understand. As a long time customer of Dish Network I'm constantly struggling with their policies of offering new customers the world but not extending the same discounts to customers like myself who have been with the company for 10+ years.

On the other hand, do what I did and sell your current phone to pay the early termination fee. I sold my HTC Inspire for $225 and paid the $200 early term fee. The only bummer is your number will change.

To me its worth it to try out the Lumia 900 phone.

I never thought I would be the type of person to pre-order a phone, but the Nokia Lumia 900 is worth it. I did notice in the Wichita, KS East store that though all the retail people seemed to have the phone, it didn't seem as if they were using it as their main device.

Either they are not used to using a better phone or they like using their Android and iPhone Freezelag. BTW I used to owned both of these devices and the crap that comes with it. Now I'm happy with my htc radar 4G.

@ncxcstud...my upgrade too is due in June...i went to Amazon just to try to see if I can upgrade..i got it!!!!! Paid the 100 bucks..but I did see a 36 activation fee..which I think I can get a credit...other then that..mine is on the way!!!

i've followed the link to the page but dont see any link or button saying new to at&t? where on the page is it??

After chatting with web support and talking to phone support, nobody knows what that discount is/was. Customer Service can't even preorder the phone yet. It appears that $100 off was for 12-24 hrs only..

I just had an online chat with AT&T when you try to order the 900 for free and they said as far as they know, it does not exist for New Accounts. So that leaves Amazon for a penny, but they report that your order will be on backorder.
Windows Central Newsletter
Thank you for signing up to Windows Central. You will receive a verification email shortly.
There was a problem. Please refresh the page and try again.