Punch. Jab. Hook. Precision Boxing Coach simulates a boxing coach on your Windows Phone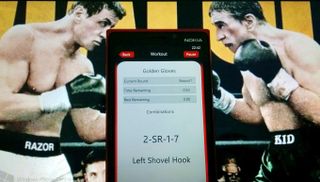 Whether you are an amateur boxer or preparing for your grudge match, Precision Boxing Coach is a great app that simulates a coach's training calling out realistic, fast paced combinations.
The boxing coach simulator calls out boxing techniques for you to execute and includes everything a fighter needs to integrate into his game - all punches, slips, ducks, defense, and body shots. There are four modes and three intensity levels. The mode determines the minimum and maximum number of techniques in the combination - Amateur is 2-4 techniques, Pro level is 2-6, Titleist level is 3-7, and P4P is 4-8 techniques. The intensity will speed up or slow down the pace that combos are called out, with 'Classic' being a standard pace and 'Pressure' and 'Hurricane' being faster.
All you need to do is choose the number of rounds you'd want, adjust the round length, adjust the rest between rounds, and set a warning bell to tell you how many seconds are left in the round. The app includes a video detailing the ins and outs of the app and how to use it.
Precision Boxing Coach is available in two version – Free and Paid. The paid version includes more intensity levels and longer combinations. The free version only calls out combinations that are 4 techniques long before it refreshes and starts a new combo.
The paid version has a southpaw mode where the numbers representing punches are called out in a manner more suitable to southpaws. Also, the paid version has a counterpunching mode where all sequences start with a defensive technique so that you are training to defend then attack.
Download the Precision Boxing Coach app for Windows Phone 8 devices for free from the Windows Phone Store, or grab the paid version for $4.99. If you are a boxing enthusiast, give it a spin, and let us know how you like it?
Get the Windows Central Newsletter
All the latest news, reviews, and guides for Windows and Xbox diehards.
wheres that WPC Windows 8 app at yo?

What great timing, just got new gloves and focus pads today! :D

Good to see! Boxing is quality!

I'm still waiting on someone to develop a good boxing scorecard app. If any devs are interested, I have some ideas