Prepare for war with Battlefield Companion for Windows 10 Mobile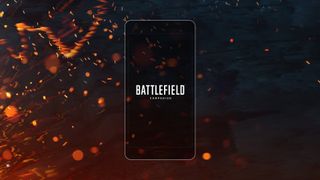 With the worldwide release of Battlefield 1 just around the corner, Electronic Arts have outlined upcoming plans for the game's companion app.
The Battlefield Companion app will replace the existing Battlelog service, which was initially rolled out alongside Battlefield 3 in 2011. While Battlelog never saw an official release on the Windows Store, Battlefield Companion will debut on October 18 for Windows 10 Mobile.
In recent years Battlelog has been developed alongside new Battlefield titles, with direct integration into both Battlefield 4 and Battlefield Hardline. Battlefield 1 is set to ditch the service for new features built directly into the game itself.
Battlefield Companion will be available on October 18, alongside the release of Battlefield 1's Early Enlister Deluxe Edition. While the app isn't currently available, we'll make sure to update this post when it arrives on the Windows Store!
Get the Windows Central Newsletter
All the latest news, reviews, and guides for Windows and Xbox diehards.
Matt Brown was formerly a Windows Central's Senior Editor, Xbox & PC, at Future. Following over seven years of professional consumer technology and gaming coverage, he's focused on the world of Microsoft's gaming efforts. You can follow him on Twitter @mattjbrown.
hory shet! They actually made an app for us!

EA knows how is it to live with a not popular (dead) platform ... cough.. Origin... cough....

Ea well done two for two on companion apps

Where is the app for Battlefront?

They never made one available on windows phone I meant mirrors edge catalyst and this

Oh, I thought you meant Fifa. Still good news, usually we don't get companion apps.

I'd love one for battlefront, shame it might be too late now.

So we can run the app in an attached monitor? That will be cool. Posted via the Windows Central App for Android

Not yet, except when the enemy tank came. :P

Didnt saw this coming, wow nice.
This cant be coincidence tho, first FIFA now this. EA and MS has some sort of partnership?

The devs of "State of Decay 2" also have teamed up with MS

An app for us? *tears* FeelsGoodMan

I like this!! Can't wait for tomorrow!!

Ha we are confirmed the walking dead platform.

Amazing!! I will support the game and buy it for this reason alone!

all we need now is a mobile gears and forza game for windows 10 something better than the halo ones and just for us windows users and I'm happy

recore should have a mobile version as well

I thought for sure when Halo 5 launched we would get some kind of app to use. Maybe Halo 6 will?

Isn't the Halo Hub for this?

Released in time for the game and at the same time as other platforms? I'll believe it when I see it.

Feels like a missed opportunity by not having a UWP for Windows 10 and Mobile. But hey, a bone is a bone!

Finally! Would have been nice to have the app a long time ago for bf4 and bfh, but hey, its great its coming now! Definitely downloading as soon as it comes out :)

Excellent! I've got the Ultimate Edition preloaded and ready to go!

I'm going to stretch out the 10 hour trial a bit longer and buy the game at the end of October - I did plan to buy it but limited time to play anything this month made me just wait

I burned though the 10 hours already. Stayed up too late. ;-). Add me and we can squad up when you get it. GT: IRONCLADLOU

All Xbox games with mobile apps should support Windows Mobile (2k..)

The real question here is when the hell is the Xbox app on Windows 10 mobile going to get the ability to game streaming from Xbox to phone ?

Download Xbox Dev Mode Companion.

Is that even possible, lol. That alone is worth getting a windows phone.

Sony did/do it from PS4 so I would assume though. But saying that I've never had a decent streaming experience over wireless, only wired has ever worked well enough for me. I would love to be able to stream to my phone in Continuum though, which can be connected via ethernet

GUYS! WE GOT AN APP!!! WE GOT A FREAKIN APP!!! WE AREN'T DEAD YET!

Lol! Posted via the Windows Central App for Android

Ok so its the 18th and i dont see any app?

Great news! Hope they'll make companion apps for other titles too!

Does anyone know when or if this is actually going to be on the store, or is it delayed for windows phone or has it been made region specific, been checking and there is nothing, im interested in seeing the UI and how it handles.

Patience :p they didn't give a fixed time. Just todays date. Should come hopefully soon

Is it dream? It's available on Windows 10 Mobile! o.o

Not showing in the store for me?

I had to search for Battlefield Companion. Just searching for Battlefield doesn't bring it up for some reason.

I tried that too, didn't show for me, I'm in the UK if that makes any difference.

What region is your phone set to?

It's set to 'United Kingdom'

Was asking JohnnyBawesome :) (Ik WC can be confusing with their notifications some times haha). I'm in UK too... Hopefully it'll be available to our region soon :P

Sorry for the late reply. I'm in the US

My bad! :-) It's showing in the store now.

Hm, its not yet for me... Hopefully it will soon :)

"In recent years Battlelog has been developed alongside new Battlefield titles, with direct integration into both Battlefield 4 and Battlefield Hardline. Battlefield 1 is set to ditch the service for new features built directly into the game itself." No love for Battlefield 4. No battlelog integration (ingame menu) for Battlefield 4. I had bought Battlefield 4 during the last sale. I had seen the gameplay videos, I really liked them, and thats why I decided to purchase. I never knew about battlelog. The entire menu (well except the settings) of a game outside the game ? on a friggin browser ? According to Battlelog http://battlelog.battlefield.com/bf4/news/view/battlefield-4-new-ui-cons... they updated the UI for consoles. But they never mention anything about PC. Wish they integrate they game menu into the actual game, rather than making us use a web browser for that. ! I'm glad they are releasing an official Battlelog app.

I think they had released an update for bf4 to change the menu ui and integrate battlelog into the game. However the update was only for ps4/xb1. (Just reread your comment and noticed you had mentioned that haha. I'll leave the comment here for any ps3/xb360 players who may wonder why they didn't get the update :p)

I found the companion under the games section and not the apps section for some reason. Hope this helps for some people!

I get an error when installing...

I hope it will also run on Windows 10 PCs (namely my Surface 3).