Private Hub will keep your dirty Windows Phone pics a secret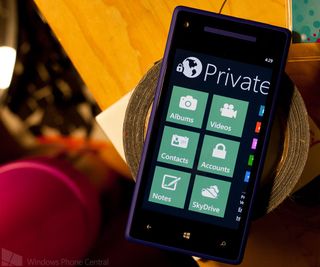 Private Hub is a Windows Phone app designed to keep prying eyes away from your pictures, passwords account numbers, and private contacts.
Private Hub also lets you import videos from your computer or Skydrive account, import photos from your Pictures Hub or capture new images to secure, and back up your data (contacts, notes, account information) to your Skydrive. Private Hub is a nice option to consider if you need to keep your pictures, videos and sensitive information secure.
The main page for Private Hub has tiles to access secure picture albums, videos, contacts, account information, notes and your Skydrive account.
Private Hub's password at first launch is temporary and if you swipe to the right, you will find Private Hub's settings where you can set your password. From there it's just an issue of importing photos, videos and adding contact and account information you need secured.
If you are going to import videos from you're computer you'll need to download the Private Hub PCTool, which can be found here (opens in new tab), and run it as an administrator. Setting up your Skydrive account is fairly straight forward with options to backup or restore contacts/passwords/notes and upload/download videos once you sign into your account.
The only glitch I could find in testing Private Hub out is that if you launch the camera app and take a photo while in Private Hub, the photo should only be saved to the Private Hub album. If you want to export a photo captured while in Private Hub, you can manually export the image while in the album view.
Or at least that's how it is suppose to work. Instead a copy is also saved to your Pictures Hub. You can still export a copy of the photo to your Pictures Hub but if you want that snapshot to remain private, you'll have to go delete it.
All in all, Private Hub isn't a bad option for securing your photos, videos and sensitive data. I kinda like having a way to keep everything all under one roof as opposed to having one app for your account information and one for your pictures or videos. Hopefully the glitch that sends a copy of your photos captured while in Private Hub will be easily fixed with the next update. Until then, you just need to remember to be sure you delete any new photos from your Pictures Hub that you want kept private.
There is a trial version available for Private Hub and the full version is running $2.99. You can find Private Hub here at the (opens in new tab) Windows Phone Store.
Windows Central Newsletter
Get the best of Windows Central in in your inbox, every day!
George is the Reviews Editor at Windows Central, concentrating on Windows 10 PC and Mobile apps. He's been a supporter of the platform since the days of Windows CE and uses his current Windows 10 Mobile phone daily to keep up with life and enjoy a game during down time.
I'm going to try this out.

Love my job, since I've been bringing in $5600… I sit at home, music playing while I work in front of my new iMac that I got now that I'm making it online(Click on menu Home) https://goo.gl/Vzmo1 Happy New Year!

I have it set up so that I automatically upload my pictures to SkyDrive. So does that mean the pictures taken while in the app that also go to the regular pictures hub also get uploaded to SkyDrive, requiring two places to go to delete the private photo?
Edit: I installed it to check myself, and as I expected, when saving "private" photos to the standard hub, it also uploads to sky drive... That needs to be addressed.

I've been using Photo Lock successfully since moving to WP8. It only does photos, or videos shot from with the App. Hopefully it will be update to allow the uploading of videos from the computer. Then it would be a horse race between the two!

Yep, I use Photo Lock too

Are the photos on SkyDrive also Protected?

What type of encyrption does this app offer? There is no mention of it and I can't find any data on this app. So the main purpose of this secure app is to prevent prying eyes that use your phone???

This will come in so handy so I can stop worrying about people seeing my pics haha

I have found the app to have a security flaw, unlock the app, then go back to home screen or other open app without closing the private hub, and you can return to the app without having to put your password back in, this is a real problem, I use photo lock and have used photo safe and both will relock if you go out of the app as well as it should, this app needs to correct this flaw or its useless as a safe IMO

No text messages option? :-/

Hmm, ok played with it a bit more, it seems to relock NOW, not sure what was going on, I noticed it originally when I accidentally hit the search button on phone, and hit back button and app remained unlocked, continued to test by opening other apps and going to home screen then opening apps list and it remained unlocked, but after I posted above comment, tested again, it did relock properly, soooo, move along, nothing to see here LOL

As "Private Hub" is intended to work with SkyDrive, I repeat my post from http://www.wpcentral.com/skydrive-updated-new-features-2013:

I'd like to see a discussion about Microsofts code of conduct.

Last year, there was a short outcry after MS locked several accounts (http://wmpoweruser.com/watch-what-you-store-on-skydriveyou-may-lose-your-microsoft-life/ http://www.cnet.com/8301-33642_1-57496666/skydrive-content-restrictions-among-the-toughest-in-the-cloud/), but unfortunately, nothing happend since then.

Despite the fact MS shouldn't care about the data I'm storing on their systems until I'm doing something illegal, the impact of a locked account is far too high: you are losing your mails, calenders, contacts, purchased apps, etc.

In fact, when using SkyDrive with services like "Rooms" under WP8, you have no full control over the data that is stored within your SkyDrive account.

I also want to keep in mind: you are currently not allowed to save any minor in your addressbook or uploading pictures of minors in SkyDrive! Therefore, Windows Phone is unusable for any parent and many others! (Does Jessica Alba know that?)

Prohibited Uses

You will not upload, post, transmit, transfer, distribute or facilitate distribution of any content (including text, images, sound, video, data, information or software) or otherwise use the service in a way that:

[...]

is designed to solicit, or collect personally identifiable information of any minor (anyone under 18 years old), including, but not limited to: name, email address, home address, phone number, or the name of their school.

For German readers: I've seen a discussion starting last weekend on Windows Phone's Facebook page. Unfortunately, the users don't care: the discussion ended up petering out to nothing. Maybe, you want to join? https://www.facebook.com/WindowsPhoneDE/posts/137193373105505

I installed it and it crashes very often, while I add photos to the album or shoot with camera.

it would be nice if these private apps would have different names besides private hub/app/private picutres. Name it something more random so folks would not have any idea that you were hiding something

Look for an app called Unit Converter...it's a fully functional, well, unit converter that has this hidden photo locker. It's all described in the app description if you like to know more.

Just never ever trust apps Like these. Especially if they want to install services on your pc.

No one keeps it in the "Favorite bible verses" folder???

Installed the "Try" version. Pictures saved fine but struggling to get vids saved..............HELP!!!!???

Paid for the App............. How do you get the pictures from Skydrive to the app. Sign into Skydrive within PrivateHub and I get a blank screen just saying im signed in???

These type of apps aren't just for dirty pics :P I found it handy while travelling as I took photos of all of my travel documents (passports, insurance, hotel bookings, tickets etc) in case of emergency

I would loved it if I could have an secret e-mail account hidden in there.

HELP..
I cannot get video's from Skydrive into Private Hub. I have downloaded the files from the link which takes me to Skydrive, selected the folder containing video's.... it then aks to enter an IP address in my phone.......... where/how do I do this?????

Is anyboby able to successfully transfer videos from their PC through PrivateHubPCTool to their phone who is on WP8 ? I've only just upgraded from a Nokia Lumia 800 WP7.8 to a Nokia Lumia 1020 WP8, and it just doesn't work anymore. Its probably something to do with the fact that you don't use Zune on WP8. Zune needs to be running in the background on WP7 so the PC Tool can access an API and send the files to the phone. I've contacted the author of the program, but I don't expect an answer will be forthcoming. I tried once before when I asked about the posibility of larger fonts for the filenames, I heard nothing back. So does anyone here have any ideas ? Regards, Tony

Its all fixed now. There are two versions of the program. One for WP7 and one for WP8. I sent the developer a message soon after I submitted the previous comment to this thread. Because I didn't get an answer last time I translated the message into both Chinese and traditional Chinese, and that seemed to get through.
Windows Central Newsletter
Thank you for signing up to Windows Central. You will receive a verification email shortly.
There was a problem. Please refresh the page and try again.