ProClip launches in-car phone mounts for the Lumia 950 XL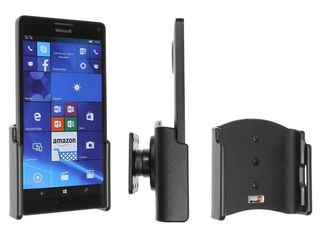 ProClip is now offering new models of their in-car phone mounts specifically for the Lumia 950 XL. The cradles mount into your car, letting you place your phone higher up easier access and use of features like navigation. ProClip offers both a standard phone mount, as well as a charging mount with an integrated USB charging cable.
Both mounts let you set your ideal position, swiveling up to 20 degrees in any direction. Additionally, you can choose between portrait or landscape orientation, depending on your preference. With the charging mount, you get an integrated USB-C power cable, which plugs into an included car charger. The charger provides 10 watts of power and plugs into any standard 12-volt power car outlet.
Note that if you're using a Mozo replacement back cover with your Lumia 950 XL, you won't be able to do so with either of these mounts. ProClip does make a universal mount that should work, and that sells for $39.99.
You can grab ProClips Lumia 950 XL mount for $34.99, and the charging mount for $79.99.
Thanks to Colin for the tip!
Windows Central Newsletter
Get the best of Windows Central in in your inbox, every day!
kinda really dumb to make a mount that doesnt work with any case whatsoever...

ProClip make universal mounts for that function. ProClip is not a new company, they have been around for years, so um, people are buying these for all phone types. Also, many people (myself included) just do not use cases...ever...so why not have a really nice, form fitted mount? Have you ever used a ProClip? You don't go back, they're fantastic. Just being able to slide in your phone in one gesture (no stupid clamps) is awesome.

I have one in my car for my ex-lumia 930. Now I'll buy one for my 950 XL :D They are (at least the 930's) just perfect!

I find it better using the generic ATT car phone holder clamp that has little nubs and some foam inside the clamp so I can just push my phone in one gesture and pull it out with one gesture. Works with caseless 1020/920/950 and a otterbox on the 920 and now my J&D blocky case for my 950. The MS employee who gave me it said he paid $10 for it at att?.. Kinda a steal.

What's so different about the mozo replacement backs that they won't work with the mount? It's not like a case that adds size.

Apparently they add a little. I have Mozo on mine and could see that it is a bit thicker. I have used ProClip for years and they are very close tolerance for the device they are built for. The really great thing about ProClip, IMHO, is the part that attaches to your vehicle. They fit beatifully with no screws and minimal tape, making them easy to remove when selling or trading the vehicle with no residual marking. They also have a MoveClip system that makes it easy to move the dedicated device holders, between vehicles outfited with the bespoke vehicle mounts.

I do love these dashboard mounts. But I found a sweet magnetic one that works well for my 640. You just put a magnet under the back and it just sticks to the magnetic plate on my dashboard. And its in a place that doesnt affect the NFC (not that NFC is useful on Windows Phone until they release a mobile payment method to use it...). The snap ones are really nice though if you use wireless charging because magnets get in the way of that.

Have we heard about any more mods for using the Nokia qi car charger with the XL? ie; has anyone modified their back cover yet?

Not sure which Nokia qi car charger you talking about but I have Nokia CR-201 and it works with 950XL

What's the difference between CR-201 and CR-200? I have a CR-200 and my 950XL won't connect onto the qi, worked ok with my 830 being smaller.

Found this comparison. I have a 950 and an XL and a 201. They both fit, the XL does NOT charge while the 950 does. Haven't done any extensive Nav with this so don't know if it will 'keep up'. I used the CR-201 for a long time with a 1020 with a Nokia Qi shell. It was generally OK. Sometimes I had to power cycle the phone so that nothing else was running or it would drain faster than it could charge, but doing so allowed 8-10 hour trips. It seems the 950s are more power hungry than older phones. One benefit of the CR-201 is that the input is 12v, not 5v like many other Qi chargers. I have the same issue with my 901 charge stand. Works with the 950, Not the XL (except landscape). Really think MS could have considered the coil placement in the new phones to line up with 'their' existing chargers. Not like they have produced any new ones.

Completely agree! I am happy to mod if it works, just don't have the guts to pull mine apart to get it qi charging just yet lol.
I have also been contemplating plastic welding the charging cord into the hole at the bottom of the 201 so it becomes part of the holder so I can sit it onto the connecter in the cradle and retain fast charging...

I wish the charging mount was rated at least 3A instead of 2.1A. 2.1A will suffice though.

The phone won't draw power any quicker from a 3A source. Unless you are wanting to use it for another device.

The reason I mentioned a 3A power source is because the charger that comes with the 950/950XL is a 3A charger and after using 3A chargers, I would rather not invest in a lower powered charger. considering this is made specifically for the 950XL, I expected the charging to be the same as the standard phone charger for the Lumia 950XL.

Ah​ good to know, I stand corrected. I wonder if that's most of the reason why it can recharge so quickly.

Yes, it would. That's what quick charge is for

Yep. It's at least better then the charger Brodit uses for microUSB. That one is just 1A. This one (like you said) 2.1A. I gave the 2.1A USB charger to my wife and got a 3A charger for myself. This one http://www.amazon.com/Charger-Tronsmart-Quick-Charge-Technology/dp/B018K7LHBU/ref=sr_1_1?ie=UTF8&qid=1453384948&sr=8-1 It charges as fast as the 3A homecharger. Also Brodit sells MultMoveClip for when you switch 2 phones in the same car often. Or get 2 MultiMoveClip for 2 cars and 2 or more phones.http://www.brodit.com/product.html?id=215503

Thanks for the links, much appreciated.

Proclip sells MoveClip parts as well. Look in the accessories sections.

$80 for only USB charging? for that price i expect wireless charging...

Wireless kind of pointless if the cradle houses a usb that you just drop it into. Both need a wire to power the cradle, both as easy to get charging.

And wired with USB you get the full 2.1 amp instead of wireless at 1.2 amp. Running streaming audio or a navigation app will actually give you a loss of power if wireless charging was the main source.

Not neccesarily. I ran Nav on my 920 and 1020 with a CR-201 for 8-10 hour trips. It can work, but the CR-200/201 was a 12v input, not a 5V USB car converter. You have plenty of power available in a car utility socket to have enough to overcome the wireless losses.

Silly question, do you mean it won't work with the tan Mozo back cover, or do you mean a separate Mozo case? So many people use the terms case and cover interchangeably.

So my tan Mozo won't work? Damn, I really like this mount. Cheers Daniel.

That's expensive for a car mount and charger. I'll stick with my Aduro U-grip and the current charger. The combined cost was about $25. It holds a 1520 and 950 XL without a problem.

Fine, but it is also really much better. Aduro is rather child stuff compared to a Proclip/Brodit mount. And less easy. With a proclip/Brodit you can just slide in a phone in the mount with one hand. Even when it's so dark you can hardly see the mount. Even while driving

I'm sure ProClip products are great, and the Brodit 950 XL mounts look like ProClip knock offs. There have been numerous times when another person's phone was used for GPS. Unless I got the universal mount, I wouldn't be able to place them in the mount. If I used the universal mount, then I don't see how this is any different than any universal mount. It would be nice to easily slide my phone in and out of a mount, but I only insert/remove my phone from my U-grip if I'm at a red light or at my destination. The U-grip holds any phone without any slipping or connection issues. I've used it for a 920, 930, 1520, 950 XL, iPhone 4S, and an iPhone 6 Plus so far. Phones are expensive enough, and I'd rather not buy a custom mount that only works with one device.

Brodit is the Swedish mother company. ProClip is their branding in the US. So Brodit = ProClip. NO knock offs. They are the same just with different branding. A mount switch is the cost of a new mount of about 25 euro. For a year of use that's rather cheap IMHO.

$25 isn't much, but for now I'll stick with my $20 multi-use solution. Thank you for clarifying.

I use their mount in my car. Fantastic product. I bought it when I had my 830. At that time, they didn't have a custom mount for 830, so I went with their universal mount. It worked really well. Now it works perfectly with my 950.

Interesting that the universal worked for your 950. I bought one and it would constantly bump the camera button on insert, which isn't a problem unless you like to use the camera button to wake the phone & shoot photos. I thought it wouldn't be an issue since the camera button usually requires a long press to wake, but for whatever reason, it kept waking the phone when I tried it. *shrug* Or are you using a case on your 950?

Proclip is actually Brodit. Swedish company. It's just that they sell in the US with the brandname Proclip. Next to the 950XL Brodit also has mounts for the 950. Last week I got my Active charger USB for my Lumia 950. http://brodit.se/product.html?id=521829&pn=prod&brand=Microsoft&model=Lumia 950 Product page Lumia 950 http://brodit.se/productList.html?brand=Microsoft&model=Lumia+950&pn=prod Product page Lumia 950XL http://brodit.se/productList.html?brand=Microsoft&model=Lumia+950+XL&pn=...

Here is the landing page for the holders of the Lumia 950 http://www.proclipusa.com/phone-holders/device/microsoft/lumia-950.cmsv

I was just looking for these the other day. Guess they are pretty new. Shame you didn't consider doing one for the Mozo. Couldn't imagine my phones without one ;) I know you have the universal, but I would have liked the powered version.

I use the Pro-Clip for my 1520 that's hard wired to my fuse box. It's pricey, especially coupled with the custom car mount for my Element, but it's worth every penny. My cig-lighter charge port is on the passenger side of the dash, and I'd have the USB cord draped over my shifter and whatnot. This solution keeps everything hidden and leaves my charge port open for passengers or to charge my Surface or whatever.


I've used ProClips mounts for years, and while they do make universal models, the whole point of the custom made ones is that its tailored to fit your phone model;snugly and securely, so you can angle it to keep in your best line-of-sight. The universal mounts work, too, but not as solid a fit. One thing you have to consider is whether you use a cover or skin over your phone. If so, you might need a different model because the custom fir is that precise. I had been using a custom fit for my Lumia 1520 (withouth a cover) and might get a new mount for my 950 XL, which isn't quite as wide as the 1520. But with an Amzer skin over the 950 XL, I can use the old 1520 mount.

I've been using their mounts since the Lumia 800. When I got the 920 I only had to replace the phone mount and it was great. If you're not using a cover, this is a great mount. The custom fit means you just slide your phone in and it's plugged in. No separate cable to connect (and forget about wireless charging if you want to use GPS, it's just not strong enough and doing both at the same time could start a fire...) The only reason I'm not getting this mount right now is that I keep switching between the 950XL and an Android phone for navigation

So get a MultiMoveclip from ProClip/Brodit. We (my wife and me) switch cars regurlarly and the phone switch (Lumia 950 / 925 ) is fast and easy.

It's a temporary situation so it warrants a $10 mount for now

If you're using a Mozo back, you can use the Proclip for the Lumia 640XL.

Really? Good to know. That's for the 950XL right?

Has anybody had a good experience with a Qi car holder for the 950XL?

Bought a Chinese one works fine though slow

Mind sharing name/brand and store? :)

http://www.tetrax.com/ This is the only car mount I will ever use from now on. I've had one for 6 years and it works flawlessly. When I get a new phone I either buy another set of magnetic dots or transfer the old one to the new phone case. Posted via the Windows Central App for Android

Nice car holders but not avaliable for 950/950XL

Do you have to screw the ProClipmount on the car?!?! The pictures are not very clear.

It looks like you have to buy the mount for your car separately, and it's tailored per car model.

This should say for the 950 and the 950xl. They've done both.

If you want to save 10% on your order, use this promo code "Saveten". I just used it when ordering mine and it worked.

Magnetic phone mounts are much better than these "one size fit one" mounts. Not only can the magnetic phone mounts work with any phone including ones with cases, it is easier to attach your phone to them (just stick them on), they don't mar or obscure the sides of the phone, and they look far better and more inconspicuous with the phones attached or unattached. I use one made by Cellex on two vehicles. Here are photos and a videos of it in use with a Lumia 820 and 640 XL: http://felixwong.com/2015/08/best-way-to-attach-smartphone-in-car-magnet... ​It's only $10 too, which is a whole lot cheaper!

Yeah but slaping a metal dish on the back of a phone with wireless charging kinda ruins it

Too bad it doesn't work with the mozo cover
Windows Central Newsletter
Thank you for signing up to Windows Central. You will receive a verification email shortly.
There was a problem. Please refresh the page and try again.