Project Spark to launch Conker episodic game and content packs April 23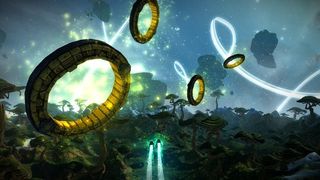 The team behind Microsoft's Project Spark game creation tools for Windows 8.1 and the Xbox One will finally release the long-awaited game and content packs based on Conker April 23. The very adult squirrel was the star of Rare's classic M-rated action-platformer Conker's Bad Fur Day for the Nintendo 64 and its remake, Conker: Live & Reloaded, for the original Xbox.
The addition of Conker to Project Spark was first announced at E3 2014 in June but it looks like it took a little longer than first anticipated to get everything together. Three packs will be released: the first episode of the Conker's Big Reunion game, plus the Conker the Champion pack and the Conker Builder Pack. Here's what we can expect:
Pricing for the packs, which will be sold individually as well as bundled together, have yet to be revealed.
Download Project Spark from the Windows Store (opens in new tab) (free)
Source: Microsoft
Windows Central Newsletter
Get the best of Windows Central in in your inbox, every day!
Neat! That game is really unique, I admit, but limited in ways.

Conker's bad optimization and review day

What is Project Spark? You can build games within the game?

Yeah, similar to the Toy Box in Disney Infinity.

Not really like Infinity, but some games look similar. You can create and play custom games in Project Spark. Possibilities are endless. Already several Mario games created including Bros. and 64

Finally Microsoft have remembered that they bought Rare for their illustrious legacy, not to make jumpy jumpy Kinect games.

Well, to be fair, would you trust Rare to do anything right after the slew of garbage they produced since leaving Nintendo? I feel like they practically were trolling Microsoft.

People like you make me want to smash things. Kinect games are awesome and Rare in particular is skilled at making them. Innovation is better than rehashes.

I'd rather have Rare make a proper sequel to Killer Instinct instead of the KI games we have now.

Who is the Great Mighty Poo?

Dunno, but I heard that he'll throw his sh*t at you

A huge supply of tish comes from his chocolate starfish.

Would love to see some free content packs to boost the game's population. Very limited no doubt

(A little off topic) If you make a game on Project Spark, can you put it on the Windows Store as an app?

Nah, if only it were that simple. Anyone can download Project Spark to play it though!

Glad to see Conkers back..

Project Spark is amazing, just not for me. Similar to world building games like Minecraft and Disney Infinity. I don't have the time or the talent for it. But a Conker game? I'm in.

I'll only buy this if Conker is still a bad ass with a M rating.

I though Project Spark was targeted towards kids...

Project Spark + Hololens! Being able to design platform game levels around your living room is more killer-app-ish than even Minecraft (in my opinion). Unfortunately Project Spark hasn't been a popular success and with brands/IP being what they are it makes me think that the game design of Project Spark should be introduced into Mincraft. 2c.

Dude...multiplayer old school Conker in a Hololens. Mind. Blown.

Conker has always been about imitating/parodied the latest pop culture / videogames and movies. I'm so pissed microsoft / rare hasnt taken advantage of this. Easily do a 300 Spartan theme, to Titanic, to Halo universe, and many more.

You saw a two-minute teaser trailer of the first in a series of episodic releases and you're already feeling privy to what the full vision is?

I got a feeling this ia gonna be a watered down pg Conker...
Windows Central Newsletter
Thank you for signing up to Windows Central. You will receive a verification email shortly.
There was a problem. Please refresh the page and try again.