Project xCloud game streaming hits 'take home' milestone, on track for 2019 testing
Project xCloud has hit a major milestone ahead of public testing.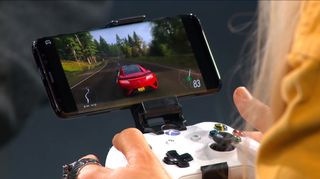 Microsoft's upcoming game streaming service Project xCloud just achieved a major milestone, and should now be available to more Xbox employees for internal testing. As reported by Xbox chief Phil Spencer on Twitter, the xCloud team shipped a new "Take Home" build, which should enable more Xbox internal teams to get their hands on the nascent streaming service. Up until now, xCloud testing was limited, although there have been a few high-level employees using xCloud in the wild, including Spencer himself.
Spencer followed up to reiterate xCloud's planned public testing phase, scheduled to arrive later this year. Presumably, the test will be limited in scope as Microsoft rolls out Xbox One-based server blades across to Microsoft's datacentres across the globe, undoubtedly starting with North American markets. You can expect to see Project xCloud in greater detail at E3 2019, either during the Xbox keynote or during the festivities in early June.
Congrats to Project xCloud team for completing their takehome release. Excited to get feedback from our internal teams ahead of public trials later this year. pic.twitter.com/un1T8mg0d4Congrats to Project xCloud team for completing their takehome release. Excited to get feedback from our internal teams ahead of public trials later this year. pic.twitter.com/un1T8mg0d4— Phil Spencer (@XboxP3) May 1, 2019May 1, 2019
Project xCloud will enable Xbox gamers to access Xbox games from anywhere, on any device with a stable internet connection. Project xCloud will also allow developers to create custom touch-based controls for gaming on a smartphone, and we've heard some hardware partners have been working on accessories to make Xbox gaming on phones a little more ergonomic.
It remains to be seen whether or not Project xCloud will truly deliver console-quality gaming over the internet, but as global internet speeds tick ever upwards, getting this technology into consumers hands is more about future-proofing than anything else at this point. Tencent, Google, Amazon, and others are preparing streaming services of their own, after all.
Are you interested in Project xCloud game streaming? Do you think it'll work? Hit the comments, let's talk.
Xbox accessories you'll love
Every one of these quality accessories is guaranteed to enhance your Xbox experience.
PowerA Enhanced Wired Controller for Xbox One (opens in new tab) ($20 at Amazon)
PowerA's take on the Xbox One controller is an attractive pickup for budget-conscious gamers that nails all the basics.
Talon PDP Xbox media remote (opens in new tab) ($20 at Amazon)
The Talon PDP Xbox media remote is great for watching shows on your console.
Xbox One S vertical stand (opens in new tab) ($10 at Amazon)
Stand your console upright with this accessory.
Jez Corden is the Managing Editor for Windows Central, focusing primarily on all things Xbox and gaming. Jez is known for breaking exclusive news and analysis as relates to the Microsoft ecosystem while being powered by caffeine. Follow on Twitter @JezCorden and listen to his Xbox Two podcast, all about, you guessed it, Xbox!
Pretty sure this will be solid for turn-based games like XCOM and Darkest Dungeon etc. Not so sure I'll be playing Battlefield V on it though... what do you think?

Yeah, I think even high motion SP titles would take a while before they 'feel' good to play compared to playing on a standard Xbox. I'm not sure if we will reach the level of an X or a Gaming PC this decade, though I wish. I want an always connected laptop that can run Tomb Raider at least 30FP and it actually be a playable amount of imput lag.

Considering the principal research was done with Doom3, I think you're underestimating how effective this service could be.

I'm not saying that it can't be good out of the gate, but I think it will greatly depend on the device and especially the connection you are playing on. The connection will the bottleneck for just about everyone. Hopefully the app itself won't be a power hog, but I can see it not performing well with say 4GB of RAM vs at least 8 or 12.

"but I can see it not performing well with say 4GB of RAM vs at least 8 or 12"
In essence, you are saying this is not for mobile phones?

No, they specifically said it was for mobile phones, but I do think that it won't perform as well on a low end phone running Android 6 as a Core i7 8th Gen machine. Hopefully I'm wrong.

What I'm most interested here is the price.
Obviously I expect this to be included with the current game pass service. Also it should be free for gold members.
About non-gamepass and non-gold members, I have no idea. If I buy Ori's sequel on Win10, could I play the game on my phone? would I need to pay to play it on my phone? If yes, how much?
I wouldn't think it would be too much. I would feel weird to pay a monthly fee to be able to play a game I already paid for. I'm also really curious to know more about the business model of Stadia and whatever Amazon is doing...

You make excellent points. Hopefully they are thinking around the same lines as us, where it should be part of Gold/GP.

I do agree with your line of thinking. I think MSFT MUST make it part of Game Pass services or their new combo Gold-GamePass. If they want to make it cloud-based services wise for monetization, those with office home should get it free or with a liitle increase in price.

My expectations are it is linked to both game pass and digital content purchased through the MS/Xbox store. Gold will only be necessary if you plan to multiplayer online, so they could technically keep that behind a separate pay wall as they do now. I could also see it being a separately costed add-on and not thrown in for free with gold or game pass subscriptions. The main reason being that if they don't attach a separate value to the service, people that don't want to use it could end up complaining about their subscription costs being inflated to cover a service they don't use. I know that sounds like wonky logic, but I've already heard someone complaining about receiving free games through Xbox Gold due to it indicating that MS are obviously making too much money. Peeps be crazy. Of course I'd expect there to be a discounted Gold/Gamepass/Xcloud bundle.

5g will be a must for the mobile xcloud.

My guess, xCloud will have 3 modes. 1 is (slightly better than) generic video streaming mode, for phones, chrome book, anything not Windows/WCOS. Your gaming experience will be miserable with this mode, if you don't have a stable connection.
* Stadia uses generic video streaming. The other one is kahawai i-frame or delta mode depending on what you are trying to achieve. The mode is for lower-tier XboxNext (you can certainly use it on a higher-tier XboxNext to achieve 8K / 60fps...), cheap notebooks, arm64 2in1s or... 6" sim-ready-PCs?
Your game will be running at high framerate but low detail (or low framerate but high detail), if you somehow lost your connection. Would I be interested to continue my game session on the go? Why not.
Do I think it'll work? Certainly better than Stadia and others' offering, and if your internet failed you e.g. train went underground or into a tunnel, local solution will be there.
And it's what differentiates Windows and not-Windows. If 1) it can generate synergies between MS's products and 2) can bring more people into the ecosystem, then, it make sense for MS to invest.
* AI predicting user input on the cloud helps reducing latency too. * can bring more people into the ecosystem.
Why wouldn't you / kids want to invite your / their friends to join your / their online game session?
Gamepad gaming during commute or in a café == free ads.
Windows Central Newsletter
Thank you for signing up to Windows Central. You will receive a verification email shortly.
There was a problem. Please refresh the page and try again.