Propellerhead's Figure lets you quickly create beats on Windows 10 and Windows 10 Mobile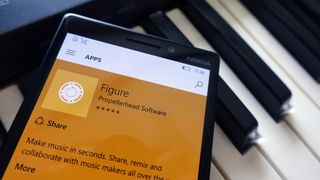 Propellerhead has launched Figure, a beat-making app that allows you to quickly create music in a matter of seconds. The app is now available for Windows 10 and Windows 10 Mobile, and features drums, bass and lead synths with granular touch controls that let you crank out beats effortlessly.
Here's the breakdown of what's on offer
Make songs with Drums, Bass and Lead Synth
Play by sliding your finger across the play pad
Always stay in key and on the beat
Share your music on Propellerhead and let others remix or develop in Figure and other apps
Make music with people all over the world
Find music from the Propellerhead community to remix and develop
No previous playing skills required
Tweak and twist your track on the fly
Sounding amazing has never been this easy
The sound of Reason on your device
It looks like the app is still not yet available in a few countries, so we suggest trying in a few hours if it isn't available in your region yet.
Download Propellerhead Figure from the Windows Store (Free) (opens in new tab)
Thanks thaman04!
Sweet. Hey I was wondering if WC knew that Cortana now has enabled the ability to translate.
It wasn't enabled before, right? I haven't seen anything on here about it.

I was wondering if after all this years should like to meet....lol

To go over everything
They say that time's supposed to heal ya
But I ain't done much healing
Hello, can you hear me?
I'm in California dreaming about who we used to be!!

I don't **** with you .!!
I got a million trillion things I'd rather ******' dooooo.!!!! XD (just for fun no hurting feelings of ppl )

I don't care what you say about me, but you won't get a dollar outta me. Cause I'm a mother f******* P.I.M.P

It's not on android!! It's only on ios and now it comes to Windows 10..
I think universal app strategy is working.. It could be ported by project islandwood... Can someone compare it with the ios version of this app ???

I'll check this out when I get home to my iPhone with a week's worth of dust.

So awesome to see Propellerhead getting apps on the Windows ecosystem. I love their Reason software and hope they keep their apps coming to Windows.

Glad it's there.
Wish they could have done something more creative than pillarboxing the app on larger screens.

Back in 2007 I was doing same in my Dad's Sony Ericsson W810i . Thanks for the article . I went back to 2007

Err it's not the same thing lol.

It currently not available, i will wait

Was this converted using the bridging tools from iOS? If so good sign that devs are taking notice.

Thats what i want to know as well. Would be huge news if it was. It does look identical to the iOS app (although just going by screenshots)

Hope people can download it soon..

Its working fine! Very fine!

Finally we have some music apps. Something is working that's for sure.

I know right.. It's about time we start having these kind of apps on WM. Now I'll need ToneStack, AudioBus, Amplitube, and a quality DAW like Garage Band...

And its currently not available.
Philippines.

I was able to download it bro

Finaly something decent to windows phone. As make music app

My app is ok. It's got good reviews :'( lol.

I will be glad to test it. I just feel sorry that on other platforms you find apps from steinberg, native instruments, ik multimedia, korg and many others.

Agreed. My app ain't as good as those. But it keeps me entertained :) search for "beats yo".

Love 'beats yo' but it really needs sampler and import sounds capability... Not happy using all the same sounds over and over

Yeah I know, loading own samples is planned but im having issues with microsoft and their new (lack of) keyword search in store. I don't want to lose visibility when I update it so I hope they fix that soon:)

Noted. I use the app myself so trust when I say I want to add that option :)

Now this is some serious stuff right there.

Finally, a music app. Now I want the Korg stuff on here.

Umm, I've had a music app up on windows phone for over a year now. :P

Perhaps you can send in a tip to Daniel on your next update.

I did. My first version was featured which was cool, but version 2 was a MASSIVE update. I tipped and nothing :( ah well. Im not mad about it. Haha

YAAAAAAAAAAAAAAAAAAAAAS this is the kind of stuff I've been dying to see coming out! For me as a musician, I've always been pretty disappointed when it comes to music apps on phones, specifically in that its pretty much kinda just stuck on the phone and while a fun toy, hard to generally use as a muscial tool. But for this being a universal app, it'd be the kind of thing that I could fiddle with when I'm out and about or on the go, then take home and more percisesly manipulate in continnum mode (or possibly some sort of cloud syncing between the app on my phone and on my desktop) Mind you this is a pretty limited tool, but if anything it prooves that the idea is possible and could actually be pretty dang handy for someone like me.

Musician and recording artist here as well. I agree! I dream of the day where ToneStack, AudioBus, Amplitube, and all the synth and DAW apps etc etc are available on WM. I wish MS would create their own answer to Garage Band as well... cuz we all know we'll never get THAT.

Then again, one day when we're running full Windows on our x86 powered Surface phones, we could just run full blown Pro Tools or Cakewalk Sonar riiiiight???

This is a very well made ad, and the end is mostly inspiring, powerfull music for the most powerfull platform, thruth has been spoken at last ))))

is the app available on wp 8.1??

No. WP8.1 does not have low latency audio or MIDI APIs that apps such as this require for near real-time response.

my app "beats yo" is on 8.1 and latency is pretty good actually. (does have hiccups rarely but restarting the app fixes it. Probably an issue with background task management). No MIDI though you are correct.

This isn't found when I search for it in the store. Has anyone else managed to get it?

Yup. Here you go
Figure https://www.windowscentral.com/e?link=https2F%2Fclick.linksynergy.co...

Hello Karan. Thanks very much. Sadly, when I click that (on a PC) it loads the store but says that the application is not available. For my W10 phone, the link just doesn't seem to go anywhere. I guess we just have to wait for this to go in the store for all countries.

Go to the store on your phone, figure

I'm loving it! and created this https://www.propellerheads.se/s/W1iAhfD3

Thanks, but don't give up the day job lol

Neat! I'm going to have to give this a try on my Surface. Posted via the Windows Central App for Android

sounds really bad needs more cowbell.

App has some limitations, can't change individual instruments, the "Urban" kit that I used didn't had cowbell.

sorry you didn't get the reference, i was joking https://vimeo.com/55624839

That video was funny :D not aware of it before.


They should bring Take-Vocal recorder app

One sure shot way to get that and more apps from Propellerhead is to get this app installed on as many friends' devices as you can, and have them use the app. ​If they get a good response with this, they'll definitely bring over their other apps. They are anyways fans of the platform (from the video). Now we just gotta convince them that the people using the platform are just as good. :)

How to create and save music to SD card?
Please make a hands-on video review of the app, so that everyone can understand to use the app.

Store mentions its not available

i'm gonna try it out now.

This app is not available on my PC as well as Lumia 1520 updated to latest build 10586.29. What's the problem can anyone tell?

Looks like windows 10 universal app strategy is working

Looks like it maybe ported... A really good thing... MS need to start rolling out the win10 mobile updates

Wait till 14 Dec,,, after this they will launch official version for w10m

Guys! It just now became available! -australia

And win 8.1 mobile users looking outside the Windows pane :|

Sound is totaly broken with creative sb x-fi.....

Kool. I havent used Reason in a long while.

Figure is an excellent UWA to showcase the UWP. Featuring low latency audio, sequencing, FX, & mixing. Running it on my L950XL, my laptop soon.

How i missed this news. I even tip the wc for this like 10 minutes ago. Lol for me...

Hi! I've made a demo on my Lumia 950 https://youtu.be/_KMqYHeza9Y
Windows Central Newsletter
Thank you for signing up to Windows Central. You will receive a verification email shortly.
There was a problem. Please refresh the page and try again.