ProShot for Windows 10 adds light painting and more in latest update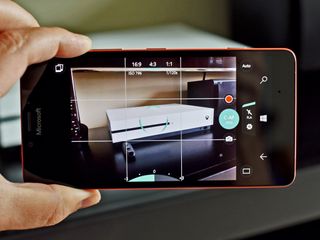 Rise Up Games has updated its Windows 10 PC and Mobile version of its ProShot camera app to version 1.1.0.0. It adds the new light painting feature along with more additions.
Here's a look at the new features in the 1.1.0.0 update:
Added Light Painting (beta) *** requires build 14393.103 or higher ***
Added AF assist lamp setting in the Flash menu
Fixed bug where ISO 100 wasn't appearing
Fixed bug where sharpness setting was ignored
Fixed 1:1 aspect ratio bugs
UI and UX improvements to make ProShot easier to use
There are some known issues with this version of ProShot:
Image Control Panel and Noise Reduction settings may not work properly on some devices. Please try lowering your image resolution. This is a limitation of the Lumia Imaging SDK.
Sometimes the Photos app won't show recent pics taken with ProShot. This is a bug with the Photos app. Force close and re-open the Photos app to fix.
No 4K video support on the Lumia 930. We're looking into it.
If you have installed the Anniversary Update on an unsupported Windows 10 device, ProShot may not run properly. This is due to bugs in the OS that we cannot fix. Please use caution.
Rise Up Games also notes that there is a new donation button in the app's Settings menu, and adds that they "have a few surprises in the works" for ProShot users.
Download ProShot from the Windows Store (opens in new tab)
Windows Central Newsletter
Get the best of Windows Central in your inbox, every day!
14393.103 ?
When did that release ?!! Or did the dev get an early preview to test?
I'm on 14393.87 And hey RUG, I've found a few bugs which makes using the app a little difficult. Where do I give feedback ? Do you look at the Feedback Hub ?

.105 released a week or two ago. But on Release Preview, not sure about Production

Really? I'm on the RP but still on 10586.

14393 is not available for your phone. Get out of the release preview program, at least to get updates to 10586. There was one yesterday.

Get out of the Insider Preview. You're not even getting the latest 10586 builds. Plus, if you want RS1 builds, you need to hack your 1020.

How do you publish a preview feature to the general public.

I'd be happy to get your feedback! Open the right menu in ProShot and tap the "?" button. There'll be an email link there.
I answer all emails personally and try to respond within a day, but since launch I have over 1000 sitting in my inbox so please accept my apologies if the response is (really really really) late haha. Trying my best to get through them.

Thanks a lot !! I'll definitely email.. :)

Where is the missing the golden spiral?

When's the next build for Windows 10 Mobile gonna be released to production?? I wanna give Light Painting a go, but I don't wanna put my phone on Insider since this is my primary (and only) phone. Is the Release Preview ring solid enough for a primary device?

Sure. RP is a solid ring to have on your daily driver.
It is advantageous 'cos you get to receive updates to the current branch weeks before production release.
My daily phone is on the release preview ring and I don't face any problems with it.

Release Preview is no different from Production in terms of stability. The only difference is that on Release Preview you will get updates weekly instead of monthly.

Wait, where did I go and how did I miss that it came back to the store? Last I remember it was pulled. Did I miss the $1.99 sale too? What kind of coma was I in?

It was back within 24 hours I think.

Nope, it was gone for a good 3 or 4 days here in the US and then I forgot about it. I must of just missed the article (or update) to when it was back live.

I've been comparing ProShot with the standard camera app. I think the camera app has sharper pictures with better colour than ProShot.

Neither, however, have sorted out 5.1 audio recording for videos or living images for the x30 range of Lumias. Disappointing to see both bugs unlisted in the article.

I think the camera app over saturates the color. Doesn't match what my eyes see. Has a warmer tone.

I also get better results with the windows camera in comparison with Proshot in my 950 xl

that difference has more to do with windows camera doing post processing the images it takes. Proshot is more likely producing images from what the camera sees without any fancy Pureview magic processing.

Doesn't matter, I bought it for 8.1. It's wrong to charge for it again on the same phone just because of an OS update.

So you'd rather have a half baked one that doesn't take advantage of all windows 10 stuff because you won't pay a small price? Wow. Yeah, I presume you also work for free too?

That is a ridiculous mentality. This is a brand new, completely re-written app. So this dude is supposed to just work for you for free? Get out of here with that nonsense.

There's always one cheapskate commenting. I pay for upgraded to software all the time and it costs a whole more. I'm going to upgrade my Final Draft screenplay writing software today. I'm not owed a free upgrade because an earlier version. I'm not sure why you think the developer is entitled to work for you, forever, for free, because you dropped a couple/few bucks that one time.

This is hands down one of the best Apps on Windows Mobile and definitely the best Camera app.

Do the gps coordinates work with this version?

I'm sorry about the GPS bug, it'll be fixed in v1.1.1 (already submitted to the Store and awaiting approval)

Great! I was wondering if it was only me...

I want to try it but you guys are stating that the windows version is better?

Yes I compared pics on both and the Lumia Camera App takes better pictures.

Well, "better" is subjective. Some like the color saturation of the stock camera and others think that It's over saturated. ProShot gives you more control, so theoretically, you could create images that best fit what you are trying to capture. The stock app has some advantages, to me, for point and shoot. I have used and will continue to use both, depending on what I'm shooting.

ProShot is a pretty good camera app. I'd like to see options for tilt-shift, panoramic shots, and tile customization (black is horrible with my other transparenty bluish tiles).

Not completely better, I think the better only panorama mode and rich capture, with this apps you get light painting, Noise reduction, is pretty good to make my Lumia 730 clear picture at night, also for night usually less saturated , so I just add in saturation 1+ for get good color at night, so if u need that feature, buy this apps, worth the money!

Still no ISO 100. Besides that, we need more ISO steps. Jumping from 400 to 800 doesn't help that much. We need values like 320, 500 and 640. In fact, we need an exposure lock in the video mode. That would be really helpful. The app still makes my phone become really hot.

Yes it seems like the ISO 100 bug wasn't totally fixed in this update, I found out what was going wrong and fixed it in v1.1.1 (currently awaiting certification). When I was desigining the spec early on I don't think I saw an exposure lock option in the API. I will revisit it to see what I can find :)

Thanks for your reply. I would like to know if you could add these additional ISO steps. Even it's not possible to introduce exposure lock, these would come out as a big help for video recording, which I guess is the main difference between your app and the regular one. Thanks again.

The app is also very unstable. It often makes my phone freeze and become unresponsive. This warming effect stays even after we close the app. I always need to soft reset my phone after using it. It's a beta software and it's being sold as a finished product.

Which device and OS version do you have? I'll do my best to figure out what is going on

It's a 950 Dual SIM running the AU (not the insider version). I have tried to uninstall it, restarting the device afterwards and then reinstalling the app, with no help.

Does anyone know the details of the light painting functionality? For example, does it allow for a longer shutter speed than the 4s of the default camera app?

You can have infinite shutter length, but the resolution is limited to the resolution of your screen (so in the case of 950 / 950XL it'll be 1920x1080).

Nice one, thanks for letting me know! Though the 950/XL is 2560x1440 :)
I owned the original app and have been looking for an excuse to get the updated one. That was the excuse I needed.

My apologies, its limited to the video feed resolution. In the case of lower end devices it matches the screen resolution, but in the case of the 950/XL its 1920x1080

Oops, meant this as a reply

Since you're here already, what's Light Painting?

A brief overview can be found at the end of ProShot's video: https://youtu.be/NH61_fPBdnA?t=2m31s

Only for Redstone version of WP10, how lame is that leaving out my 1020.

Overall a great product and definitely think the developer deserves to get paid for his continual effort.

This was the de facto camera app back then. Will have to see how this version goes.

RiseUpGames: I notice I can't set Proshot as my default camera app, nor does Proshot appear in the "lenses" menu. I assume these are OS limitations, but any word from Microsoft on fixing either one of these issues? I'd love to set Proshot as my default or at least have quicker access to it.

None, sadly. I've been fighting for this for almost *four* years :(

The manual says burst mode is supported but I can't figure out how. Has anybody tried using it?

My apologies, burst isn't yet available in the W10 version, still trying to find a better way to implement it.

Hello, I would like to try the app, but I don't know if it will work properly on a hacked lumia 1020 with RS. Do you have any info about it ? Is there available a demo version to try ? Are you planning to release a demo version ? Thank you...

Hi! I have just bought the app from windows store but I'm having a hard time figuring out where the video mode is. It's ProShot Classic