ProShot for Windows Phone 8 gets pushed to version 2.0: Features added, bugs fixed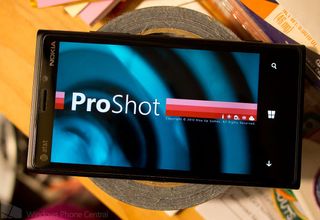 ProShot is a nice camera app alternative for your Windows Phone 8 device and a recent update hopes to add more stability to things. The version 2.0 update should make the app more stable on HTC and Nokia Windows Phone 8 devices but the app is still not compatible with the Samsung ATIV S.
Along with the bug fixes and stability improvements the update also brings a few new features to ProShot.
They include:
Images are now saved in the background
Unlimited review image buffer size
Busy indicator added
Visual queue added to track progress of image saves
The level gauge has been redesigned
A second Custom Mode has been added
Focus lock added
Shutter Priority has been rebranded as Manual
To use the focus lock feature just half-press the shutter button to focus your camera and while holding the shutter button half-way tap the screen to lock/unlock the focus. As far as the Shutter Priority mode being rebranded, it makes sense because with a fixed aperture on our Windows Phone, you really can't have a priority mode. But you can manually adjust the shutter speed to influence the exposure.
We tested ProShot on both the Nokia Lumia 920 and HTC 8X just briefly to see if any stability issues were present. It's a rainy, cold day down South and while there wasn't much to take pictures of, ProShot ran fine on both Windows Phones.
There is one bug though with this latest version. For some reason the level overlay is always on when you launch ProShot. You have to go into the display tab (DSP) and turn the level overlay on then off to get rid of it. It's nothing major and hopefully easily fixed with the next update.
There is a trial version available for ProShot that will let you try all the settings out but images are not saved. The full version of ProShot is currently running $1.99 and you can find ProShot for Windows Phone 8 here in the (opens in new tab) Windows Store.
Windows Central Newsletter
Get the best of Windows Central in your inbox, every day!
George is the Reviews Editor at Windows Central, concentrating on Windows 10 PC and Mobile apps. He's been a supporter of the platform since the days of Windows CE and uses his current Windows 10 Mobile phone daily to keep up with life and enjoy a game during down time.
Nice update....the focus lock is pretty sweet feature!!!

I don't buy apps unless I can try them out first.

I thought this had a trial version.

I'm pretty sure this didn't work in the last two versions, but I can now tap where I want to focus, like the native camera app!
Now, I only have a few requests: Fix the manual white balance feature on the Lumia 920 (doesn't do anything) or make 'Auto' a lot better Custom modes are nice, but I would also like to temporarily change settings without saving, like you can with the native camera app Allow me to disable the "Leave app?" prompt

Hello! I am the developer for ProShot. To address your concerns: It appears that manual white balance is not supported on Nokia phones (at least not on the Lumia 920. It works just fine on the HTC 8X, which suggests that this is a hardware issue). I will try to reach out to Nokia for a confirmation. Also, since the hardware will not let me manually select white balance, I cannot improve the Auto white balance function. I will take this into consideration. If I can find an intuitive way to implement it, then I will! Since it's easy to mistakenly hit the back button, I put that message in there. I will put in an option to disable the message in a future update :)

Nice to see the prompt personal reply, put me over the edge and am on my way to buy now!

I agree, it is great to see this level of engagement, thanks for the feed back RiseUpGames, kudos.

I am glad! I hope you enjoy ProShot and take some awesome pics! :)

Hi RaisUpGame:
Why is it I'm not able to shoot with my lumia920. The focus is able to lock but the shutter wont click and no image is taken. I'm still using the trail version. All settings are set to AUTO

Thanks for looking in to it! Maybe put a 'save' icon next to the existing 'back' icon under each menu. Pressing back would make the change temporary. Pressing save would make the change persistent. :) Thanks for the quick feedback and for making an excellent product!

Nice update! The developer has been working hard on this app.

Ya this camera app is pretty sweet. I find rarely I use 3rd party apps but this is pretty solid.

Like I said, this is one of the most promising apps at this moment. Keep up good jobs guys!

Thank you all for the nice words! It's the support of the community that make the long hours worth it.

Its a great app but for my Lumia 920 it's. Not able to tank any pics. The shutter just wont click no letter how many times I press it. Is anyone else facing similar problems?

Hi RaisUpGame:
Why is it I'm not able to shoot with my lumia920. The focus is able to lock but the shutter wont click and no image is taken. I'm still using the trail version. All settings are set to AUTO

Hello WoWNyx,
For the trial version, I do not allow the user to save any photos, it is only a showcase for the UI. If you like what you see, I am sure you will enjoy to full version! :)

@RiseUpGames, would you consider reworking the app icon? The WB symbols and copyright notice just become so small on a tile or in the app list that it starts looking messy. Otherwise, love what you're doing with this app.