Protect your Raspberry Pi with this $8 official case
Raspberry has finally launched an official case for the Raspberry Pi, with the dual-tome case now on sale for just $8.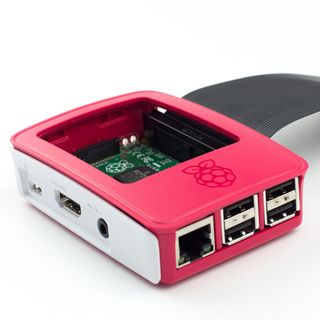 Designed with the Raspberry Pi 2 in mind, the case comes with a removable frame and side panels, with the design allowing lights from the LEDs to shine through.
For those needing a refresher, Microsoft is focusing on the Internet of Things segment with Windows 10, with a custom version of the operating system rolling out to the platform — including the Raspberry Pi 2 — later this year. The case is available from MCM Electronics (opens in new tab) in the U.S., and Swag Store, element14, or RS Electronics (opens in new tab) in the U.K.
Head over to Raspberry's official blog from the link below to read all about the design and engineering effort that went into the case.
Source: Raspberry blog
Windows Central Newsletter
Get the best of Windows Central in your inbox, every day!
Harish Jonnalagadda is a Senior Editor overseeing Asia for Android Central, Windows Central's sister site. When not reviewing phones, he's testing PC hardware, including video cards, motherboards, gaming accessories, and keyboards.
I hope 10 be beating gBrillo

Looks nice although I have a case already.

Still no review of w10 mobile 10136 build..!!!

I also need a review of it....

I'm so sick of people whining about W10 builds in every fricking article

I advice you not to stick your mouth everywhere.

I think you are the one "sticking your mouth everywhere". First of all, you are off topic. Site rules state they want you to stay on topic. Second of all, you don't "need" a review. You aren't going to die if you don't get a review of the build.

I advise you to learn basic commenting etiquette instead of being like all the other half-wits who whine about W10 builds in unrelated articles. You're far more likely to get a response in the forums. Also, it's "stick your nose", not "stick your mouth" and "advise" not "advice", but thanks for playing. http://www.windowscentral.com/commenting-guidelines

U are always welcome genius

It works fine. Leaps and bounds more functional than the previous build. Is it still buggy? Yes, but its now usable as a daily driver.

Thanks! That's what I was looking for.

Lol I'm using the previous build as a daily driver just fine. Although that maybe because I'm a software developer myself and have patience for bugs :P

You should upgrade to the latest. It's a night and day difference.

Dual-tone* but looks nice!

Maybe it has 2 books included? Dual-Tomes haha :P

Hummm... Very pretty... And I just got a arduino uno and few shields on the way... Mighty get me a pie 2 next... Hummm....

What is a Raspberry Pi, humans?

A very small and inexpensive computer (similar to Arduino) for building "internet of things" projects and to make computers available in developing countries.

Just tot my rpi2b yesterday. I installed Win 10 IoT and now I'm a bit disappointed with the end result. Maybe it was wiser to had first explorer the capabilities. I thought I would get a win 10 gui. Also this new case looks slicker the the one I bought.