Push-to-talk app Zello exits beta, now available for Windows Phone (Updated)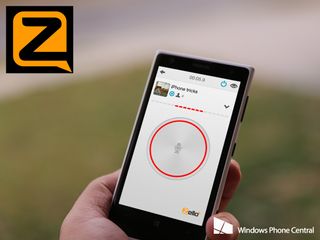 Zello, a new push-to-talk walkie-talkie service, has officially launched on Windows Phone. We last covered Zello earlier this month, with testing kicking off for lucky souls on the private access list. That stage of development has well and truly ended with Zello now releasing the app into the wild, opening up access to all Windows Phone consumers.
If you're not familiar with the name, Zello is essentially a mobile form of quick VoIP (much like team solutions such as Ventrillo, Mumble and TeamSpeak), allowing multiple clients to connect and users to communicate using push-to-talk. Previous conversations can be played back at a later date, the apps are lightweight and will work over WiFi as well as mobile Internet (even EDGE and GPRS). Here are some highlighted features:
Free live voice over any network or Wi-Fi connection
See who's available or busy
Cross-platform
Free with no ads
The added benefit is the service is cross-platform and now supports Microsoft's mobile OS. If you're tired of texting and want an easy way to communicate with others, be sure to give Zello a try.
UPDATE: We inadvertently posted the beta link, which will not work. Please re-try the new Store link, which 100% will download. Sorry!
Get the Windows Central Newsletter
All the latest news, reviews, and guides for Windows and Xbox diehards.
Rich Edmonds was formerly a Senior Editor of PC hardware at Windows Central, covering everything related to PC components and NAS. He's been involved in technology for more than a decade and knows a thing or two about the magic inside a PC chassis. You can follow him on Twitter at @RichEdmonds.
Push to talk? This is kind of likes modern version Nextel right?

Like Voxer but hopefully better.
I want to like Voxer but their lack of support is pushing elsewhere. Maybe this is it

I still cannot download the app. It says that I don't have permission to DL it.

I just tried to download this. It won't let me. I get "Can't download. Sorry, you don't have permission to download this app." What gives? I'm running a Nokia Lumia Icon and I'm not running 8.1 developer preview so it should work!

Apologies. I added the beta download link by accident. Everything should now work!

Same here. Is it not available for everyone yet?

+1 on the "Can't download". I was really looking forward to giving this a try.

Try searching in the store.. I just downloaded it... I have a 925

Searching the store brought up the version we wanted you guys to download, except I inadvertently added the incorrect links! Article updated :-)

I just downloaded it, but you need to do it through the app store. You can't do it through the WPCentral app.

Wp central thinking of opening a channel in zello, could be a good idea. Just sayin'

Is it not compatible with 8.1?

Its compatible with 8.1. Search for the app in the WP store, won't download through the wpcentral app link.

Yeap! The right link: http://www.windowsphone.com/en-us/store/app/zello/d44ff27b-5b62-4d92-9c3...(Version 1.0.0.7) The link on the article it's for beta Zello. ( Version 1.0.0.6 Beta)

Here's the solution: Just go to the store, search for Zello and you'll be able to download it! :D
Thank me later ;)

Yeah. Search in the store instead of using the WPC app

Don't click on the link. Direct search on the store. It worked for me. Downloaded. Installed. Testing in progress.

The right link: http://www.windowsphone.com/en-us/store/app/zello/d44ff27b-5b62-4d92-9c3... (Version 1.0.0.7) The link on the article it's for beta Zello. ( Version 1.0.0.6 Beta)

Search for it in the store, don't click the wpcentral direct link.

I used the link Zapella posted. Got it.

Ok... Now... Who's in to test it ? Cuz I just realized I actually don't know anybody using it... :/

search from store and download.....i am downloading

Downloaded it by searching the store as suggested. Bummed that it doesn't have an option for a dark theme, it's way too bright.

Will not download. What's up with that.

the link on article is beta .. search for zello in the store and u can download it

Anyone tried UK to US? Which service is preferred talking across the pond?

People who are not able to download just go to store and search it. It worked for me. Apparently there is something wrong with link.

Zello link here is bad, search the store..

Apparently no one likes to search. Just like on XDA when the solution is a couple or even the previous post back, people would still ask the same question. Aarrgghh

Can't download... Says I have no permission... Spain, L925

Seek first to understand - then look to be understood. In other words read the comments - the link was the beta link. Search the store it is there!!!

the app don't work well .. it open contacts and if i open any thing as setting it turns to contacts again ... how can i solve this problem ?

I was able to download now. They updated the link.

What does Zello offer that Voxer doesn't? Not trying to bash Zello just want a comparison. Voxer is hard to beat.

I would compare this to boxer but voxers population is dead.

So... You guys messed up the link?! :-) Well, nevermind that. Even the almighty Microsoft screwd up yesterday with that games Fkup

This is a cool app, but it's really heavy on battery use...

Seems a little sloppy in places in terms of UI, like 'Select 'exisiting' in the Profile section. Not sure about that light theme either, especially when they put Light Blue text on it in places. A dark theme would be nice. Well, it's a start i guess.

I love this app and already have a few friends now using it. But it DESTROYS the battery within hours and i cant deal with that. Also it says it runs in the background but it really doesnt. I had other androids in my office test it after i shut the app off, and i didnt get any toasts or notifications (i have 8.1 on 920) yet their androids worked perfectly, so you need to ALWAYS have it running. I really want to keep this app but not at the expense of my battery gone in 4-5 hours.

You are 100% percent correct, both of my 920's were at critical level within an hour..... Uninstalling now until a fix is made.

Awesome... Now I can spam in the separatists channels...

Nokia Lumia 1020 8.0 and the app acted weird.....echo was poping on and off line.....every time I tried to do a test message it jumped back to contact list. Also had echo try to add as contact, and each time I tried to add, it jumped back to contact list. The app was utterly useless. Am I the only one with this bug???? It's a shame as it looks like a very usefull app otherwise!!!! I hope this was just a weird install.

Zello@work doesn't work with this version. I got my coworker all excited because (we used to use Nextel PTT alot back in the day) I got him to install it on his bb z10. It worked really well between us wifi or network. He then found zello@work and set us up for that. That dog don't hunt with windows phone. But supports windows mobile. I had to explain that those two are not the same. Arg. I hope the dev is working on a fix or a separate app for the @work part.

the apps look's ok...but..in the image above..."iPhone tricks" ??? WTF is that fruit doing here ???

2 days ago, I installed it in my Lumia 1520 with windows phone 8.1 (with last update) and since then it's drying out my battery if I leave it open in background. Someone else experience this?

Yes it drained both my 920's in about an hour, I have since uninstalled zello