Qik adds more phones for live streaming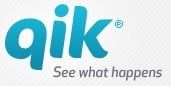 We've been enjoying the Qik (opens in new tab) video streaming and recording service on our iPhones, Motorola, Samsung and Nokia phones for a while now, and HTC devices are finally getting some love [via (opens in new tab)], as is the Samsung ACE and the Sony Ericsson Xperia X1. (Congats if you actually have that in your fat little fingers.)
Qik's Web site lists the following devices as newly compatible:
AT&T Tilt
HTC Touch Dual
HTC Touch Diamond
HTC Touch Pro
HTC TyTN II
Samsung SPH-i325
Sony Ericsson Xperia X1
Check out Qik's signup page for a full list of supported devices. And hit us up after the jump for Dieter's Qik test video.
Windows Central Newsletter
Get the best of Windows Central in your inbox, every day!
I too can confrim that this is working on the HTC Titan (Sprint Mogul, PPC-6800, XV6800)