Qualcomm announces 64-bit Snapdragon 808 and 810 chipsets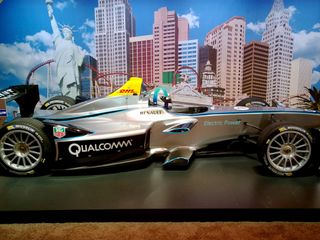 Qualcomm today announced its next-generation mobile processors for the Snapdragon 800 family – 810 and 808. These new chips are designed to deliver even better performance and delight compared to what's currently available to handset vendors today. The main improvements with these two chips is the 64bit architecture and Cat 6 LTE.
Though the chips aren't expect to hit the public domain before 2015, it's interesting to see what Qualcomm is working on. This Cat 6 LTE support will depend on carriers and Qualcomm has opted to use ARM core designs and not its own Krait. These new processors will introduce support for 4K displays with the new Adreno 430 GPU.
The Snapdragon 810 will combine a quad core ARM Cortex-A57 CPU and Cortex-A53 to provide ample power. The 808 on-the-other-hand will have two ARM Cortex-A57 cores paired with a quad Cortex-A53 CPU. It's all good to know, but you can expect to see more hardware with both 801 and 805 chips until early next year.
Check the presser below for the full details.
Press release:
Qualcomm Announces "The Ultimate Connected Computing" Next-Generation Snapdragon 810 and 808 Processors
SAN DIEGO, April 7, 2014 /PRNewswire/ -- Qualcomm Incorporated (NASDAQ: QCOM) today announced that its wholly-owned subsidiary, Qualcomm Technologies, Inc., introduced its next-generation mobile processors for the Qualcomm® Snapdragon™ 800 tier, the Snapdragon 810 and 808 processors, which are designed to deliver the ultimate connected mobile computing experiences in video, imaging and graphics. The Snapdragon 810 and 808 processors are Qualcomm Technologies' highest performing platform to date, completing Qualcomm Technologies' lineup of 64-bit enabled, LTE-equipped chipsets for premium mobile computing devices. The Snapdragon 810 and 808 processors enable an exceptional overall user experience with seamless connectivity and industry-leading power efficiency for flagship smartphones and tablets.
Both the Snapdragon 810 and Snapdragon 808 processors integrate Qualcomm Technologies' 4th Generation Cat 6 LTE Advanced multimode modem together with support for the Qualcomm RF360™ Front End Solution, and support 3x20MHz Carrier Aggregation, enabling speeds of up to 300 Mbps in the broadest set of spectrum deployment configurations to date. Both processors are designed in 20nm technology node with Cat 6 LTE, advanced multimedia features and 64-bit capability, all tightly integrated and optimized for exceptionally low power consumption that does not sacrifice performance, making them the first premium-tier 64-bit processors to enable LTE Advanced globally with a single design. These products underscore Qualcomm Technologies focus on 64-bit leadership, accelerating its availability across all product tiers while maintaining a long-term commitment to the continued development of its own next-generation custom 64-bit CPU microarchitecture, with more details expected to be shared later this year.
The Snapdragon 810 processor, as Qualcomm Technologies' highest performing Snapdragon platform to date, also supports:
Rich native 4K Ultra HD interface and video, along with an upgraded camera suite using gyro-stabilization and 3D noise reduction for producing high quality 4K video at 30 frames per second and 1080p video at 120 frames per second. The combined 14-bit dual Image Signal Processors (ISPs) are capable of supporting 1.2GP/s throughput and image sensors up to 55MP. Advanced imaging software helps enable advanced mobile camera features, including enhanced exposure, white balance and fast low light focus.
The combined 64-bit quad core ARM Cortex-A57 CPUs and Cortex-A53 CPUs are designed to enable an improved user experience based on the advanced technology feature set, while implementation of the new ARMv8-A ISA enables improved instruction set efficiency.
Designed for 4K displays, the new Qualcomm® Adreno™ 430 graphics processing unit (GPU) provides support for OpenGL ES 3.1 plus hardware tessellation, geometry shaders and programmable blending. The Adreno 430 is designed to deliver up to 30% faster graphics performance and 100% faster GPGPU compute performance, while reducing power consumption by up to 20%, as compared to its predecessor, the Adreno 420 GPU. The Adreno 430 GPU also enables a new level of GPU security for secure composition and management of premium video and other multimedia.
The Snapdragon 810 processor introduces high speed LPDDR4 memory.
Frame buffer compression and external 4K display support via HDMI1.4.
First mobile platform to implement Qualcomm® VIVE™ 2-stream 802.11ac with multi-user MIMO, which makes Wi-Fi® networks more efficient than ever in order to maximize the performance of local connectivity for mobile devices.
Support for Bluetooth® 4.1, USB 3.0, NFC and the latest Qualcomm® IZat™ location core for ubiquitous and highly accurate location services.
The Snapdragon 808 processor is designed for premium performance and integrates the same LTE-Advanced, RF360 and Wi-Fi connectivity as the Snapdragon 810 processor and includes 2K display support. Both chipsets are fully software compatible with the 64-bit ARMv8-A instruction set. The primary differences of the Snapdragon 808 processor include:
Designed for WQXGA (2560x1600) displays, the new Adreno 418 GPU provides support for OpenGL ES 3.1 plus hardware tessellation, geometry shaders, programmable blending. It is designed to support up to 20% faster graphics performance than its predecessor, the Adreno 330 GPU. The Adreno 418 GPU also enables a new level of GPU security for secure composition and management of premium video and other multimedia.
Configured with two ARM Cortex-A57 cores paired with a quad Cortex-A53 CPU.
12-bit dual Image Signal Processors.
LPDDR3 memory.
Frame buffer compression and external 4K display support via HDMI1.4.
"The announcement of the Snapdragon 810 and 808 processors underscore Qualcomm Technologies' continued commitment to technology leadership and a time-to-market advantage for our customers for premium tier 64-bit LTE-enabled smartphones and tablets," said Murthy Renduchintala, executive vice president, Qualcomm Technologies, Inc., and co-president, QCT. "These product announcements, in combination with the continued development of our next-generation custom 64-bit CPU, will ensure we have a tremendous foundation on which to innovate as we continue to push the boundaries of mobile computing performance in the years to come."
The Snapdragon 810 and 808 processors are anticipated to begin sampling in the second half of 2014 and expected to be available in commercial devices by the first half of 2015. More information can be found at www.qualcomm.com/snapdragon. Developers can find tools to optimize their apps for Snapdragon processors at http://www.developer.qualcomm.com.
Except for the historical information contained herein, this news release contains forward-looking statements that are subject to risks and uncertainties, including Qualcomm Technologies' ability to successfully design and have manufactured significant quantities of Snapdragon 808, Snapdragon 810 processors and next-generation CPU microarchitectures on a timely and profitable basis, the extent and speed to which the Snapdragon platform is adopted, change in economic conditions of the various markets Qualcomm Technologies serves, as well as the other risks detailed from time to time in Qualcomm Incorporated's SEC reports, including the report on Form 10-K for the year ended September 29, 2013, and most recent Form 10-Q.
Get the Windows Central Newsletter
All the latest news, reviews, and guides for Windows and Xbox diehards.
Rich Edmonds was formerly a Senior Editor of PC hardware at Windows Central, covering everything related to PC components and NAS. He's been involved in technology for more than a decade and knows a thing or two about the magic inside a PC chassis. You can follow him on Twitter at @RichEdmonds.
Too bad Microsoft is backing Nvidia's chipset for Surface (ARM one), which will not release arch64 until 2015. There is a room for 64bit Surface and a highly professional surface phone (light-weight, sleek, slim slick with all kinds of imaginable ports which Android adn iPhones provide)... MSFT: Don't stall now please!

Did you read the article, these processors will not be available till 2015 as well. Beside MS can change chips if they so choose.

Snapdragon SoCs, IIRC, are a requirement for all windows phones (which seems to push Samsung away at times); how is MS not backing them? The surface 2 has a tegra 4 because diversity is good, but MS is totally with Snapdragon.

Tegra K1 with Denver CPU is supposed to ship in 4Q14. Denver is aarch64. In addition Tegra K1 includes a Kepler based GPU, which is most likely ahead to anything Qualcomm will deliver this year.

Which begs another question; are Windows 8.1 RT and Phone OSes ready for arch64?

In theory you would only have to rewrite a very small part of the kernel. Other than this Windows is already 64-bit ready so RT is a no-brainer. Windows Phone might be more of an issue. In addition of course, they need to extend the possible app versions in the Windows Store to include AArch64/ARMv8 in addition to x86, x64 and ARMv7. Likewise the Windows Store is already prepared to offer executables for different architectures. The Windows Phone store of course is a different matter. Finally they need to update the tool chains/Visual Studio. Currently i do not see any option to compile for ARMv8. Due to above reasons i guess Microsoft will roll out 64bit ARM support first for Windows and later for Windows Phone.

Yes it really is a a faster beast

You know what's fast? Changing the screen resolution on a windows 95 and waiting for it to reboot until the new resolution takes effect.
Lol..

DEUS...I had almost forgotten about that! LMAO

have no idea why we need faster SoC's in our mobile device right now. Playing Crysis via touchscreen is not very comfortable.

youre right maybe we should just stop innovating and stop moving forward every time we are satisfied, we'd all still be driving model T's...

Cool! I would love a 808 Snapdragon 4K resolution phablet while driving a model T...

More speed for my 41Mp Pureview camera capture!

Im gonna pretend i didn't read your insightful comment.

This will be a monster, a new 1520 perhaps.

- 1530/1540 and wp8.2/8.5/9.0

Yes, but can't wait till next year

Yup, who has time to wait?

Well - WP users are used to wait so .. we

No one will wait.. We will continue to work... And when next yr comes.... We will check :D

I already have a 1520, but if they make a new 1520 or similar with 64bit processor I will upgrade ;)

Then it would be like IOS and Sammy which launched a new Model this year with no new features. IF Nokia is going to use it in 15** it needs to do something innovative. And also launch it within weeks of announcing the product otherwise Sammy and Appy will get time to ape.

What? The idea of updating your hardware every year didn't start with apple. Its been an industry standard for god knows how many years, and before smartphones existed it was the same thing for computers. Updated hardware CAN be innovative, after all that is what powers all of the fancy software features. Personally, I'd take 80% more GPU performance (over the Adreno 330) in a 920/925/928 body (see the Lumia 930) as plenty innovative enough.

I'll take a 1030 with a 5 inch screen :)

Absolutely! I want to only upgrade to a 1030 from my 1020, with 5" 1080p.

This is worth waiting for. If Nokia/Microsoft doesn't come up with the exact phone I want, I'll be happy to wait for this generation of products to be available. My upgrade is toward the end of this year, I can easily hang on a bit longer for one of these processors.

I hope Nokia is going to use these chips in their flagships next year, I doubt it though :(

IPhone is fucked now. Sorry for my bad language but its the truth

I think you are being a bit ambitious, Qualcomm is catching up now to where apple was 8 months ago.

Samsung makes the apple chips just to let you know.

That's like crediting Foxconn for Apple's great design.

Yeah, and they are 10x better than in their own devices.. :-)))

I thought Apple stopped using Samsung chips like a year or 2 ago?

Nope still do. Apple makes nothing. All they do Is design there products not manufacture them.

Yeah, because Apple totally aren't going to make any new phones to compete against this. =P

Apple had some pressure on them so they went for a 5c b4 the 5s version. 5c was a big flop from them. Android has a stable market share now of Windows phones get more dynamic I mean at a very good pace. Then iphones will have a smallest market share 5 years later. It just depends how well WP will sold in the next 5 years.

well - that big flop 5c is all around UK unlike Windows Phone devices

Im yet to see one 5c in Portugal. The 5s, on the other hand, are a dime a dozen (in a country where it costs way more than the minimum monthly salary) mind you. That speaks loads of the 5c success. That and the fact that apple is discontinuing it.

Yeah, huge flop that has sold more than that other huge flop called Samsung Galaxy s4. Maybe check your facts before you spout this stuff.

Actually Aashish, the 5c was a huge success, it was just the 5s was a phenomenal hit, and my comment on Qualcomm is valid, the Snapdragon series just caught up with the A7 as a 64 bit processor, both using Arm instructions. To believe the A8 won't be better than the A7 is fooling yourself.

Yeah, people said this and for Snrgn 800.. And still iPhone has better bench score.. It will be the same with iPhone 6.. You just can't beat them.. + Better OS (No lags and BS).. I don't know about WP but Android will be again behind.. :-))

agree.. apple has the vertical integration advantage

Go to 3dmark, the Snapdragon 800 beats Apple's chip easily. The iphone and ipad have fast gpus but very slow cpus.

@Rock a bit of an unfair comparison, the number of cores used is not the same, from what I have read the A7 has many of the same features as lower end Intel desktop chips. iOS is holding back the A7.

From experience IOS is buggy as hell in IOS 7.... Amount of times apps crash or normal settings just reset... Glitches here and there.. Sure patches but still ios isn't THAT perfect...

... The combined 14-bit dual Image Signal Processors (ISPs) are capable of supporting 1.2GP/s throughput and image sensors up to 55MP.

Next gen 1020 should must get this !!

I will personally murder Nokia if they let me wait so long and not give me this >.<

Just so you know they are committing suicide this month itself ...joke intended ha ha ha

Because, you know, 1020 was nothing but huge success and they are going to release 41mpix phones annualy. /s - 1020 owner

Do we actually need more. Whens it gonna stop. We will always be wanting a new one. Maybe im getting old. eeeeek

Not really, but it does help with games that are high spec or just poorly optimised.

its really needed for games. im sick of being held back with some really basic effects that arent available for ise on mibile.

Yea, we probably should have stopped technology at the invention of the wheel. Or maybe the original telephone. Its sooo annoying that companies keep making advancements in technology. After that rant I'm read for a nap.

yours wallets belong to us now.

I think the current 800 chipssets are already amazingly blazingly fast. Except for supergames and 4K TV I see no added advantage of the upcoming chips and 64 bit processor. Well maybe a little improved security perhaps. But even now my snapdragon 1 ghz processor in my HTC Titan x310e is quite okay for daily use. I have doubts on the arguments that the futrue processors will be more energy concious. They are after all quad core processors and 4 K is a hungry beast in a mobile device.

I think they are trying to put the whole computer functionality into mobiles. I cannot imagine why would I need a 64 bit OS? for 4 giigs of RAM? 4 gigs for what?

It would be nice if they could speed the rams up. I could potentially seeing 4gb being ok but at this point and time nothing beyond it. Not until smartphones drastically change again.

I think they are just planning for the future when 4GB of memory might eventually prove useful. What is funny though is the number of people that think 64bit is faster by itself for some reason. 64bit actually creates more overhead and doesn't make a lot of sense unless the OS/hardware is equipped with 4GB+ RAM.

In my experience, a 64 bit application on a 64 bit OS is quite faster than a 32 bit one! but how fast do you need to be? They should better invest this much in battery tech or internal/external storage make them last longer work faster. We have reached that point in technology that we can wait a few years before the next fastest chip appears.

I would see these processors for tablets, sure they will put in phones, but tablets would make better use of the capabilities. IMHO

So the WP handset I replace my 1020 with this time next year should be a MONSTER!

Why replace he 1020? No WP is coming out with a camera like the 1020 for years.

Because it needs a little extra umff to process/write those 13-15MB pictures or the 40-50MB RAW pics.

No, because manufacturing the camera part is extremely expensive, not mentioning the RnD costs.

That's standard for this day. Iphone already 64bit platform.

This is all very cool...but the thing is, we're not seeing the same speed of development in batteries. These chips get faster and faster to support more and more...and soon batteries will be lasting only 2 hours.

I completely agree with you, Nokia should improve its batteries!

This chips are more powerful but also more and more battery efficient. Don't forget about it!

Yes, they are. But stuff like 2K and 4K screens aren't...that alone is enough to suck the life out of a battery.

Which is why I'll be eyeing the "mid-range" offerings when the time comes. I'm assuming that in 2015, 1080p will be midrange.

This. The worst part is that there is not much we can do in battery developement departure. We can only optimize the software and (what I hope will be the case) use smaller transistors and better microarchitecture to improve efficiency

I think Nokia and Microsoft will use this first time 2017-2018

The 1520 had the 800 not long after the first 800 devices showed up, I don't get why y'all think Microsoft is so slow when they really haven't been lately

It was over 6 months later, which in smartphone -land is ages.

Nokia and MS needs this processor in the next bunch of handsets in the fall. Skip the 805 (its old hat tech now) and just go for the kill with the 808 and 810 before even Quallcomm themselves can make them.

That's what a company like Apple or Samsung would do, and that's why they are on top. MS is way too slow. I hope they do thiugh so I can hand over my 1020 to the wife while I get a new beast.

That would be a miracle, since they will not be avaible till first half 2015 for commercial use.

How about reading the article?! Then you'd know it'll only be available in 2015.

That 810 just screams out to be in a 1020 successor. The show image processing times could be nixed - this could mean a whole new level of awesome for that beast of a 41mp sensor!

Early 2015? Just in time for MWC. By which also most flagships released in late 2014 would be having the Snapdragon 805 I'm assuming? Either wait for the 810/808 or go with the 805

This is going to be a good chance to see if indeed the WP team under the new leadership (which is in fact the old leadership minus Steven Sinofsky and Ballmer) will walk the walk and nost just talk the talk. If WP still lags in hardware then it will be extremelly hard for them to make the case that thigns will start to move faster.

There not lagging in hardware now. If they don't offer the 805 in a timely manner then yeah they'd be lagging but I don't think skipping over the 801 would be too bad

As I said, we'll see. This will be the test.

So already Icon / 930 will be outdated when released in Summer, delayed to fall...

The Icon was outdated the second it hit the shelves, just like any other tech product.

The Icon / 930 was not outdated at time of announcement. The 930 is a lost cause for spec fanatics. Sadly they will get a pass on WPC.

The 930 is a lost cause for anyone who thinks a 600 dollars phone deserved a micro sd, nevermind the lack of glance screen.

We can see more hardware with 801 and 805 next year? There are devices with the 801 already, and 805 soon. ;)

You'll see devices with the 805 this year but given how behind WP always is in terms of specs, a WP with it only next year. This year I'm betting the first flagship with the 805 will be Sony's Z3.

What I'm saying is that WPC made a typo in the 3rd paragraph...

Well it's not a typo. It's an imprecision. But since they were talking about WP, it's correct anyway.

WP has been closing their launch gap... We'll see.

You would think so until Nokia f*cked everything up with the 930. Also, Samsung is clearly reusing Galaxy hardware, so they'll always have their WP devices one generation behind their Android flagships.

With the exception that Snapdragon 800 and Snapdragon 801 are not a generation apart. Infact they are pretty much the same design.

It is amazing to see that they can pack this much tech into moble chips. Whatever happened to TI and their OMAP chips? Did they just cede the market to Qualcomm? A new HTC Titan with this chip and a 4K screen would be heaven for me.

I love a high-end device as much as anyone, but I'm having trouble finding a convincing argument for a phone with ~900 PPI screen. The current crop of 400+ PPI phones already exceed the ability of the human eye to resolve individual pixels at normal viewing distance. Unless you plan on mirroring your phone on a 4K display, what benefits would you get? And would they outweigh the costs?

TI closed the omap project and everything a few years ago.

What about a new nokia lumia 1525??? I very want to get this phone at processor snapdragon 805. I'm sorry level of my english is very bad. I'm Ukranian )))

They specifically said that OpenGL ES3.1 won't support tesselation ... what is Qualcomm talking about?

They'll likely have an extension for it on OES, DX12 for WP should also support it.

That's why I have bought the Xbox one. Bad thinking on someone's part. Xbox one is not that giant of a leap for me to give up all my games for a new console.

Wait...then you HAVEN'T bought the Xbox One, right?

MS should certify these processors as early as possible for OEMs to use them on high-end devices and also some of MediaTek's processors too to target low end device penetration especially in China and India. Now consumers not only want to stay on cutting edge technology but to be future proof too. They don't want to see their beloved phones being not supported when new release of OS hits the phone or some of new OS features that need the hardware support!! Having said that MS can and should certify only processors that are future proof ( at least 2 years or more) according to their forthcoming feature plans with OS!

I'm pretty sure Qualcomm announced WP support for the 805 as soon as it was available. So well see based off of that. It they release the 805 asap then they'll release this asap

The 805 is still not out yet and they already announce this !?? At first i was waiting to change my phone for the next Nokia with the 805 chip and now this.... Its too soon for some people for announcing a thing like that !!

Ah-some. Nokia + Microsoft partnership will make a killer smartphone with this chip. Ahhhh-ssooommeee Posted via the WPC App for Android!

A Lumia 1530 with Snapdragon 810 and a 4K solar chargeable display.

I hope MS is not very late toadopt it.. And i expect it to be in the next 1520's next 1520

I will not get anything anymore, will wait till the next 1520 with 6inch

i will get this chipset in 2016.