Qualcomm cozies up to Cortana with its smart audio and mesh networking platforms
Cortana is getting a potentially major boost from Qualcomm, which has announced Microsoft's digital assistant is coming to two of its smart device platforms.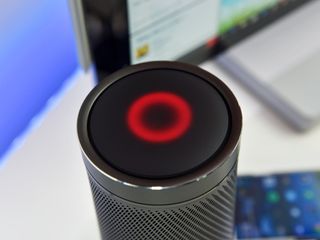 (Image credit: Windows Central)
Qualcomm is tapping Microsoft's Cortana to be an integrated part of its mesh networking and smart audio platforms, the company revealed in a pair or announcements at CES 2018. This sets the stage for Cortana to make its way to smart home products that leverage Qualcomm's platforms, ranging from smart speakers to security systems and many other Internet of Things (IoT) devices.
Qualcomm initially launched its mesh networking platform in 2017 as a way for IoT devices to communicate with one another around your home. The latest update to Qualcomm's reference design integrates its Aqstic tech with Cortana to "create virtually seamless voice-driven experiences in the home." The aim is to enable manufacturers to take advantage of integrated voice services in devices that leverage its mesh networking platform to communicate. Through the integration, you could start seeing Cortana included with more smart devices on the market and, subsequently, within homes.
"Microsoft and Qualcomm Technologies are working together on a variety of strategic projects, and we're pleased that Qualcomm Technologies is bringing the power of Cortana to the mesh networking platform," said Jordi Ribas, corporate vice president, AI products, Microsoft. "Microsoft technology on Qualcomm Technologies' powered devices will empower people's creativity and productivity at work and at home."
Qualcomm is bolstering Cortana integration with its mesh networking platform by also announcing integration of Microsoft's digital assistant with its smart audio platform. According to Qualcomm, the platform "integrates the hardware and software required to help original equipment manufacturers (OEMs) reduce the time and cost of developing smart speakers with support for the intelligent digital assistance provided by Microsoft Cortana." Support for Cortana in the platform is expected to be available within the first half of 2018, and we can expect to start seeing smart speakers using Qualcomm's platform and Cortana pop up after that.
Cortana isn't the only smart assistant on which Qualcomm is placing bets; the chipmaker also made several announcements related to the integration of Amazon Alexa and Google Assistant. However, this is potentially a big boon for Cortana in a year where voice assistants are seemingly everywhere and Microsoft is looking to expand its own across smart speakers like the Harman Kardon Invoke and other IoT devices.
Windows Central Newsletter
Get the best of Windows Central in your inbox, every day!
Dan Thorp-Lancaster is the former Editor-in-Chief of Windows Central. He began working with Windows Central, Android Central, and iMore as a news writer in 2014 and is obsessed with tech of all sorts. You can follow Dan on Twitter @DthorpL and Instagram @heyitsdtl.
You have no idea how badly that I'd like for this to actual result in a foothold for Cortana. But, I'm afraid I'm much more confident that Microsoft will find a way to screw it up and kill it all of by next year. I use Cortana all the time. But, like Windows phones, I'm one of a very few, I'm afraid.

Cortana works with Spotify nicely now on W10 PC. My use of Cortana increases dramatically. MS claimed that over 150 millions monthly Cortana users at present. That number can only grow with the expanding W10 user base.

I can't help but wonder if that is some Alternative Facts though...are there 150 million people that TALK or 150 Million that have access to her? I could see them saying that email notifications on W10 are "using Cortana" because of the little notification window.

probably the number that actually talk to her. I can't imagine it'd be just people that have access to her.

I agree it's probably not just those who have access to Cortana, but aren't some features such as Quiet Hours considered Cortana features? I don't think it's people who Talk to Cortana necessarily, using Cortana could include asking any question by typing it, using any related Cortana feature such as setting a reminder, getting news alerts from Cortana, getting "Continue where you left off" notifications may also count.

If we count all the current Windows phones and Windows 10 devices out there (PCs, Mobile, Xbox, HoloLens, WMR, etc.) then the number of people that have access to Cortana would probably be closer to 800 Million

@ScubaDog: Same here. Cortana, Bing (even my default search engine on my office Windows 7 PC). This is something to hope for but there were more news about Google and Alexa from CES.

You're not alone. I'm still holding out as well. There are glimmers of hope.

Lots of Cortana news today. Hopefully that's a positive sign.

Great step strategic wise.

Hey Cortana, remind me to read this article

Wow! So much good news for Cortana coming out today. With demise of Windows Mobile, Cortana was clearly in some trouble. I hope MS pushes Cortana efforts more strongly. :) Have heard that this year CES is filled with Digital Assistans ads everywhere but Cortana has been painfully missing, I hope its just the ads she is missing.

More Cortana devices like this would help if it comes to US. https://www.voicebot.ai/2017/12/29/xiaomi-yeelight-offers-30-cortana-pow...

Not just the US and plus most people speak English so isolating a product to the US does not make sense if you want to increase user adoption and mindshare.

Sorry, Cortana by way off Alexa won't boost the platform because why should I have to say, "hey Alexa, ask Cortana this or that"?; that's just stupid like Microsoft current leader.

I think Microsoft should make some Cortana v Siri ads to entice users to try it and learn it even exists!

They tried that back when Cortana would always win. Now, would she even compete in some regards?

I wonder if this was negotiated as some sort of quid pro quo for developing Windows 10 for ARM.

any good Cortana news is a good day for me. I use her all the time and with my new Invoke set to arrive this week, I'm excited! Please, Microsoft....please push Cortana as much as you can. Developer her as fast as you can.

But Cortana is dead, because Alexa will be available on Windows. And blah blah blah... /s

Cortana is far from dead, and people did jump to conclusions way too quickly acting as if Microsoft had actually done some of the work (As far as I can tell this is all Amazon off their own back). It does put Cortana at a bit more risk but hopefully Cortana isn't going anywhere - Just wish they'd actually put some staff full time on developing Cortana. In the UK development has been stalled for at least 6-12 months and a good few months in the US too. Let's hope the "Cortana Lists" feature never makes it out of Insider Builds and they start to focus on more useful things that aren't already done by multiple MS apps already (Wunderlist, To-Do, OneNote, MS Planner also in a way all currently available and let you manage lists)

seriously, ms needs to ramp up Cortana development. at least get features in Invoke going, starting with Pandora and OneDrive/Groove library integration. They do that and I'll be super happy with my Invoke.

I'm with you, Satya had made sure of it when he signed a serious agreement with Amazon to do called access Cortana via Alexa.. dumb, dumb, dumb! Why would anyone want to say, "hey Alexa, ask Cortana this", when I can simply ask Alexa directly. This guy has no common sense and neither does @tmyerson or Joe B. I think they all should go.

Gosh... Do you know what /s means? :P :D

Time for MS to open Cortana for more markets. Even if it's in English just let people use the thing.

As good news as this is, we're forgetting how far behind Amazon that Cortana already is. And Google Home. And when Apple releases its fluffy waste bin with Siri that'll sell a buttload because it's Apple. The Invoke is limited to the U.S. (officially) still. The Echo and Google Home are already global. Regardless of support, the key thing here for me is how does Microsoft make the consumers spending money give a damn?

Well, Microsoft dug that hole and they are going to have a hellova time climbing out of it then again. I suppose one could say they are thoroughly trenched lol.

The biggest problem now is language and region support.