Qualcomm offering $200,000 for best Windows RT apps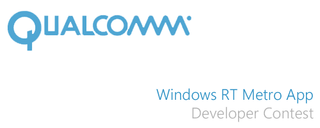 Qualcomm has announced a Windows RT Metro Style App developer contest at Uplinq 2012. Before you get yourself excited, the competition is only available to those who reside in the states, but should you be eligible you can pocket a chunk of the $200,000 prize - not bad, eh?
Winners will be selected in a number of categories, including 'Best Overall Windows RT app" ($100,000), "Best Compelling Connectivity Use Case" ($20,000), "Best Gaming App" ($20,000), "Best Productivity App" ($20,000) and "Best AllJoyn Peer-to-peer app" ($40,000). Each entered app will be evaluated by a panel.
To enter one must submit their working application where it will then be judged. The entry period is active until October 1st 2012. For more information, check out the competition website. Full press release can be found after the break.
SAN DIEGO, June 27, 2012 -- Qualcomm Incorporated (NASDAQ: QCOM) today announced at Uplinq 2012 the Windows® RT Metro Style App Developer Contest, to identify the most promising app for Windows RT devices. The Windows RT Metro Style App Developer Contest is open to legal residents of the United States of America and the District of Columbia who are 18 years or older. The developers of the winning apps will be awarded up to $200,000 in cash prizes. Contest categories include best overall Windows RT app, most compelling connectivity use case, best gaming app, best productivity app and best AllJoyn™ peer-to-peer application.
Entrants' submitted apps will be evaluated by a panel of experts based on merits such as technology innovation and market potential.
Developers have easy access today to the Windows RT software development kit from Microsoft to create Metro style apps that run across all different form factors and screen sizes.
Qualcomm's Snapdragon™ processor offers the ideal support for a broad range of apps for Microsoft Corp's new Metro style interface, while also ensuring that new and unique experiences like proximity-based peer-to-peer will be available to consumers at launch.
Qualcomm is also collaborating with Microsoft to make Qualcomm Snapdragon test PCs for Windows RT available to select developers, allowing them to test their Metro style apps on a physical Windows RT device to ensure optimization. Application developers can take advantage of the proven gaming performance from Qualcomm's Adreno™ graphics and market-leading LTE connectivity for the development of next-generation mobile-enabled solutions on Snapdragon test PCs.
"Qualcomm and Microsoft are working together to prioritize the needs of the developer community as we move closer to seeing Windows RT devices in the hands of consumers," said Luis Pineda, senior vice president of product management at Qualcomm. "The Windows RT Metro Style App Developer Contest will enable the developer community to create vivid and immersive apps upon launch of the Windows Store."
"Windows RT opens up a new era for hardware manufacturers, app developers and consumers by making everything you love about your smartphone available in brand new designs that offer all day battery life and on-the-go connectivity," said Aidan Marcus, senior director of Windows Core Marketing and Ecosystem at Microsoft. "Collaborating with Qualcomm, we are working to expand the Windows platform and developer ecosystem, helping to create a rich new set of experiences for Windows RT."
The Windows RT Metro Style App Developer Contest is now open for submissions until October 1, 2012. Additional details, including candidate eligibility and submission guidelines, are available at developer.qualcomm.com/win8contest.
About Qualcomm
Qualcomm Incorporated (NASDAQ: QCOM) is the world leader in 3G and next-generation mobile technologies. For more than 25 years, Qualcomm ideas and inventions have driven the evolution of digital communications, linking people everywhere more closely to information, entertainment and each other. For more information, visit Qualcomm's website, OnQ blog, Twitter and Facebook pages.
Qualcomm is a registered trademark of Qualcomm Incorporated. Snapdragon and Adreno are trademarks of Qualcomm Incorporated. AllJoyn is a trademark of Qualcomm Innovation Center, Inc. All other trademarks are the property of their respective owners.
Rich Edmonds is Senior Editor of PC hardware at Windows Central, covering everything related to PC components and NAS. He's been involved in technology for more than a decade and knows a thing or two about the magic inside a PC chassis. You can follow him over on Twitter at @RichEdmonds.
I wish I was a developer, that's some serious cash

I am starting develop an app now and have a great app idea. People here can just dream lol

@timwp12. I'm curious is it some sort of grammar checking app? :)

Also you little dreamer hahahah

Don't be jealous troll just because you can't develop hahaha don't worry I will develop a troll app for you hahaha I win

Speaking of grammer guess who needs go back school YOU! Maybe learn how to spell and write dummy. LoL

You really pinch his nerve hard... :)

SOMEONE PLEASE COME OUT WITH A MUSIC RECORDING AND MIXING APP!!!! PLEASE!!!!!!

We are working on a few as well, but it's just exciting to see WP develop.

Any reason why we are getting Windows RT news on Windows Phone Central? Is there a domain change incoming?

Apps developed for Windows RT might be converted to WP8.

I for one like that wpcentral is broadening their focus. as the platforms (w8, wp8, xbox) converge the lines are going to get a lot blurrier. plus, imagine 'metrocentral'. that'd be pretty sweet.

I'd imagine MetroCentral is used for something other than tech.

DJ app would be hot on the surface. I see my scratching now!
Windows Central Newsletter
Thank you for signing up to Windows Central. You will receive a verification email shortly.
There was a problem. Please refresh the page and try again.