Quantum Break runs at 1440p resolution on Xbox One X
Quantum Break was a stunning game when it launched on Xbox One, but there were some issues due to its 720p resolution.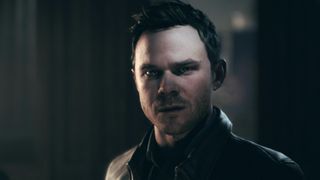 The game looked pretty blurry on 1080p displays, and no matter how stunning a game's graphics are, a muddy resolution detracts from the experience. Luckily, the Xbox One X version runs at 1440p and looks quite good on a 4K display. Aside from that, Remedy Entertainment has made several performance optimizations so it runs at 30 FPS almost all the time.
Unfortunately, there are other problems that the upgrade adds to the experience. The Xbox One X version has many strange visual artifacts and other glitches. According to a report by Eurogamer, "surfaces in the game now exhibit highly distracting visual noise and flicker that ruin the stability of the image."
We played the game on Xbox One X and noticed these problems too. While they might not be as noticeable, they still make the game seem unoptimized. Hopefully the developer is aware of the issue and the team is working on a patch. We'll keep you posted as soon as we know more.
Quantum Break is a third-person shooter which focuses on time travel. In the aftermath of a split-second explosion that fractures time itself, two people find they have changed and gained extraordinary abilities. One of them travels through time and becomes hell-bent on controlling this power. The other uses these new abilities to attempt to defeat him – and fix time before it tears itself irreparably apart. Both face overwhelming odds and make dramatic choices that will determine the shape of the future.
Keep an eye on WindowsCentral.com/Gaming for all the latest in Xbox and Windows 10 gaming, accessories, news, and reviews!
Windows Central Newsletter
Get the best of Windows Central in in your inbox, every day!
Asher Madan handles gaming news for Windows Central. Before joining Windows Central in 2017, Asher worked for a number of different gaming outlets. He has a background in medical science and is passionate about all forms of entertainment, cooking, and antiquing.
Great! Now I can get frustrated about not living in the world where everyone uses sexy Windows Phones in UHD.

It's like watching tv! =P I actually saw someone use Cortanta (by name) on a show the other day. So frustrating.

Im WM10 fan , right now im confused how im suppossed to look at this comment cause everyone is up and about to harass my preferences just because i chose something different than the typical crowds of drones and cattle, preferences is a choice and its a benefit of being aware of what you get, aside from all of that, right now im still confused how im supposed to respond to this as a WM10 fan and try not to sound like a crazy person : I ... well we do have FHD & QHD displays on Windows Phones ..if anyone is buying em that is, and in that aspect most of my family members use more than one smartphone each so we always carry around a WM10 + some other backup device that may or may not be android. Fun fact: an Android with a 3000mAh battery can be easily outlasted by a Windows Phone that has a 2500mAh battery by least a whole day of extra battery life, and yes this is in comparison to the recent available builds of both version as in Android 7.1.1 vs WM10 FCU build & all we need is social apps like facebook+messenger/viber/skype/navigation apps/twitter/instagram which are readily available on both platforms and work finely on each with no issues, so yes unless someone is biasedly believing that either platform has a massive superior advantage over the other beyond the fanboying( this goes vise versa with no exceptions to Windows Phone either cause you wont really find any decent/official google apps on WP..then again that's googles doing). Personally i think people should really try experiencing different things since i wouldn't know that android 7.1 nougat was somewhat better than android 4.4 kitkat unless i gave up at 4.4 and simply used one system entirely based on its previous bad experiences, then again google has never failed to repeatedly suprise me at its privacy invasion techniques that has advanced further over time.

Is 30fps 'almost all the time' really good enough for the Xbox One X? Seems pretty poor to me.

It's not a great patch, what I can say. Remedy needs to put more work into it.

Tbh they have moved onto 2 new ips and them he game did not sell that well to. For me loved the game and ill keep my eye on the updates see if they do fix it and if they do I'll defo give it a play through but for me I want another Alan Wake even if it's just a 4k version my game of last gen.

I don't think we will get another AW for a long, long time.

Remedy needs to work on new games. I finished QB a long time back.

The 4x resolution boost makes for a night and day difference. I`m playing it right now and it looks fantastic.

@scoob101 -- so you're not bothered by the flickering problem described in the article? I assume that's like what happens when sharpness is turned up too high. I just downloaded the 4k update and was looking forward to playing it soon, but if there's a likely patch coming soon that fixes these display issues, I'd probably want to wait for that and play something else in the meantime. What's your advice?

It's really not that noticeable. I guess some scenes more than others.

This is a great game and concept. I am so glad that I waited to play it till the X1X arrived. The live action show between the scenes makes it worth playing, even if the gameplay isn't (but it is). I did notice some graphical glitches throughout the game, but I thought this was just left over from before the patch. I noticed the same kind in TW3, and those didn't take too much away from that game either.

seriously? xbox one x is a 1440p box just like ps4 pro??

Depends how you look at it. This game dose a lot to start with and why it was 720 on the Xbox one bumping up the rez to true 4k takes a lot of power and man power to like i put above they have moved onto 2 new ips and qb did not sell that well so I'm supposed it got any update to start with.

COnsidering it hits 4k more often than the PS4 pro, no

I don't know, try running QB on a PS4Pro and tell us what it feels like.

seriously? xbox one x is a 1440p box just like ps4 pro??

No. Its not. If you want to understand why its not, Head over to digital foundry. All the information you need is there.

The most importat thing is that they sort out the horrid lighting in this game. The game is fun as hell but it is so ugly due to this factor.

Quantum Broken since day one. Overhyped and really poor game overall. I am nearly sure that I won't play it when it gets added to Game Pass . Always the same excuse for it not to run decently: "it's a very demanding game". Please if they can't optimize it for X, they just confirm that they are bad at their job.

It was a decent game I think, and worth revisiting someday. The install size with all the videos was enormous though.
Windows Central Newsletter
Thank you for signing up to Windows Central. You will receive a verification email shortly.
There was a problem. Please refresh the page and try again.