Rack 'em up with these Billiard Games for your Windows Phone
By George Ponder published
Windows Phone Central Gaming Roundup: Billiards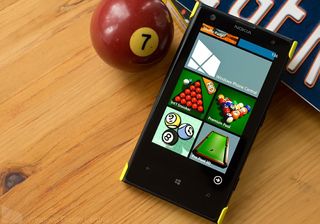 Last week's Windows Phone Central roundup dealt with bowling games for our Windows Phones. At the suggestion of one of our readers (thanks newVariable), this week we turn our focus on another indoor sporting activity – billiards.
Billiards or pool games can be a fun way to pass the time with. The challenge of the game will keep things interested and the genre is well suited for multi-player action. We pulled four billiard games from the Windows Phone Store for this week's roundup based on their Store ratings. All three had merit and have their own level of appeal.
If we have missed your favorite Pool game, feel free to sound off in the comments below.
DoodlePool (trial/$1.29): DoodlePool is a good gaming title for those looking for a casual game of billiards. Graphics are relaxed but appealing, game play challenging and DoodlePool may have the best gaming controls of the bunch.
DoodlePool Main Menu
DoodlePool's main menu is laid out in straightforward fashion. You can start a game, access the gaming options, view the help screen, visit DoodlePool's Facebook page and see other gaming titles from the developer. Gaming options are limited to muting the music and re-playing the tutorial.
DoodlePool has three billiard games to choose from that include US 8 Ball, US 9 Ball and UK 8 Ball. The game supports single player (you vs. the computer) and two player (pass-n-play) games along with a time trial and shot in the dark game mode. Time trial is a gaming mode where you try to clear the table as fast as possible. The shot in the dark mode calls on you to clear the table as fast as possible and the longer you take, the dimmer the screen gets. If you take too long, you will be finishing the game in the dark.
DoodlePool Game Modes
When you first start playing DoodlePool, the game will walk you through a tutorial that will cover game play and gaming controls. Game controls are set up rather nice in that you can touch anywhere on the screen, then drag your finger back to set the power and aim your shot. You do not have to start behind the cue ball, which can be a little on the cramped side. The game controls allow you to enjoy a little elbowroom in lining up your shots.
Game play was fun and does have a casual feel to things. While game play is two-dimensional and played from the overhead view, the graphics are well done. In the single player game, you will play a wide range of opponents that vary in skill levels. One nice touch with DoodlePool is that your target balls are highlighted to eliminate the guesswork in trying to read those tiny numbers on the billiard balls.
DoodlePool Game Screen
Overall, DoodlePool is an entertaining, fun game of pool for your Windows Phone. DoodlePool may not come across as a serious game of billiards but has its fair share of challenges to keep things interesting. It is available for both Windows Phone 8 and 7.x devices.
There is a free trial available for DoodlePool with the full version running $1.29. You can pick up your copy of DoodlePool here in the Windows Phone Store.
Premium Pool (free): Premium Pool takes things up a notch from the casual feel of DoodlePool. The game is played from an overhead view with realistic graphics. Realistic to the point the billiard balls reflect the overhead lighting. Game controls are easy to pick up and game play challenging enough to keep things interesting.
The main menu for Premium Pool has options to launch a game, access the settings and view the help pages. You also have an option to buy the premium version, Premium Pool Pro ($1.49).
Premium Pool Menu, Settings and Help
Settings for Premium Pool covers volume levels, difficulty levels and four table color options. As far as gaming styles are concerned, Premium Pool has 8 and 9 ball standard games and 8 and 9 ball speed games. The speed games simply challenge you to clear the table as quickly as possible. Premium Pool supports single player (you vs. the computer) and multiple player games (two player, pass-n-play) for the standard games.
Game controls have you spin the pool stick around by touch to line up your shot. Once you get things lined up just right, a cue and stick are displayed in the bottom right corner of the screen. You can tap the cue ball to the right or left for a little English and pull back on the pool stick to strike the cue ball (much like you would a pinball striker).
Premium Pool is a free, ad-supported game with the ad banner blocking the bottom two corner pockets. The developer added a "hide ad" button at the bottom of the screen to temporarily suspend the ad support while you line up shots to these two pockets.
Premium Pool Game Modes and Game Screens
Game play is entertaining and the physics realistic. At the top of the screen player information and the target billiard ball will be displayed. This is a nice touch in that you can't always make out the numbering on the balls as they lay on the table.
As with DoodlePool, Premium Pool does take on a bit of a casual approach to the game of pool but with graphics that are more realistic. It is a fun game and well worth trying if you are looking for a quality billiards game for your Windows Phone.
Premium Pool is available for both Windows Phone 8 and 7.x devices and is a free, ad-supported gaming title. You can find Premium Pool here in the Windows Phone Store.
If you like the feel for Premium Pool, you can upgrade to Premium Pool Pro that does away with the ads and adds customizations for the table styles, pool sticks, balls and table color. Premium Pool Pro lacks a trial version and will cost you $1.29. It is also available for both Windows Phone 8 and 7.x devices and you can find the Pro version here in the Windows Phone Store.
International Snooker (trial/$2.99): Snooker may not be your typical billiard style game but shares similar characteristics. Game play with Snooker is done on a felt covered table with pockets in the corners and sides. You have a cue ball that is struck by a stick to sink other balls into the pockets. You earn points by potting or pocketing balls as well as earning points when the other player commits fouls. And that concludes my knowledge of Snooker.
International Snooker Main Menu
While my knowledge of the game of snooker is weak, those who are more familiar with the game with find the Windows Phone game International Snooker to have a bit of appeal.
The main menu for International Snooker has options to start a game, view your gaming stats, review the rules of the game, as well as view the developer credits and other gaming titles from the developer. The only setting available from the main menu is a mute button that rests in the lower right corner of the screen.
If you pause the game settings options are pulled up so you can turn on/off the ball path guides and difficulty levels. International Snooker has three gaming modes, tournament, single player (you vs. computer) and two players (pass-n-play).
International Snooker Game Screen
The game screen has English controls lining up the left side of the screen (directional arrows move your point of impact), a power meter lining the right corner. Just below the power meter is the striker button to hit the cue ball. Along the bottom of the screen is your gaming score and in the left corner is a replay button.
You begin each move positioned behind the cue ball and you can rotate your aim (and table view) by touch. Swiping down at the screen will adjust the view to an overhead approach to better align your shot. A ball path guide is present that will help you align the direction of your target ball and the reaction of the cue ball.
International Snooker Shot Guide
Graphics are well done but at times, it is difficult to distinguish red balls from a pink ball that is present. If you hit the wrong ball and it is a foul that sends points your opponent's way.
The physics engine is nice and gaming controls work. The alignment can be a little sensitive, requiring a little patience. In just playing the game (with little clue as to what I was doing) was fun and I can see International Snooker as being an entertaining option for those more familiar with the game of Snooker.
International Snooker is available for both Windows Phone 8 and 7.x devices. There is a free trial version available with the full version running $2.99. You can find your copy of International Snooker here in the Windows Phone Store.
Pro Pool 3D (free): Pro Pool 3D is a feature rich billiards game that has potential but just feels as though something is missing. Pro Pool 3D has 8 ball and 9 ball game modes along with support for single player and two player games.
From the main menu you can launch into game play, access the settings, view the gaming credits, access the help screens and view other games from the developer. Settings cover your gaming controls, turning on/off the shot line, choosing your game theme, turning on/off music, setting your gaming difficulty and turning on/off in-game help. Themes change your gaming backdrop and along with muting, the music setting gives you the option to play tunes from your Windows Phone music hub.
Pro Pool 3D Menu, Settings and Game Modes
Pro Pool 3Ds' gaming controls include standard, hard and pro options. Standard has a pool stick in the lower right corner of the screen that you tap/hold and pull back to strike the cue ball (again, like a pinball machine striker).
With the hard and pro control options, after lining up your shot, tap the eyeball icon at the top of the screen to use your pool stick. Tap/hold on the stick and slide it back then forward to take your shot. The further back you pull, the quicker you slide forward the harder your shot.
Pro Pool 3D Game Screens
Game play is not bad with shot alignment done by touch. You can go to an overhead view by tapping the arrow icon at the top of the screen to help with shot alignment and there is a precision area at the bottom of the screen to fine-tune your shot placement. Your target ball will appear in the upper right corner of the game screen to help better identify which ball you need to aim for.
Again, game play is not bad but has a complicated feel to it. The standard control is the simplest way to play Pro Pool 3D with the other options requiring too many buttons to push to play the game. I think if gaming controls could be more fluid, Pool Pro 3D would have stronger appeal.
As is, Pool Pro 3D is worth trying but may fall short for some. It is a free, ad-supported game is available for both Windows Phone 8 and 7.x devices. You can find Pool Pro 3D here in the Windows Phone Store.
Any Stand outs?
While many will see billiards as a game intended to be played in your friendly neighborhood pub, some of these Windows Phone games can be a nice substitute.
DoodlePool was the surprise of the bunch. While it may have cartoonish graphics, game play and controls are nicely done. Premium Pool follows closely behind with outstanding graphics and respectable game play but may be held back by only having an overhead game view.
International Snooker is a good option but is more of an acquired taste. Pool Pro 3D was nice game but with game play that has a complicated feel, it can be a little frustrating. If game play could be more fluid Pool Pro 3D would have stronger appeal.
What would be nice is if one of these games offered a turn based, online gaming mode to compete with the multi-player, pass-n-play style games. It may draw out the game time but if you get the right opponent who stays on top of their turns, it could be an entertaining way to show off your billiard skills.
As with all our roundups, if we've overlooked your favorite Windows Phone title let us know in the comments below.
George is the Reviews Editor at Windows Central, concentrating on Windows 10 PC and Mobile apps. He's been a supporter of the platform since the days of Windows CE and uses his current Windows 10 Mobile phone daily to keep up with life and enjoy a game during down time.
Slow weekend already started :(

Thanksgiving, give them a break

Lol wait, you aren't super pumped about this?

I will borrow this space for my comment. Thank you for writing the article. I still hope that Miniclip would port their 8 Ball Pool Multiplayer to Windows Phone. Thanks

Nice list. Alas, WP is missing the king of online pool games, ie Miniclip Multiplayer 8 Ball. However, it's apparently in production for the platform which is incredible news if true.

Which is the best among these?

I first read the title as "Blizzard" games and got really excited even though I know there are not any Blizzard games for WP or any Phone for that matter. I need sleep. :P

I think your on to something. Blizzard games on here would be ridiculously awesome

International Snooker is pretty good. I kept getting fouls though.

Not even one of them is Xbox live.... What a disappointment :(

What case is that on the 920?

It's a 1020 with wireless charging case.

I'll never forget the huge argument between my Uncle in the UK & myself when he asked me to play a game of Billiard and I said what? You mean Pool? Oh, he got MAD.
So I'll give one of these a spin for old times sake.

Best game was Pool Pro Online 3 but they never updated it for WP8 support :'(

I'll say this, the photos used in these articles of late are out-freakin-standing. Are these from a Nokia phone by chance?

@henrik3000 - i think the phone is actually the 925 and the case is the official Nokia wireless one

Why show a 7 ball and not an 8 ball for wp8?!

Throughout the article, I just sat thinking about how cool it would be to have a turn based system. With a quick demo of what happened when the other person took their shot (the other person). And Xbox enabled.

Remembering Joker.. He said rack em' up in TDR :)
Windows Central Newsletter
Get the best of Windows Central in in your inbox, every day!
Thank you for signing up to Windows Central. You will receive a verification email shortly.
There was a problem. Please refresh the page and try again.